Stamping a name for itself
An innovator at heart, Photocentric is developing as a reputable manufacturer of 3D printers in both the UK and the USA, whilst remaining the world's largest craft stamps maker
Paul Holt – Managing Director of Photocentric – is perfectly honest in saying that all of the opportunities his company has converted into successful business activities in the last 12 years,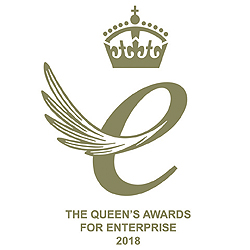 have come by pure chance."By that I mean that we have ended up doing something we have not intended to do from the beginning," he clarifies. Evidently, Photocentric's ability to embrace change and remain in a positive frame of mind despite apparent initial difficulties, has been rewarded, as the company is now a world market leader in manufacturing craft and business stamps, while evolving into a reliable provider of 3D printers simultaneously.
"We started back in 2002 doing something that no one else had done in packaging photopolymer to make stamps," Paul refers to the patented method of making business stamps, which was called imagepac."It was a sealed package of photopolymer – a light sensitive resin– that would be exposed to UV light through a negative to get the final product. Later on, we began manufacturing the resin ourselves, in order to gain better control of the process."
Alas, the innovative approach was not immediately successful."We did not achieve the rapid growth we desired, at first, but we established a loyal group of UK stamp makers and then started selling overseas through distribution. Our market has a small total worldwide value, meaning that you have to sell to every country possible, and today, we export over 75 per cent of our products," Paul explains.
One of the watersheds for the company was its attempt to offer the imagepac technology to the clear craft stamps market – a venture that met with little success, but which acted as a true revelation for the business."We finally realised that our targeted companies did not want a better method of making stamps. They wanted us to make the actual stamps for them," Paul maintains."This created a change to our defined strategy, which was just to sell imagepac, so, we started to invest in infrastructure to convert them into stamps.Today, we are the largest craft stamp maker in the world, producing our items in the UK and the USA, all from imagepac."
Selling just for the stamp market, however, would not provide a large enough platform to achieve rapid growth. Hence, Photocentric centred on finding its way to other markets by doing what it knew best – innovating.The real breakthrough for the company came in 2014, when it was approved for a Government grant to try and realise its idea to use normal LCD screens to harden its highly active photopolymers.
"Surprisingly enough, this concept worked for us, and 18 months later, we began producing 3D printers, based originally on a reversing screen intended for a car.The first printers we made were not constructed very well, but over the course of the past two years, we have learned how to make them better and better," Paul admits. The company's perseverance has enables it to find the right formula for its concept. "Today, we make our printers using screens from mobile phones, iPads, and HDTVs. Using LCD screens as the light engine for a 3D printer has become a well-established sector in 3D printing," Paul points out."The concept is simple, involving the use of mass-produced consumer devices that provide the highest images possible to harden light sensitive resin in slices and make custom objects. It is a very low-cost technique, which, at the same time, allows us to build some really big printers.We are presently constructing Colossus – the largest 3D printer ever made, which will use a 98''TV screen."
The focus for the company in 2017 was to structure itself in a way that facilitates ongoing innovation in 3D printing."People are always the most important asset in any business, so our principal task last year was to build a team of talented chemists and engineers who can take our ideas and turn them into great products. As a result, we now have 20 scientists, some of them PhDs, who, in turn, have created a network of suppliers and research institutions that have widened our research capabilities," Paul points out
The flourishing 3D printing industry is opening up lots of opportunities for producers, and as Paul puts it,"it touches every interesting aspect of manufacturing." Given the wide variety of unexplored possibilities in the area, Photocentric has inevitably got deeply involved in a range of exciting projects."Right now, we are working on an array of novel 3D printers to make plastics, ceramics, and metals. For instance, we are targeting consumer applications such as elastomeric plastic 3D printing for sports shoes and bio-compatible polymers for dentistry. Our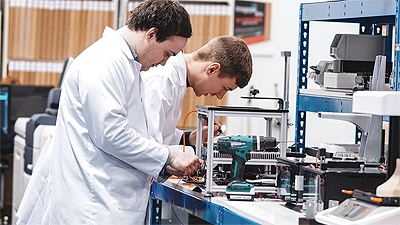 largest undertaking, however, is to industrialise 3D printing by building machines that can create thousands of custom parts at lower costs."
Innovation has been at the heart of all Photocentric undertakings right from the formation of the company.This commitment was recognised in 2016, when the company won a Queen's Award for Enterprise – the most prestigious business accolade in the UK – for its imagepac technology.Two years later, Photocentric earned another Queen's Award, this time for its outstanding export achievements. Paul tells us more about the business' overseas trade:"Our most successful markets are in the areas that are a combination of being both the easiest to access and the largest in size. For example, we sell nothing in Japan, because it is hard for us to access. At the same time, we export a lot to Brazil and India, because they are both large and fairly easy to sell to.The most critical market to us, though, remains the USA," he outlines.
Eight years are ostensibly a short period of time for a company to develop itself as the biggest name in its field in a market as big as the US.This is precisely what Photocentric did, but the road was a rocky one. Paul goes back in time to tell us the story of the company's American subsidiary:"We tried to apply the business model we followed in the UK to the USA, but this came out problematic, as what worked here did not necessarily work there. It took us years to understand that we had to focus on doing one thing only, so we started making only clear craft stamps and cut all other operations, and nowadays, we are the largest company of our kind in the USA."
Following a chequered past in the last 12 years, in 2018, Photocentric can be defined as a technical research and development organisation with an existing manufacturing business behind it. The company is now working on a five-year plan that will see it reach a £100 million turnover, marking a tenfold growth of its current revenue. "To do that, all we need to ensure is that we hire the right people and manage them properly, so that all the projects run efficiently.We are confident that we have the right strategy, in terms of product offering, we just need to plan our tasks effectively.
"I would say that we have grown slowly, but we have definitely been on the right path in the last few years.We learned a lot of lessons along the way, some of them the hard way, but we firmly believe that there have never been failures, just opportunities that teach you and lead you to a better place," Paul summarises.
Photocentric
Products: 3D printers, office and craft stamps,resins, chemicals