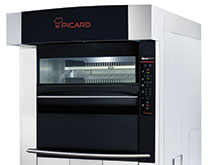 A recent merger between two Quebec, Canada-based food industry equipment suppliers will enable both operations to expand their market reach. Sipromac, a 30-year-old food packaging and processing specialist, in March 2014 acquired Picard Ovens, which is a 60-year-old bakery and pizza oven manufacturer. "We were attracted to Picard because of its history and the unique products it has developed," explains Vincent Tourigny, a shareholder in the unified company who also serves as its CFO.
"We saw this merger as a great opportunity for two like-minded companies to come together."
The union of the two companies will enable both to gain market share and attract large high-end grocery chain customers such as Whole Foods, which has started to use the ovens in some of their bakeries.
Expansion into the restaurant market – including the $35 billion U.S. pizza industry – is also a priority. "Restaurants who have postponed their expansion plans since the Great Recession are now in an expansion mode, which creates great business opportunities for us," Tourigny says.
Picard Ovens' location in Saint Germain de Grantham, Quebec, was also important to Sipromac, which wanted the newly unified company to remain Canadian-based. Picard will retain its name and continue manufacturing products under that brand, Business Development Director Thomas Hinton says.
"We buy steel from the United States or Canada, and all the major components of our machines are made in North America," he adds. "One of the key points of the acquisition was keeping all of our production here."
A Legacy of Quality
Founded in 1957, Picard Ovens has become known in the foodservice industry for its unique products, which include the Revolution revolving tray oven. The company is also the first to develop and market a baking stone conveyor oven used in pizza making.
An updated version of the oven, known as the Hot Rock, was recently introduced to the market. "Cooking directly on the stone allows for a higher quality of pizza, which many of our customers are looking for," Tourigny says. "The oven is also easier and faster to use than mesh conveyor ovens."
The company's other products include rotisserie and industrial ovens. "Our ovens are known for their compact size, versatility, performance and economical cost of usage," the company says. "Our products can be quickly adapted to clients' needs."
Sipromac was founded more than 30 years ago by M. Maurice Lenoir. The company is today partially owned by Dave Couture, who serves as its president. In addition to Couture and Tourigny, the company is also partially owned by Andre Francoeur and Yoann Frechette. The four shareholders are closely involved in the day-to-day operations of Sipromac/Picard. Couture and Frechette oversee production and engineering, Tourigny is responsible for finance and administration and Francoeur oversees administration and development of the Sipromac brand, the company says.
Sipromac offers food industry customers a complete line of food packaging and processing equipment including vacuum packaging machines, heat shrink tunnels and dip tanks, tray sealers, thermoformers, injectors, tumblers, massagers, smokers and cryogenic freezers. "Day after day, Sipromac draws on its knowledge, experience and expertise to build sturdy, reliable and highly specialized machines adapted to the most stringent needs of the food sector for the packaging and processing of poultry, meat, seafood, deli meat, cheese and other food products," the company adds.
A staff of engineers ensures the continuous development and quality of Sipromac's products. The company also offers customer installation and support services. "Our goal is to have the best customer service in the industry," Tourigny notes.
Future Investments
Sipromac's acquisition of Picard Ovens will allow the Picard brand to take advantage of its parent's engineering expertise. Sipromac will benefit from Picard Ovens' marketing reach.
The unified company is investing in the existing dealer network. "We want to recruit reps and service partners to cover the whole North American market," he adds.
For Sipromac, adding Picard Ovens to its capabilities is just the beginning of an overall growth strategy. "We're looking for acquisitions in both Canada and the United States," Tourigny says. "Our plan is to acquire a company every 18 months."