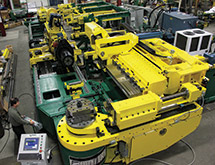 As one of the first companies to make pipe- and tube-bending machines, it is no surprise Pines Engineering equipment is found in factories and shops across the United States. But it's the longevity of Pines' custom-built machines that have made the company worthy of a second glance.
Where other decades-old machines are usually quickly replaced with newer models, Pines still receives requests nearly every day from customers looking for spare parts for their  bending equipment dating as far back as the 1950s. Director of Business and Product Development Jon Canfield says those inquires are the result of Pines' long history of expertise in its industry. "We can customize our equipment to bend applicatons that others can't," he adds.
Pines traces its roots back to Aurora, Ill., in 1943, but eventually moved to the suburbs of Cleveland. Currently located in the Cleveland suburb of Wickliffe, Pines now shares a 120,000-square-foot manufacturing facility with another Park Ohio company, PMC-Colinet, who specializes in pipe threading equipment.
The consolidation has allowed Pines and PMC-Colinet to share resources while maintaining a focus on the separate businesses. Pines has a dedicated group of employees skilled in the assembly and manufacturing of its bending machines, but can draw upon PMC-Colinet staff during high-production periods. "If we have extra work coming in we can pool our resources on an as-needed basis," Canfield says.
Within the shared facility, Pines has all the equipment needed to make the highest-quality machines. This includes computerized numerical control (CNC) milling equipment, its own heat-treat facility, overhead cranes to support assembly, nitride capability for case hardening steel, CNC and manual lathe for steel cutting, and a grinding facility.
Throughout its history, Pines has kept its focus on producing equipment for pipe, tube, aluminum and steel profile bending. About 90 percent of the company's production is rotary draw bending, in which the material is dragged through a die set to form the bend. The other 10 percent is compression bending equipment, in which the material is held in place vertically or horizontally as it is pushed around the dies. Pines equipment can fit a range of applications and sizes, from small benders for cable to 10-inch pipes. The CNC equipment has a 15- to 350-millimeter capacity while the numerical control (NC) machines can handle up to 12 inches.
Catering to Customers
Canfield says the market has been trending toward CNC equipment because of the automation and ease of use over the more manual NC tube benders. But the niche NC market still remains an important part of Pines' business, Canfield explains, because the purchase price is less than half the cost of a CNC bender. Further, upgraded control systems have made NC machines safer and easier to run, making them appealing to job shops and small manufacturing companies that rely on long-lasting equipment. "Pines is known for durable machines that run for years and years and years," Canfield says.
Pipes and tubes bent on Pines machines can be found in nearly every industry and many manufactured components, including aircraft ventilation systems, furniture, stationary exercise machines, stainless steel handrails for handicap bathrooms, window frame extrusions and automotive exhaust systems. Supplying equipment to a variety of clients has helped make Pines' business strong because the company is less impacted when a downturn occurs in one market. "We serve a diverse range of industries so when one is slow we can count on other industries to support our revenue base," Canfield says.
Through the course of 72 years in operation, Pines has built more than 30,000 bending machines and developed an extensive knowledge bank of expertise. "Because of the amount of machines in the field, a lot of customers will come back to us," Canfield says. When companies buy from Pines they are getting an all-in-one package. Many competitors will only supply the bending machine, leaving customers to find another company to make the tooling the machine needs. But Pines customizes and manufactures the tooling of its equipment, as well, meaning customers know their machine's reliability remains with one company.
"That's very advantageous for people new to the industry or customers getting into tube bending," Canfield explains. The average build time for a Pines bending machine is between 12 and 16 weeks depending on options, but the company is looking to speed up that process by growing an inventory of base machines that can be customized to each customer.
Longtime customers count on Pines to keep their equipment going long after the expected useful life has expired. Each machine Pines makes has a unique serial number, allowing the company to find detailed records on its design and parts so that when a machine breaks down its components can be remanufactured and replaced, even decades after it was built. Canfield says replacing the electrical control board is typically more difficult as electrical parts become obsolete, but even then Pines can conduct a retrofit to update older machines with new controls. For equipment in need of major overhauls, Pines can do a full rebuild by stripping down the machine and remanufacturing parts while keeping the most durable components.
Having the capability to service aging machines is a key part of how Pines builds long-lasting relationships with its customers. Selling a bender is only the beginning, Canfield says, Pines follows through with maintenance.
"It's a product and a service that we're providing to our customers," Canfield says.
The company has a full service department with experts located in India, Arizona, Chicago, Denver and Cleveland who travel to customers and provide on-site service.
"We try to work with our customers and be serviced-based," according to Canfield.
Product Development
After the Park Ohio acquisition, Pines instituted new quality-control systems that Canfield credits with improving its products. But beyond better standards, Park Ohio has provided the company more resources to devote to product development and improving its technology offerings in the machines.
Technology has played an increasingly important role in bending equipment as customers have moved away from the hydraulic systems of the past to electric ones.
Canfield says Pines is developing machines to offer more electric-based systems with new features, such as carriage push and roll bending to keep pace with the industry. "We're really working on expanding our technology and product offerings," he says.