Box clever
As Pitreavie Group celebrates the opening of a brand-new corrugated box manufacturing facility, the company's ambitious expansion plans and unrivalled customer service are a reminder of why it remains Scotland's leading provider of packaging solutions
Established in 2010, Pitreavie was founded on three key values that continue to influence the way the company operates today: passion, innovation, and care. For an organisation in seemingly perpetual motion since its inception, these core principles have helped guide Pitreavie through a vast campaign of expansion and growth that has resulted in it becoming the largest independent packaging solutions provider in Scotland.
"We're very clear about our business plan," Group Managing Director Stephen Heslop asserts. "We recruit people that have a passion for delivering service excellence. We look for innovative solutions for our customers and in our own internal processes. We care about our customers' products, the relationship we have with our customers, and most importantly, we care for our employees. Our focus remains on how we develop, retain and bring new talent into our business that meets our values."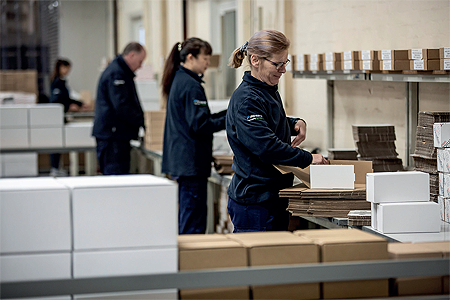 From the very beginning, Pitreavie highlighted customer service as an area that could help to distinguish the company from its competition. "To differentiate ourselves in quite a busy marketplace, we had to be better than anybody else at customer care," Stephen explains. "Our mantra has always been to provide customers with a service they are going to be delighted with and that primarily means, if a customer orders today, then to all intents and purposes, they will be able to get their product by tomorrow."
Pitreavie's expedited delivery service is part of the company's Stock & Serve Solution, a customisable offering in which Pitreavie guarantees to hold an agreed amount of stock for a customer, and deliver within a certain time frame, in exchange for a short-term future commitment. The system is indicative of the way the company conducts its business.
"As far as we're concerned, we don't sell packaging, we sell solutions," Stephen states. "Whilst we may supply a lot of consumable packaging items, where we really add value for our customers, and how we've been able to grow the business, is we solve problems. For example, we've got a customer for whom we designed a bespoke timber transit pack. It has probably five different material components that we assemble and put together, and it gives the client a complete package. There are very few people in the marketplace who can offer that broad a solution."
Alongside a creative approach to customer service, the success Pitreavie has achieved over a relatively short period of time is largely the result of a strategic journey of acquisition. Focusing on targets that would complement or extend the company's existing range of capabilities, Pitreavie acquired six companies over the course of its first ten years in business. These included Anderson's Packaging and Snapco, which were seen as geographical expansions, and Sorbafreeze, Leiper Associated Packaging, and CP Cases, which took the company into new markets. In 2019, Pitreavie began to reap the benefits of the sustained programme of investment. An additional benefit from the acquisitions has been the knowledge and experience of the existing staff that have continued to work in the business.
"Last year was certainly our most successful year revenue-wise, which is obviously off the back of all the acquisitions we made," Stephen reports. "Traditionally, we've been seeing growth at an average of around 18 per cent a year; it flattened a little bit in 2019, but we've now seen that start to accelerate again in 2020 and we hope to see it grow further with the construction of the new facility."
Pitreavie's new manufacturing site opened its doors in March. Located in Cumbernauld, Scotland, the factory is a 57,000 ft² unit with the capability to produce over 30 million cardboard boxes a year. Stephen sees the Cumbernauld development as a significant step towards the company's goal of moving from a merchant to a manufacturer.
"Looking ahead we see most of the value in the future coming from products that we manufacture ourselves and a number of the acquisitions we have made over years have moved us in this direction," Stephen says. "Encouraged by our experience with Leiper, a small corrugated manufacturer, we decided that we wanted to manufacture corrugated boxes at some sizeable scale, in a marketplace that hadn't seen much investment in Scotland for the last 20 to 25 years. We are a converter, so we take corrugate sheets, in various sizes, from our supply partners, and we then convert it into a box. From the new site, we are now capable of supplying large, well-known brands, in the food and drink sector, with significant volume lines."
Alongside the new facility's considerable production capacity, it also contains an 'Imagination Room'. This is a series of suites where Pitreavie's team of experts work alongside clients to look at everything from their supply chain, through to storage solutions and how they package their products. In line with the company's core values, it is a level of detail and care that Pitreavie extends to its employees, especially in light of the Coronavirus outbreak currently impacting businesses worldwide.
"The executive team is 100 per cent focused on the people within the business, and that's how we're approaching Covid-19," Stephen declares. "As an organisation, we value people above anything else. All our efforts are on asking ourselves, what provisions can be made for our staff? What facilities can be put in place? We are taking it a day at a time, but what we are certain about is that people are fundamental to how we are going to build and be successful in the future."
Pitreavie
Services: Packaging solutions