Managing complexity
Founded in 1969, PKC Group is today a global partner in the transportation industry, providing comprehensive service and production network on four continents
The history of the PKC Group (PKC) begins with Pohjolan Kaapeli Oy, a subsidiary of Nokia, establishing a wiring systems factory in 1969 in Kempele, Finland. The plant was commissioned to manufacture wiring systems for both passenger cars and commercial vehicles. During these early years the company gained two significant customers that would pave the way for future
success that continues to drive the business today. Indeed, Pohjolan Kaapeli Oy operated as something of a pioneer in terms of internationalisation to develop business its presence globally, while its early association with market leaders such as Saab (Saab-Valmet and Saab Scania) and Volvo (Volvo-Auto Ab) are testament to the success of this strategy.
The business continued to develop and evolve until 1994 when the company's owner, Nokia, decided to concentrate on the telecommunications market and therefore put – what was then called Nokia Johdinsarjat Oy – up for sale. This led to one of the most pivotal moments in the history of PKC when it underwent one of the largest management buy-outs in Finland when the acting management acquired the wire harness business operations of Nokia Johdinsarjat Oy.
The company was incorporated as PK Cables and over the subsequent years continued to grow while expanding its presence globally and in 2014 PKC celebrated its 40th year in operation.
Today, PKC represents a globally recognised specialist in the manufacture of electrical distribution systems for the transportation industry. The unique expertise of PKC enables the company to maintain a position as a trusted value-adding partner for its clients. PKC has a strong global insight and extensive experience as a preferred electrical distribution systems (EDS) and electrical cabinets supplier for leading commercial vehicles and rolling stock brands. As the electrical architecture in commercial vehicles and in rolling stock continues to become increasingly complex, PKC offers innovative and customisable solutions in this area. Throughout a host of transport applications, PKC provides its customers with leading industry expertise through a full service package of design capabilities and delivers tailored, cost-efficient solutions for a variety of customer needs. Its comprehensive product range is comprised of components including EDS; vehicle electronics; components; wire and cable; and electrical c binets and power packs.
In order to further develop the competitiveness and capabilities of its global manufacturing operations and to ensure successful new programme ramp-ups, PKC has recently invested into several new product introduction (NPI) centres. The new centres are located within Keila, Estonia; Acuña, Mexico; and Suzhou, China. The objective of the newly established NPI centres is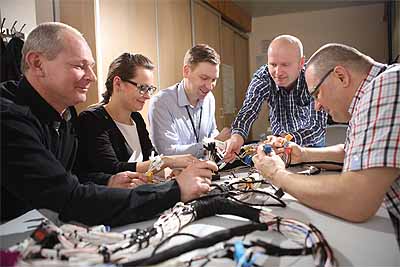 to ensure seamless customer program ramp-ups from the early design phase to the final, full mass production phase as well as to improve existing manufacturing processes to PKC and its customers. The development process of PKC in introducing new products includes careful execution of skilled methods in lab content; documentation and the implementation of best practice; production support for system development; plant logistics; production technology; and organisation.
Through the careful implementation of best practices and a system of continuous improvement, PKC is able to provide several competitive advantages to its clients. These include short lead times; customised solutions; low-cost tooling development; in-house capabilities; on-time delivery; and premium quality. These have allowed PKC to win several important and desirable contracts in recent months. For example, during May 2016 it was announced that the company had entered into a significant global partnership agreement with Bombardier Transportation related to electrical systems deliveries. The global partnership agreement makes PKC a strategic supplier partner to Bombardier Transportation with an opportunity to capture 40-70 per cent of Bombardier Transportation's annual buy of electrical systems commodity. The global rolling stock electrical cabinet, powerpack and electrical distribution system market is valued at approximately €2 billion annually. This agreement clearly demonstrates the ability of PKC to meet the requirements of leading transport industry operators, meaning that the company is set to remain as an important industry player well into the future.
PKC Group Plc
Products: Electrical distribution systems for the transportation sector