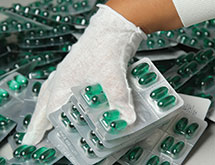 The name "PL Developments" might not be as well-known as that of your favorite, nationally advertised cold or flu preparation, but if you have bought a store brand over-the-counter (OTC) pharmaceutical, you've probably consumed a product manufactured, packaged or distributed by PL Developments, also known as PLD. "We supply and service every major retailer, drug store, supermarket and big-box chain in the United States," says PLD CIO and Chief Supply Chain Officer Thomas Crowe.
The move toward store brand or generic OTC drugs started in 1984 when the Hatch-Waxman Act standardized U.S. procedures for the recognition of generic drugs. Estimates from the Consumer Healthcare Products Association put the retail sales of OTC medicines in the U.S. at $17 billion in 2010, an increase of more than $3 billion over a 10-year period.
Consumers are becoming aware that the national brand equivalent OTCs are of the same quality and standard of national brands but offered at a more affordable price point. "The private label space has become a great place to work in, because typically what the industry sees in downturning markets is that trial of store brand pharmaceuticals increases," Crowe says. "Consumers see the same relief of their symptoms that they would with a pricier national brand."
PLD started as a supplier and packager of solid-dose OTC pharmaceuticals in 1990. In 2008, it began developing and manufacturing new products for the pharmaceutical, OTC and nutritional markets at its Miami facility. Just last year, PL Developments moved into liquid OTCs and first-aid products when it acquired Aaron Industries, which is headquartered in Clinton, S.C.
Now PL Developments has approximately half a million square feet of manufacturing and packaging space among its four locations. The company packages solid-dose OTC products in Westbury, N.Y.; develops formulations and manufactures solid-dose products in Miami, Fla.; manufactures and packages first-aid and topical products in Clinton, S.C.; and manufactures and packages its OTC liquid dose portfolio in Lynwood, Calif.
5 Billion Pills per Year
Manufacturing OTC products is a numbers game – with generic drugs edging out big-name brands, store-brand drug manufacturers, packagers and distributors must have the capabilities to meet increasing demand with high quality, FDA-approved products.
PLD has the capacity to manufacture more than 5 billion solid dosage units and 3 billion-plus liquid dosage units annually. PL Developments has a handful of smaller competitors, and is second in the OTC drug market only to Perrigo Co. PLC, a leading international healthcare products supplier.
To produce and package its products, PL Developments has invested in innovative technology that allows for seamless and on-time production of its product portfolio.
Crowe states that the company has spent millions of dollars on capital equipment and high-speed lines in all its plants. "It's the latest in technology and robotics to increase throughput to be more profitable," he says.
The production and packaging of OTC drugs is audited annually by the Food and Drug Administration (FDA). "Employees must be trained thoroughly in equipment operation and FDA regulations," Crowe emphasizes. "We have strict adherence to FDA regulations. We have validated systems to support standard operating procedures, adherence to good manufacturing practices (GMP) and quality documentation.
"To manage that training, a company must make a significant investment in time, training and people dedicated to making sure that we are compliant," Crowe continues.
Inventory Management
PL Developments is a make-to-stock business. "We service our customer orders on very short lead times, to help them manage their inventory levels," Crowe explains. "This means that we maintain finished goods and component inventories on a customer-by-customer basis and their ability to forecast."
PL Developments integrated its newly acquired facilities in South Carolina and California into its Oracle systems to implement a comprehensive company-wide inventory model. PLD's goal is to supply all products out of all facilities, allowing the company to ship to customers anywhere in the U.S. within two days.
"We first implemented Oracle software in 2010 and have since rolled it into all of our sites," Crowe says. "It has really helped support PLD's tremendous growth in business over the past four years, ensuring that we continue to meet all our customers' needs during our expansion. Oracle software has provided measurable improvements in the speed it takes to get our products live."
PLD's successful implementation of the software was recognized by Oracle in 2013 when PLD was awarded the Oracle Excellence Award: Leadership in Value Chain Management in North America.
Future Plans
Crowe attributes PL Development's success to its leadership. "Our president and CEO, Mitch Singer, has a vision for where he wants to take the business," Crowe says. "Our goal is to have a solid presence in every health, beauty and cosmetics (HBC) aisle in our customers' stores." To achieve that goal, PLD has added numerous products to its portfolio over the past year alone, including pregnancy diagnostics, smoking cessation products and personal care products.
"A broader portfolio makes us an easier answer for the retailer, because we become a single, reliable source," Crowe says. "The trick is anticipating what consumer healthcare needs will present themselves."
Two strategies employed by PLD in the past are likely to continue: strategic relationships and acquisitions. "The end game is to get there and build the product portfolio to where it needs to be," Crowe says.