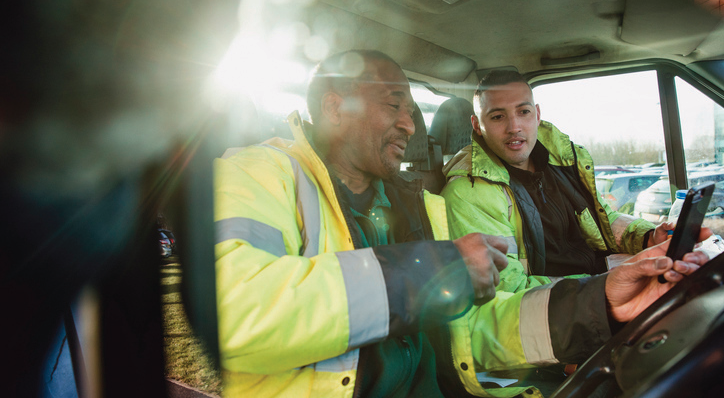 Use agile processes to optimise the workforce. By Paul Whitelam
In the service industry, capacity planning helps ensure that there are enough field resources available to manage scheduled – and unscheduled – work on any given day. Schedule too many workers, and the result is too much idle time. Schedule too few, and risk unhappy customers, missed SLAs, and an inability to address the emergency work that's bound to pop up.
Disruption… the one word that planners within the manufacturing supply chain hate to hear. And the dread doesn't end there. A survey, conducted by HBR Analytics, revealed that workforce planning is a key reason for management frustration. The same survey took a look at traditional planning practices and the need to revisit these processes to meet twenty-first century agility requirements. Interestingly, today's planning practices directly intersect with organisational agility. What does this mean for the manufacturing industry? We're on the cusp of a change, where agile planning will replace traditional workforce planning.
Agile planning will alleviate the frustration caused when management spends countless hours developing plans that never come to fruition. Disruption is bound to happen, but when it does, having agile planning processes in place will be the difference between proactively meeting changing circumstances and reactively changing set plans.
Using technology to improve workforce planning
Every customer-centric business is measured by how it performs on the day of service. Though the idea of reaching perfect service every time is the ultimate goal, the reality is that perfection is not achievable. Rather, a more pragmatic goal for companies is to increase revenue while reducing costs. To do this, one must ensure there are enough mobile workers available to perform revenue generating work while not violating any customer commitments or SLAs. In order to meet stringent customer demands, technology is the enabler for successful capacity planning. With the power of AI and ML, planners can identify areas at risk, and allocate resources to ensure all work gets completed. If there is a capacity shortage, planners can take strategic thinking to the next level and decide whether to hire contractors, relocate workers from another district, or relax overtime rules to fulfill customer commitments.
For a mobile workforce, it's important to reduce idle time and keep technicians moving so they can complete more jobs and keep customers happy. Unlike most service planning processes which are highly manual and involve multiple spreadsheets and guesswork, AI-driven capacity planning seamlessly accounts for historical demand data, scheduled and unscheduled work, and available resources to ensure business priorities are enforced across the service lifecycle. Or consider when there are schedule disruptions, like when a technician calls in sick. Instead of missing customer commitments, AI-driven technology alerts the service organisation of the risk, and action can be taken to reshuffle low priority work. Likewise, with scheduling work that is tied to an SLA, planners have visibility into whether the next available time for an appointment is within the SLA window.
Take the agile approach to workforce planning
Agile workforce planning enables manufacturing companies to make purposeful decisions that scale to meet even the largest organisation's requirements. Key to this ability is a planning system that is powered by artificial intelligence (AI) and machine learning (ML) and integrated with real-time business operations. This ensures that every available working moment is accounted for, making missed customer commitments a distant memory.
Optimised resource planning delivers benefits, such that field service organisations can:
Boost revenues and compliance with SLA's – According to Gartner, by 2022, more than 60 per cent of asset manufacturers will offer outcome-based service contracts, up from less than 15 per cent in 2018. Planning ensures there is enough time reserved for high priority work. This enables service businesses to differentiate with competitive service level agreements (SLA's), with the assurance the service team can meet them. (Source: Gartner, Magic Quadrant for Field Service Management, Jim Robinson, April 2019).
Predict field service resourcing requirements – The top internal challenge facing service leaders is a lack of resources to meet demand, according to The Service Council. One of the best ways to address this issue in a cost-effective manner is by having full visibility of workforce capacity risks ahead of the day of service. The ability to meet anticipated service demand by making smart decisions like relocating workers, adding overtime, or hiring contractors is the best way to manage service delivery costs.
Handle fluctuating demands with ease – Also, per the Service Council, 59 per cent of service leaders say increasing the predictability of their business is a top business initiative. Capacity planning allows businesses to account for short-term spikes in demand, including marketing campaigns and seasonality. Increased insight allows organisations to add to or reduce their workforce accordingly – while maintaining balanced utilisation of resources with the right skills for the type of work that is anticipated.
Achieving an optimised solution for the challenges faced during workforce capacity planning requires a higher level of sophistication than ever: both in determining the right level of demand through workload forecasting, and in allocating the right mobile workers at the right time and in the right place to optimise the work as it arrives. As service leaders have shown, achieving alignment and optimising KPIs by planning ahead of the day of service, is not only possible, it's critical for delivering exceptional service and growing the business.
Paul Whitelam
Paul Whitelam is Senior Vice President, Global Marketing, at ClickSoftware, a global leader in field service management solutions. The company arms field service leaders with the smartest technologies and best practices from around the globe to deliver real-world results, real-time recommendations, and real operational intelligence. The software blends unparalleled industry expertise and state-of-the-art computer science to deliver meaningful, measurable business
value – optimising critical business processes and delighting customers.
www.clicksoftware.com