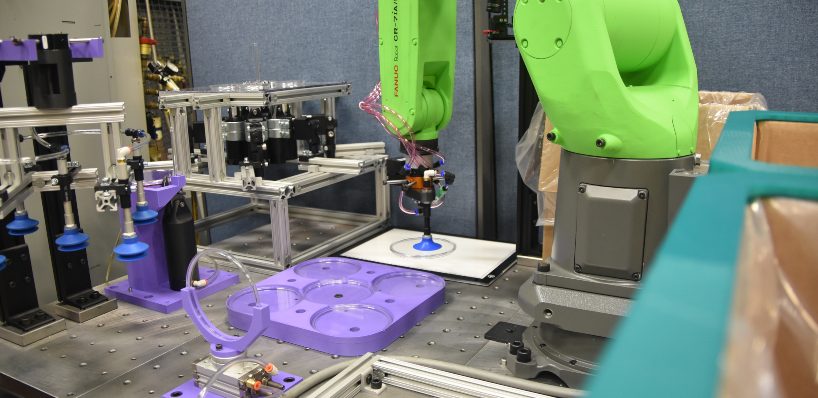 Plastic Molded Concepts (PMC) – one of the very few plastic injection molding companies specializing in molding with engineered resins – is making significant capital investments into automation.
"We are investing a lot of time, money and effort to automate," says Larry Floyd, CEO and owner. "We're heading in a direction where we're adding robots to our machines to remove the parts without the use of a physical operator."
The Eagle, Wis.-based company develops and produces mission-critical parts for aerospace and defense, medical, filtration, electronics, and food and beverage industries.
Its 88,000-square-foot manufacturing facility in Eagle sits on roughly 18 acres and has been expanded three times since it was built in 1987. The move towards automation started about two years ago when the first molding machine was equipped with automated part removal technology.
"We have 35 molding machines right now and about 80 percent of them have robots on them," says Floyd, adding that he expects to be at 100 percent by next year.
Automation helps maximize efficiency and innovation in the injection molding process. Effective integration of robotics and automation in plastic injection molding creates numerous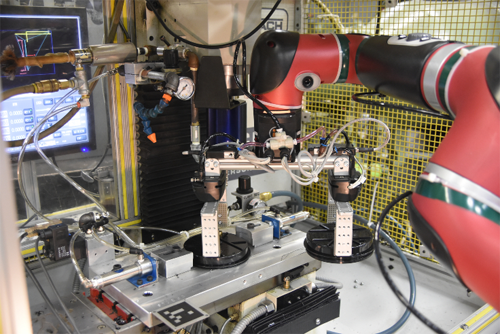 advantages that include enhanced and consistent part quality, reduced molding, reduced labor and part costs and less part-to-part variations and waste. PlasticMoldedInfo
Autonomous Mobile Robots
Aside from investing in automated part removal, Plastic Molded Concepts is now designing automation equipment that will be used to transform its whole manufacturing operation.
The company will be investing into autonomous mobile robots which have the ability to automatically pick up, transfer and deliver pallets and other loads inside a manufacturing facility. Floyd says that he plans to start with implementing two autonomous mobile robots next year.
"Once we finish with automatic part removal, we will start implementing another robot system that will roam the factory and collect the parts and move them to a work station/packaging station," Floyd adds.
PMC is looking at investing into MiR mobile robots, which it plans to use to collect parts from all over the plant and bring them to a main work cell where all quality and post molding operations – including packaging and disposition of inventory – will take place.
Once the manufacturing facility is fully automated with both automated part removal technology and mobile autonomous robots, human operators will no longer need to stand next to a part machine and wait for it to recycle.
"A person stands by a machine and takes the part, closes the gate and the machine recycles for another period of time most of which is wasted time waiting," Floyd says. "They are doing nothing until the machine delivers the next part."
Instead, after a part or parts are ready, automated part removal will kick in and alert the MiR robot that the parts are ready to be transported to the main work cell.
"No one will be wasting time waiting on parts to come out of mold," Floyd adds. "We compute that we can reduce at least one-third of the direct labor population. This will allow the higher wages and more of the savings to return to the bottom line for use in our expansion of automation programs."
Lack of Skilled Labor
Investing into automation will solve another problem for Plastic Molded Concepts. "This will also help us with the lack of the availability of a workforce," Floyd says, referring to the lack of skilled manufacturing workers in the industry. "We will eliminate the need for operators on the molding machine."
In 2017, Plastic Molded Concepts was hit hard by the labor shortage in the manufacturing industry and turned to automation to solve some of its operating problems.
"We realized we didn't have enough people and blew our entire profit that year spending money on employment agencies to find people," Floyd says. "We struggled to stay profitable and started falling behind on delivery of products – 10 percent of business was late and we said, 'OK, this is a permanent thing and we have to automate.'"
That's when Plastic Molded Concepts started purchasing a number of stationary robots that remove parts from the molding machines.
Plastic Molded Concepts plans to continue investing in its facility and new technology.
Master Molders
Aside from investing in automation, Plastic Molded Concepts also invests in its people. It employs in-house master molders that are technically trained and formally certified through professional educational services provided by RJG Associates and Paulson Seminars.
Its master molders specialize in analysis, troubleshooting and issue resolution in plastic product and mold design. With less than 1,000 master molders in the world, Plastic Molded Concepts has a powerful advantage over the vast majority of plastic injection molding companies in the United States and around the world.
"There are very few people that know how to do this job," Floyd says, adding that he's writing a book about the lack of skilled labor in the industry. "There are knob twisters and there are master molders. The knob twisters are twisting knobs on the molding machine to see what happens. The master molder twists the knob knowing what's going to happen."
Game-Changer
Another element that gives Plastic Molded Concepts an edge is its use of closed-loop cavity pressure control technology. Although this technology has been around since 1970, it is estimated that only less than 5 percent of the industry is using it.
"The reason for this, in my opinion, is that the education level in this industry is not adequate to utilize this technology," Floyd says. "It's a game changer for plastic injection molding but it requires technical knowledge. There must be a commitment to learn and apply the use of this technology."
Closed loop cavity pressure control technology became a game-changer in the plastics industry.
"No matter how sophisticated the machine is, you never seem to get the same parts close enough dimensionally, unless you control the cavity pressure by limiting the length of time and amount of pressure in the cavity," Floyd says. "They invented a process of controlling a molding machine and its ability to deliver perfect material pressures in the mold."
Plastic Molded Concepts uses the cavity pressure-sensing device to give it the ability to mold to much tighter tolerances.
Floyd says that there are many benefits to using closed-loop cavity pressure control technology. In addition to holding tolerance on a molded part and quality control, there are huge savings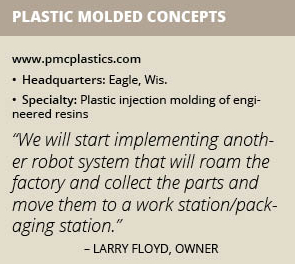 to be realized in less energy use, lower material consumption and mold damage prevention.
"The technology has allowed me to gain ground," Floyd says. "About 40 percent of my new sales come from failed process work, customers that came to us with a product asking why others couldn't make it work. One company went to 15 different molders and none of them could make it work."
One of his new client's previous molders even to failed to read the process manual that comes with every resin, containing instructions on how that specific resin needs to be processed.
"That's stunning to me," Floyd says. "Plastic parts are failing everywhere. People say that plastic fails because it's cheap and I follow that with 'Yeah, because they don't know how to mold it.'
"We are giving our industry a bad name because of lack of process know-how, lazy management and low expectations of our workforce."
Plastic Molded Concepts specializes in engineered resins, plastic materials that have better mechanical and/or thermal properties than commodity plastics. These high-strength plastics are often resistant to high temperatures, wear and corrosives.
"Almost 90 percent of what is molded in the industry is made out of commodity resins," Floyd says. "The rest is engineered resins, which are much harder to mold. We do the crazy jobs that nobody else will do."
Robust Molding Capabilities
Plastic Molded Concepts prides itself on its robust capabilities in plastic injection mold design that ensures plastic part manufacturability.
In addition to mold design assistance, the company specializes in molding and post-molding operations. It also provides custom plastic molding for emerging markets requiring unique mission-critical parts.
If an application requires special-purpose engineering resins due to demanding requirements, Plastic Molded Concepts can help steer the customer to the desired final outcome.
The company has a significant presence in aerospace and defense markets, foodservice and filters/screens in almost every market that handles gas or fluids.
For example, Plastic Molded Concepts supplies parts for ice machines, refrigeration systems and soda dispensing machines for the food industry. It also manufactures custom filters that go into jet engines and hydraulic systems.
"We have a very wide diversity in markets," Floyd says.
Plastic Molded Concepts' plastic injection molding quality assurance and control policy centers on stringent systematic checks throughout the entire molding process, as well as at critical checkpoints.
The company offers Geometric Dimensional Tolerance confirmation for mission critical parts.
Mission-critical parts are 100 percent checked through CMMs (GD&T using ASME Y14.5M-1994) and serialized. Proof of these inspections are retained and secured in its records. Plastic Molded Concepts' quality assurance system also enables complete traceability from raw materials to delivery.
Molding A Business
Floyd founded Plastic Molded Concepts in 1975 after years of experience in manufacturing and servicing injection molding machinery, and manufacturing for two parent companies that needed injection molded products for aerosol valve components.
The original concept for the company was to prototype new products, which was born out of Floyd's relationship with Baxter International, a Fortune 500 American healthcare company based in Deerfield, Ill.
In 1978, Floyd brought in a longtime friend, Bert Bodnar, who worked for Baxter and for whom Plastic Molded Parts was making prototype molds. For 20 years, the pair worked together until Floyd had to sell the business in order for his friend to retire.
In 1993, the business was sold to FilterTek, which made filters for the medical and automotive industry. Floyd bought the company back in 1996. Along with buying his company back, Floyd also acquired all FilterTek's short-run low volume molding customers, and all the tooling and machinery required.