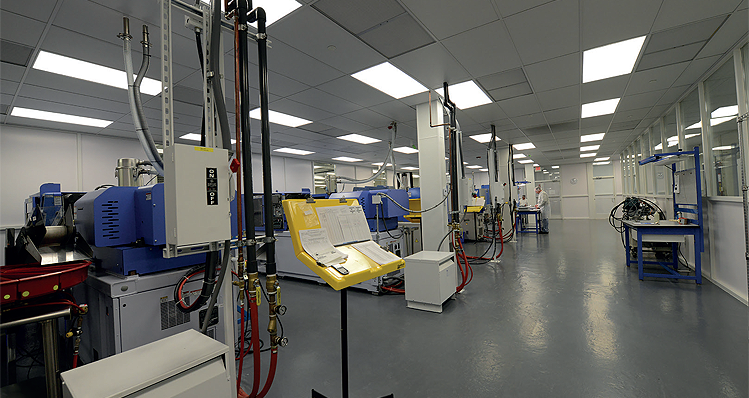 Plastic Molding Manufacturing
Mold rush
As many businesses begin to find their feet in the aftermath of the Covid-19 crisis, Plastic Molding Manufacturing (PMM) is responding to the urgent need to fill the labor gap by keeping its operations local
The US economy is difficult to predict at the moment, owing to the far-reaching consequences that Covid-19 has inflicted across markets. A particular sector experiencing the backlash is the manufacturing industry, and Plastic Molding Manufacturing (PMM) is gearing up to rectify what it can for its sector The business services the medical, industrial, defense, transportation, electronics, consumer and connectors industries, and works closely with a variety of customers to produce bespoke components and molds of polymer-based products. Most recently, PMM and its medical manufacturing customers have come together to create disposable products and equipment, owing to the increased demand caused by the pandemic. With an ISO certified clean room in one of its facilities, the company now produces numerous parts – both small and large – to provide for the healthcare sector.
The PMM timeline extends as far back as the 60s. In 1968, George E. Danis, an American citizen of Greek descent, had a goal to make his mark on the plastics market by serving Massachusetts' emerging high-tech industries. George, who is now the CEO of the company, speaks about the uniqueness the business possesses to make it a leading contender in the plastics sector. "PMM provides contract manufacturing for plastic injection molding and PC board assembly. Since its establishment, our team has pushed itself to provide America with plastic molding manufacturing solutions," he says.
As the company worked to gain notoriety in the manufacturing industry, it was able to increase its capabilities through acquisitions of other like-minded companies. In 2010, the business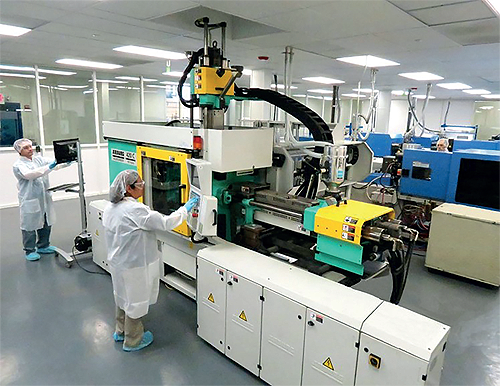 acquired Res-Tech Corporation, a younger company founded in 1976, which led to PMM becoming a major plastic molding manufacturer in Massachusetts. Res-Tech Corporation was then rebranded to Res-Tech Plastic Molding and three years later, PMM added yet another plastic injection molder, Tech Atlantic Inc, which provided a supplementary location for the business to offer a wider range of services.
The following year proved to be a significant milestone for the business with two more acquisitions taking place. PMM brought on board Northeast Mold, a two-shot injection molding expert. After this purchase, the company amalgamated Tech Atlantic with Northeast Mold to establish its Connecticut operation. PMM's fourth acquisition of True Precision Plastics occurred towards the end of 2014. The Pennsylvania-based business became the third manufacturing facility under PMM's belt.
Its next acquisition of Aucilla Plastics allowed the business to press into the Midwest, opening up opportunities for greater expansions. The company's fourth facility, which is located in Indiana, put PMM in a strong position to acquire its latest business: Phillips-Moldex Company. The new member to the family was then consolidated with PMM's Hudson facility in Massachusetts.
Growth opportunities
Now, with locations across four states, PMM is passionate about supporting local communities by becoming a national manufacturer of plastic injection molding products. Considering these expansions, George is proud of the company's progress over the past 50 years. However, he is also determined to reinvest in the US economy by encouraging local development. "After growing our company to be a nation-wide business, we decided to include in our name 'America's Technology Molder', because this felt more encompassing of our vision," he says. "Our platform aims to bring manufacturing back to the US and if we've learned anything from the 2020 pandemic, it is that we cannot depend on other countries."
According to George, his team's consistent hard work, dedication, and focus to serve PMM's customers has provided it with ample opportunities to grow organically. "Because of how we partner with our clients to develop a strong working relationship, they have a good experience with us and entrust us to both help them design their new products and bring products back to the US from overseas. This is how we were able to acquire companies in different national locations; the goal has always been to service our customers locally. Our intention behind this was to eliminate travel costs and transportation delays completely. In addition, we have developed a system where our customers are able to review their machine-produced products in real time, and they can inspect their parts with our microscope camera system that we have installed across our plants," he explains.
"We brought our infrastructure near to our customers' facilities with the best equipment, technology, and engineering support. This strategy has created an efficiency for them in parts, services and communication." George claims that this approach is a result of PMM's commitment to investing in its companies through technology, equipment and automation upgrades that will help better support clients timeously and cost effectively.
The business's expertise in molding services, engineering, design and tooling join together to provide it with the capabilities to specialize in plastics molding development, thin and thick wall molding, tight tolerance molding, part joining, and assembly.
When it comes to molding, PMM collaborates with its customers to assist with simplifying their manufacturing processes, eliminating secondary operations and costs, and improving the integrity of the product. Within this department, the company offers a spectrum of abilities that range from injection, cleanroom, two-shot, insert and scientific molding, as well as overmolding, welding and milling.
This service is then complemented by the design and tooling team who are skilled in high and low cavitation, family and interchangeable insert molds, with a tool transfer program that enables customers to move molds to any of the necessary PMM facilities required to complete the work efficiently.
Supportive employer
However, the business declares that when it comes to fulfilling customer needs, it is the engineering team driving its success. PMM's engineers bring together years of extensive industry knowledge and skills in material and quality evaluation and automation. While implementing new technologies, its skilled staff are trained to adapt to industry demands and provide solutions to client requirements.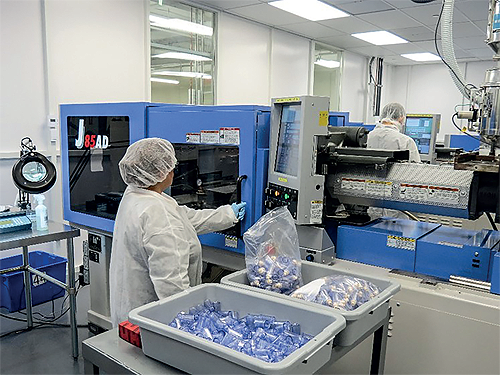 All three of these capabilities are buttressed by PMM's maintenance, repairs and revisions services, which help to protect the longevity of its clients' molds. PMM believes that sustainability and effectiveness of the product go hand-in-hand. This is why each facility houses a controlled environment equipped with an on-site tool room to engineer and repair requested changes.
George states that the business continuously updates its equipment to stay in the running with industry standards while also investing in new technology to support customers with fresh and complex product designs. "This is really why we believe it is so important to keep our infrastructure at the standards we do. It allows us to guarantee our parts are measured correctly with the latest technology and equipment so our clients can use it and be assured of quality," he expresses.
"We have received numerous new contracts from long-standing customers to work on all of their products for the high-tech industry. We also landed many new customers with several tools transferred to assist in supplying millions of pieces of disposable items. For both cases, we will be investing in new machines as well as robots to produce the parts," he adds.
Aside from its daily operations, the PMM company culture is carefully sculpted to prioritize the wellbeing of its staff. "We are very supportive of our employees and our wages are better than average. PMM pays a higher portion of health care costs and honestly we are like a big family here," says George. This sentiment became especially apparent during the 2020 Covid-19 crisis.
"Even during the height of the pandemic, we operated all four plants fully, with three 24 hour shifts that spanned over five days. We stayed vigilant to protect our employees with everything possible just as we were directed by the CDC and fortunately, we had no fatalities and we were very happy to have supported our customers fully," he shares.
Expansion plans
In contrast to these efforts, George also highlights that the pandemic worsened the reality of labor shortages across the States, which has had greater consequences across all industries that manufacture within the US. "The cost of labor has increased by approximately 40 percent," he shares, "which has affected the material shortages as well as the cost of materials, which has increased by 35-50 percent." This ripple effect has melted into the efficiency of the production line across all sectors, forcing businesses to take their operations internationally. "Historically when this has occurred, our manufacturing slows down because the US can no longer compete with countries that subsidize their own manufacturing and ultimately takes our business away," he informs us.
George is concerned that the US manufacturing sector could be in jeopardy if the government does not participate in lowering the cost of healthcare and allowing quicker depreciation in the capital investment of equipment and technology. "We need to support and invest in technical trade schools and fund part of the cost of engineering education, so we can be competitive with countries who subsidize their factories," he expresses.
In the meantime, PMM will continue to enhance its infrastructure and empower more independent and autonomous management. George wants to keep his mission of remaining close to the location of client operations in order to improve PMM's customer services, while staying on the look-out for more companies to acquire. "We will strive to invest in technology and automation. There are exciting times ahead that include setting up a prototype laboratory for the clients who are developing new products. Our plan is to increase the number of our plants with two or three more additions in locations like the mid-Atlantic and Midwest, doubling our business capacity and revenue, especially in the medical industry. We have so much scope to grow and we're looking forward to those opportunities," he concludes.
Plastic Molding Manufacturing
www.plasticmoldingmfg.com
Services: Molding manufacturers for polymer-based products