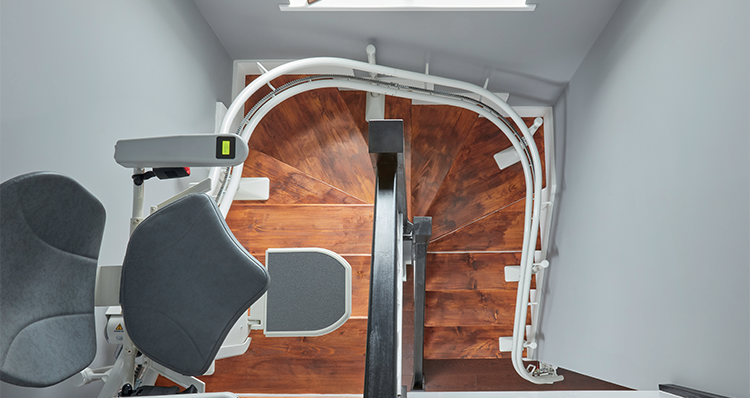 A new elevation
Ready to rise to the occasion, Platinum Stairlifts is keen to maintain its dedicated service and provide pioneering means of mobility that support the independence of people across the globe
Platinum Stairlifts is proud of its Yorkshire roots. With three sites based in Cross Hills, a sheet metal business over in Bolton, and additional research and development facilities in the surrounding area, the business has nurtured effective strategies to encourage each of its teams to work together, despite the difficulties of collaborating across a total of six different locations. Now, as part of a radical investment program the company is gearing up to open a state-of-the-art, purpose-built facility in Foundry Park. "The growth and demand for our product range has been so strong that our capacity is beginning to reach its limits, making it absolutely imperative to find a new site that enables us to consolidate all the manufacturing, as well as immediately doubling our capacity," shares Clive Briscoe, the CEO of Platinum Stairlifts. "An additional benefit arising from this development will be the move to a prime location in Keighley, which is very well served by public transport and A road links. The new 58,000 sq ft facility was originally commissioned in 2020 and the build and fit-out is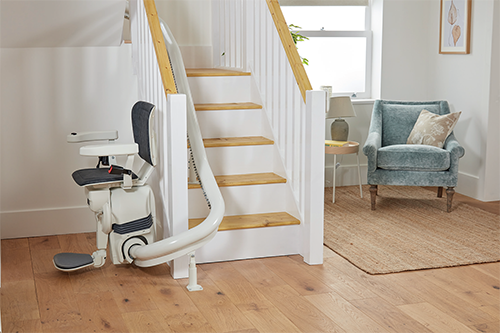 now well underway. This is a hugely significant move for the business," he explains.
Supported by an investment of approximately £6 million, the industrial site will provide Platinum Stairlifts with a modern manufacturing plant that accommodates new componentry, lasers, steel tube bending, world class powder coating spray booths and paint line capabilities. As Clive mentions, the building is currently under development, but with a handover target date set for early 2022, the Platinum team intend to have the Foundry Park facility in full swing by Spring 2022.
Partnership approach
Founded in Keighley, the 25-year-old business was originally established to supply approved used stairlifts and it was only later in 2008 that the business launched its first new product, Platinum Curve, a twin-rail design. "We manufacture over 10,000 stairlifts annually, and supply our products not only to UK and European partners but to countries as far afield as North America, Australia and South Africa, giving the business real international reach. To sustain this, rather than supplying directly to end-users we have a network of Approved Platinum partners, who are experts in their local market.
"This partnership is at the heart of everything we do, so instead of competing with our customers we focus on providing our partner network with all of the training and technical resource that they need to grow and be successful themselves. As we work together we can help our partners to satisfy more challenging end user needs, such as when staircases have been built in very confined areas, and consequently this supports increased demand for Platinum stairlifts.
"The growth of Platinum led – in 2018 – to external investment by private equity firm, NorthEdge Capital, which has been a hugely committed investor throughout the recent challenges of Covid-19. We created bold plans to transform our facilities and operational capabilities, and despite the scale of change that we wanted to deliver NorthEdge have been very supportive through this stage of our journey," he expresses.
Heart of innovation
Combined with the approach to partnership, the quality and reliability of all Platinum stairlifts are what sets the business apart, says Clive. Originally starting with Platinum Curve in 2008, the first stairlift in the range quickly developed a reputation for reliability enabling Platinum partners to fit and forget it, and be sure that it would be easy for mobility impaired customers to use, providing years of service. Building on this line in 2011 came the bariatric option, capable of supporting a greater weight of up to 160kgs.
"With the success of Platinum Curve, two further lines were launched in subsequent years. Launched in 2013 was Platinum Horizon, a straight stairlift that has the ability to climb inclines up to 62 degrees for those challenging staircases. This line also featured a unique power hinge, which enables the rail of the stairlift to drop into hallways in confined areas such as across ground floor doorways, before being raised out of the way to provide easier access to the home once the user has dismounted," he says.
The third product is the Platinum Ultimate, which, according to Clive, is the jewel in Platinum Stairlift's crown. Launched in 2017, this single-rail stairlift boasts a pleasing aesthetic that distinguishes it from other products on the market. However, the aspect that really sets the Ultimate apart is the Ultimate's first step start option. Effectively, he explains, this means the rail begins on the first step of the staircase, thus preventing any intrusion into the ground floor space and enabling users to access the seat even in the smallest spaces.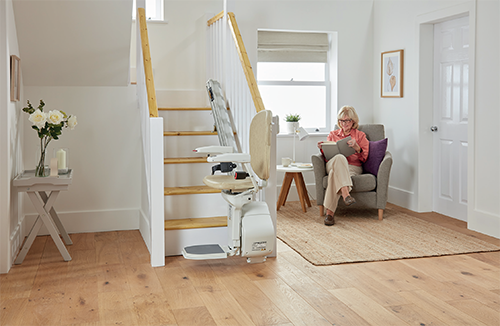 "The other advantage to this product," Clive continues, "is that it has forward-facing travel. For some users, moving up and down staircases can be an unnerving experience if they are looking straight down a long steep inclined staircase. Our forward-facing travel option allows individuals to ascend and descend facing the staircase upwards rather than downwards, and even on inclines as steep as 75 degrees the Ultimate will travel safely and smoothly to the destination. Innovation has been at the heart of Platinum and each of the features which we develop is in response to feedback from our partners in order to enable their customers to have the freedom to live at home for as long as possible."
Dedicated team
To provide the highest degree of comfort and flexibility to the final products in the business' catalogue involves the development of seats which can be tailored to the particular user needs. The Ergo seat, which was first launched in 2012 and is fitted to Curve and Horizon stairlifts, comes with a digital display, ergonomic joystick for easy control of movement and multiple seat pad back and arm rest positions, each aspect being adjustable to increase the support and comfort of the end user.
Following the success of the Ergo seat an updated version, the Ergo Space seat, was launched in 2014 which has a shorter curve backrest that allows for lifts to be fitted in even narrower staircases, to a minimum width of 660mm – only 26 inches wall to wall.
"In all that we do and across each of our products, you can see there is an extensive amount of development and innovation that goes into ensuring our lifts are designed for reliability, comfort, and safety. But this level of capability would not even be imaginable without our approved partners, who provide much of the crucial insight to fuel what we do. We always listen to their feedback and comments, even if they are critical, so that we can better understand their experiences of how our stairlifts perform and how we can improve them," he expresses.
In line with Clive's determination to uphold lasting relationships with suppliers and approved partners, he emphasizes the business' pride in the work ethic it maintains with those who are fundamental to the company's operations. "We have a fully integrated process that is essential to our development. On the one side, we have long standing relationships with our suppliers, and at the other end, we have a waiting list of potential new partners. In both instances, we work with them hand-in-hand through our development and manufacturing processes. We have agreed framework contracts with the majority of our supply base to describe exactly how each party will work, and confirm expectations and commitments to each other. Effective communication and collaboration is crucial to the stability of these relationships. For example, we have worked with key partners in the development of the Ultimate Drive unit, which powers the lift up the rail, and likewise, another supplier that has developed the technology for our Curve and Horizon products. We work closely with each of these experts, explaining the capabilities we're looking for, the functionality we want to build into the lift, and seek ideas from them to evolve the design. We also have a dedicated team of technical experts with skills in engineering, product design and technology.
"In combination with our suppliers, prototype solutions are developed, which then go through a rigorous testing process," Clive explains.
Considering the importance that the business places on relationships with suppliers and partners, it goes without saying that the operations at Platinum Stairlifts would not be possible without the team of dedicated staff that keeps the lifts ascending. "Our vision is to give people the freedom to live independently at home, and all our colleagues understand that. So, when we talk about building the best stairlifts to provide life changing mobility around the home, we are creating an inspirational mission which all of our colleagues at Platinum buy into. It really is rewarding to help someone who has been confined to the ground floor of their home due to the difficulty of climbing their stairs safely, who through the installation of a Platinum stairlift, has their mobility transformed and they regain access to every room in the house.
Future transformations
"Our values define how we work together and underpin everything we do; a focus on quality, reliability, partnership, innovation and caring. The synergy of this ethos underpins how we work together and helps shape the united company culture we have here. I can't emphasize enough how fundamental Platinum colleagues are to our success, and obviously we know engaged teams that feel valued and empowered are likely to work more successfully and collaboratively. In my opinion, that sets us apar t, and it is something we are continuously striving to improve," Clive says.
When Foundry Park comes on stream and the capacity of the business is expanded, Platinum Stairlifts expects to capitalize on the opportunity by furthering the relationship with its partners. "We know the demand for our stairlifts is increasing, so the first step is to ensure we can satisfy that demand, and by working with the partner network strengthen our presence in the existing territories. There's no doubt that there will be opportunities to expand into new markets across Europe and potentially further afield as well, which is why I am particularly excited about the new state-of-the-art manufacturing facility. Once we have increased efficiency, we can then invest in a number of transformational innovations to change the way that we manufacture and supply products internationally for the long-term growth of the company," Clive shares. With every stairlift tailored to the needs of the user and their home, the business seems well equipped to take on new heights with quality, reliability, partnership and innovation at the forefront of its operations, keeping it a trusted name in the homes of many.
Platinum Stairlifts
www.platinumstairlifts.com
Services: Stair lift manufacturers