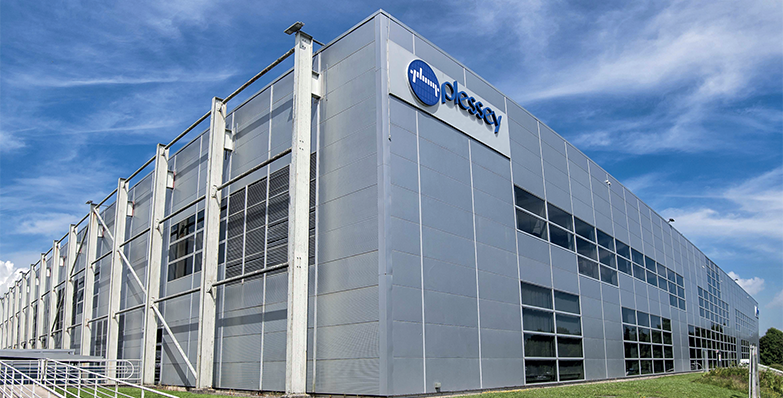 Seeing life differently
Plessey Semiconductors is at the forefront of microLED technology, delivering innovative display solutions that can be easily integrated into the next generation of AR/VR displays, wearables, and other consumer electronics devices
At a time in our history where virtually every single digital electronic device in use runs thanks to semiconductors, it is perhaps not too strong of a statement to claim that these much-talked about products have helped to change the world in which we now live. Indeed, without the semiconductor concept, we would not have the microchip, and without this the digital revolution would not have been possible.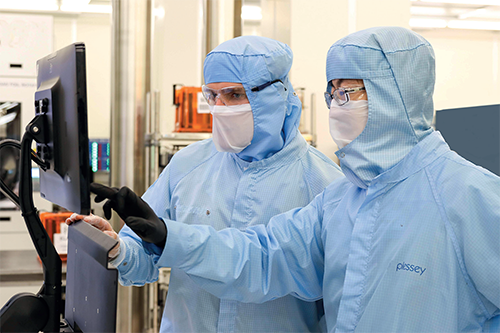 Semiconductors themselves can be either a single element or a compound that are conductors. The key property that they share is allowing conductivity between traditional conductive substances – i.e. metals – and non-conductive materials, for instance ceramics. The advances in the technology have allowed for the miniaturization of electrical components and opened the door to more cost-effective production of electronics, making technology available to a much larger percentage of the world's population. It means that everything around us today that needs to compute or process any information requires semiconductor technology. From electronic devices, to everyday appliances and automobiles, the semiconductor is now ever-present in our daily lives.
Plessey Semiconductors (Plessey) has a long-standing record of semiconductor process development and production at its fabrication facility in Plymouth, historically across a range of silicon Integrated Circuit (IC) technology but including Gallium Nitride LEDs over the last ten years. Today, Plessey works with world leaders in consumer technology, who are helping to pave the way with innovative next-generation Augmented Reality (AR) and wearable applications, based on advanced microLED display solutions. Drawing on its enviable semiconductor and optoelectronics expertise, Plessey has developed an award-winning, unique and proprietary gallium nitride (GaN)- on-Silicon platform and monolithic process at its state-of-the-art manufacturing base.
Leading platforms
Plessey's microLEDs enable compact displays that enhance the user's experience, for both entertainment and informative content, and are the first brand new display technology to be commercialized in more than a decade. Demand for microLEDs is accelerating, with research consultancy Yole Développement forecasting the market could reach up to 330 million units by 2025.
Plessey's microLED displays are ideal for untethered consumer electronics, offering OEMs new degrees of freedom in product design where power-efficiency and high-definition graphics are paramount. The small form-factor of microLED displays transforms typical bulky AR headsets to something more akin to a pair of glasses, changing the design paradigm of the next-generation of AR/MR wearable devices, HUDs and other consumer electronics.
Plessey's AR-Vμ microLED display allows a high-frame-rate video with perfect daytime viewing clarity to be shown in a wide variety of applications, from augmented reality glasses to other wearables and head-up displays. Incorporating over two million micro-level bonds between pixel and backplane, it produces a high brightness, fine resolution display with wide color gamut and reduced power consumption in a smaller form-factor ideal for replacing incumbent display technologies such as OLED and LCD.
Plessey's GaN-on-Silicon is recognized as one of the leading technology platforms capable of addressing all the challenges involved with manufacturing microLED displays in high volumes cost-effectively. The company's microLED's come with several key advantages. When it comes to the use of Silicon substrate, GaN-on-Silicon technology offers larger wafer sizes, less wafer bow, better wavelength uniformity, and ease of substrate removal compared to conventional sapphire substrates. The ability to manufacture pixels on larger 200mm or 300mm wafer sizes will lead to a substantial reduction in manufacturing costs, higher yield and throughput, which are critical elements in a commoditized display market currently dominated by LCD and OLED technologies.
Meanwhile, Plessey's monolithic process is the only viable approach towards manufacturing ultra-fine pitch pixels (< 5 μm) microdisplays, as conventional pick and place process is still plagued with yield issues and extremely challenging for pixel sizes less than 10 μm. Coupled with Plessey's 200mm epiwafer growth and wafer-level bonding technology on 200mm CMOS backplanes, this results in an efficient and economically scalable manufacturing solution.
Significant partnership
CEO Keith Strickland provides Manufacturing Today with a more in-depth look at the company's accomplishments over the past decade. "In 2012 Plessey acquired IP from the University of Cambridge to enable development of GaN-on-silicon LED technology on its six-inch processing line. Development of the technology continued through to 2016 to establish GaN-on- Silicon to best-in-class and competitive with incumbent sapphire-based LEDs. This was market driven initially through the potential for significant cost reduction and latterly through specializing in specific solid state lighting markets to leverage the technical advantages offered using a silicon substrate, and to differentiate from what was increasingly a commoditized product."
Despite this move it proved difficult to compete with the ever-increasing production and LED scaling in China, and in 2017 Plessey took the decision to solely focus on the nascent but potentially substantial market opportunity for microLED displays. "Crucially," Keith continues, "this market opportunity was one in which GaN-on-Silicon was considered by many to be a critical enabler.
"In the subsequent period, Plessey developed a GaN-on-silicon microLED technology process, demonstrating monochromatic monolithic solutions to the market with an eight-micron pixel High-Definition display in 2019. Product demonstrators were developed with several partners covering numerous applications ranging from TVs, mobiles, AR and Virtual Reality (VR), to Head Up Displays (HUDs) and wearable devices. It became clear however, that if the technology was to be developed further to meet challenging product specifications and manufacturability requirements, that major tool investment would be needed and thus a strategic partner was sought.
"Meta, formerly Facebook, subsequently engaged with Plessey in March 2020 to develop semiconductor processing solutions for microLED displays. Under a new commercial agreement, Plessey's LED manufacturing operations were dedicated to helping Meta prototype and develop new technologies for potential use in the AR/VR space," Keith explains.
This partnership is ideally placed to help Meta achieve its vision of the next computing platform centred around people. With consumer devices like Oculus Quest and a continued legacy of breakthrough research, Meta is one of the companies best-positioned to make consumer-ready AR glasses a reality. Plessey shares that vision for a future where technology and the barriers between people disappear, and in working with Meta, the business is charting an exciting path forward. Commenting at the time of the announcement in 2020, Keith declared his delight at the deal. "This agreement recognises the significant advances in our capabilities that we have made in recent years and we very much look forward to working with Facebook to help bring their vision to life," he added.
Plessey's background and experience of CMOS semiconductor knowledge and that of LED manufacture makes it somewhat unique and thus provides advantage in the development of this novel future display technology. Indeed, the integration of these different semiconductor material platforms is key in the production of high performance and manufacturable solutions.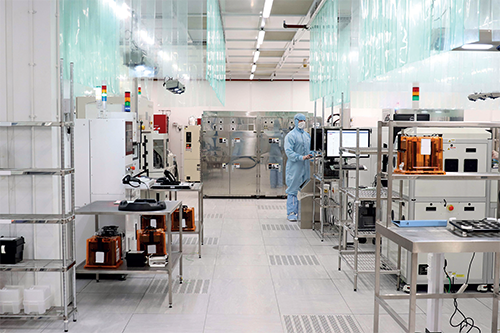 Green agenda
"Micro LED display technology for future applications, particularly in the AR/VR space requires significant development of LED technology together with the integration of the technology with advanced CMOS control electronics," Keith goes on to state. "Our semiconductor processing knowledge from silicon IC technology through to LEDs is leveraged to achieve the best of both worlds in unique and ground-breaking developments.
"Over the last 18 months, Plessey has invested significantly in the infrastructure and tooling for our microLED technology. This is to provide advanced equipment to suppor t the challenges of developing novel and advanced high-definition microLED display technology, and also to enable the technology to be transferred more readily into mass volume, manufacturable production."
In order to create the groundbreaking components at the heart of its operations, the manufacturing space at Plessey features some of the most sophisticated and state-of-the equipment and solutions available today. From smart factory automation to the very latest in information technology, the company embraces forward-thinking approaches and is dedicated to investing in industry-leading products that enable it to maintain its dedication to innovation.
A further interesting aspect of Plessey's operations is the company's approach towards sustainability and its efforts to formulate and expand its green strategies. "Being an advanced manufacturing company, and being on the edge of a National Park, we are fully cognizant of our responsibilities to the environment," Keith affirms. "Our manufacturing processes, we acknowledge, do take a lot of resources and energy, however, we work hard with both our suppliers, and the design of our facilities and technology to minimize the impact as much as possible. We run variable speed drive systems on much of our equipment to ensure optimum efficiency is maintained. This coming year we are planning to generate some of our energy needs through the installation of a solar PV system on the roof of our facility, supplementing our battery system that we installed a few years ago. We will also be installing our first EV charging system for employees to utilize with cars and bikes! We are also exploring the use of a water reed bedon site to provide for an effluent filtration system."
Talented workforce
Turning our attention to how Plessey has managed to continue to operate during the height of the Covid-19 pandemic, Keith offers some important insight. "The pandemic has clearly had a devasting effect on many sectors and has impacted our business too, although in a different way to many. With significant expansion of the clean room facilities and new tooling, the pandemic has impacted lead times and installation services and support from vendors due largely to travel restrictions.
"We are, however, fortunate in having a large site and so social distancing measures have been straightforward to implement, and of course within the actual semiconductor fabrication rooms the extreme cleanliness and air conditioning system provide an inherently safe environment. During some periods we have implemented a working from home capability for some of our supporting departments but have in general, given the nature of our facility and our belief in being more effective together, encouraged our employees back to the workplace."
On the subject of said employees, Keith clearly holds each and every one of these men and women in the highest of regards. "Our people are key to our success and our number one asset," he declares. "In effect, while we are investing significantly in our facility and equipment, this is generally open to others too and therefore it comes down to our people that will make the difference and enable us to succeed ahead of our competition. In the last 18 months, we have grown our workforce by over 50 percent to approximately 230, and we expect to continue growth throughout 2022 and beyond. We are hiring many apprentices, graduates and young engineers, and so it is key we have in place good development programs, training and career paths if we are to attract good talent and also retain them. To support highly specialized skills, we hire from across the world and thus have a multinational, multi-cultural workforce. This we are mindful of and of particular note, in recent times is supporting our workforce through thepandemic and the many challenges that presents to us as individuals as well as a company."
As Keith alludes to, the company has every intention of growing in the coming years, and concludes by providing an outlook for what the immediate future holds for Plessey. "Currently, we are firmly in development, but will move in the coming months and years into a production mode and all the disciplines that entails. Our development roadmap is long-term and I expect to see our display technology advance to meet the requirements of a whole new generation of products and applications."
Plessey Semiconductors
www.plesseysemi.com
Products: MicroLED solutions