Illuminating the future
Semiconductor manufacture and lighting technology innovator Plessey is at the cutting edge of LED technology
Semiconductor chips have been manufactured at Plessey's Plymouth factory since 1987. Under various guises and periods of ownership, millions of pounds have been invested into the facility to maintain a state-of-the-art production capability over the years, and as such the company has often seen itself at the cutting edge of technological development – for instance,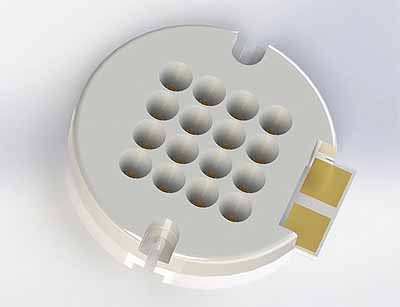 leading the way in the silicon-based chip revolution in the 1960s and 70s. After numerous changes of ownership, a management buyout in 2010 once again saw Plessey occupying a spearhead position at the forefront of innovation.
"Our heritage has always centred around Integrated Circuit (IC) chip technology, but in 2011 we acquired technology from a Cambridge University spin-out, which had developed ground breaking Gallium Nitride on Silicon (GaN on Si) technology for LEDs," explains Operations Director, Mike Snaith. "This saw us change direction towards becoming a lighting technology company. Bringing this GaN on Si capability into Plessey is a major step to help innovate and move the lighting industry forward as silicon solutions can create a range of benefits."
Within the LED market, around 80-90 per cent of LEDs are currently based on sapphire technology, which is naturally very costly. Mike explains that silicon is not only cheaper as a raw material but has other inherent advantages too such as better thermal performance, requiring less heat sink components in lighting applications, and can be operated at higher currents levels, all which help to bring down the cost, weight and footprint of the overall LED component or luminaire. "The other major benefit is that the emission of light is from the surface of the GaN on Si based LED rather than being volumetric as typically the case with Sapphire devices," he continues. " In many applications this can aid optical design and again help with the overall reduction in the cost of a lighting solution."
However, whilst LED manufacture is already a complex process, working with silicon requires a completely new set of skills and expertise, and Plessey's long-standing background in the technology puts it in the perfect position to take on this innovation. "It's not just our experience of silicon development, but also the experience of the processes involved with the production of the technology and the processes that come with that," Mike notes. "We have been able to bring all of these lean manufacturing processes, engineers and tooling over to the LED sector, marking us as one of the few company's in the world with the capability to do so."
Indeed, as innovation continues to define Plessey's business strategy, some of its capabilities and development focal points are truly unmatched. Amongst these is its current move towards new chip packaging from chip-scale, wafer-scale and novel packaging for high power LEDs with class leading thermal performance. Mike notes that much of the cost of producing an LED is held with the packaging, so by developing new techniques further cost can be driven out of the end product. These developments will also see the team incorporating more and more secondary components onto the semiconductor itself. "This involves using a secondary wafer in a flip-chip design onto which we can grow and manufacture other components at the same time," he outlines. "This can lead to more smart, integrated – what we call monolithic – silicon LEDs, which not only help to lower costs but also reduce the footprint and allow lighting fixture designers to create more efficient and innovative products."
A second area of differentiation, unrivalled by competitors around the world, is the work currently being done on beam steering technology. Plessey is also creating tiny dot-LEDs for wearable technologies like smart watches. Crucially, by moving towards higher-tech and higher-powered technologies and away from medium-powered LED applications the company is able to occupy a niche in the market and exploit opportunities untapped by Chinese manufacturers, who have otherwise saturated the market and created an un-even playing field.
Beyond its immediate focus on GaN on Si LED technologies, Plessey is also looking at a number of other areas to deliver innovative solutions to markets around the world. It recently acquired the sole rights to novel horticultural lighting technology developed by Phytolux, a manufacturer of lighting fixtures designed to emulate specific wavelengths to stimulate plant growth in greenhouse-type applications. By creating wavelengths similar to those of sunlight, this technology has seen 20-40 per cent improvements in plant growth and could have significant implications as the world's population rises alongside global demand for food.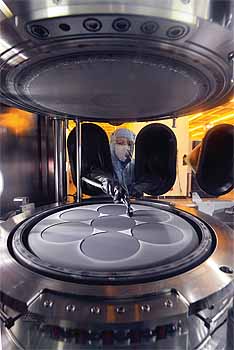 "Not only does this allow plants to be grown in areas untouched by direct sunlight, but there are also opportunities to take this kind of technology into human wellbeing as well," says Mike. "We're currently working with a company to develop a solution that can work with the body's circadian rhythms through lighting, which could have benefits for people who have changing sleep patterns, such as night shift workers."
Plessey is also holding on to its semiconductor modulechip roots with the development of award-winning EPIC technology. Essentially, a perfect volt metre with many applications including ECG monitoring, for which imPulse, Plessey's EPIC based hand held ECG solution, is currently undergoing clinical trials, has full FDA approval and will soon be introduced into GP surgeries and is also being utilised as a driver awareness sensors in the automotive industry.
"Moving forward will very much be defined by a continuation of this innovation and process development that has put us at the front of the industry when it comes to GaN on Si LED technology," explains Mike. "Here in Plymouth we currently have three clean room facilities with AIXTRON MOCVD tooling for six inch wafer manufacturing. However, in October 2016 we will start upgrading these facilities with AIXTRON's newest state-of-the-art G5 Plus tooling, which will take the technology to the next level and increase our capacity three-fold during 2017."
With demand for more energy efficient and cost effective lighting solutions ever on the rise, the opportunities for a company with Plessey's experience and expertise in silicon technology are undoubtedly plentiful. There is a real sense of excitement about the future when talking to Mike, not only in the potential for GaN on Si technology to revolutionise the LED industry, but also in the development of solutions for a much wider range of sectors and applications. Fresh investment into its facilities will mark the next significant step for Plessey as it takes its capacity to a level that will enable it to perform with higher volumes on a much larger scale, but it is the company's commitment to innovation that will arguably see it continue achieving its long-standing success well into the future.
Plessey Semiconductors
Products: Specialists in manufacturing silicone-based semiconductors