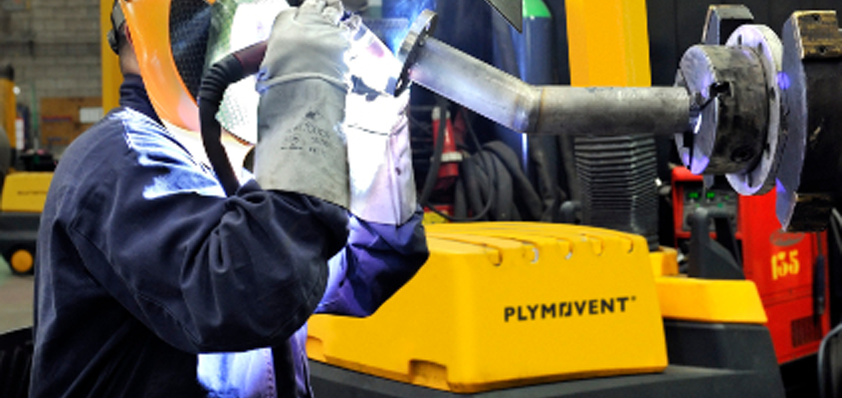 Extract the Fume
Powered by Plymovent, Remove The Fume is a one-stop online shopping platform comprised of systems and services for the extraction and filtration of polluted indoor air. The factory-direct webshop provides high-quality solutions that remove welding and cutting fumes, and grinding dust for metalworking fabrication and welding. Its products contribute significantly to a cleaner, safer and healthier workplace.
Remove the Fume offers users a vast product portfolio of weld fume extraction equipment solutions that require little to no installation. The customer support team is available to recommend products, supply brochures and product data. Remove the Fume's team of Plymovent regional advisors are available to consult on filtration solutions for the type of fabrications
and welding applications needed for production companies and larger manufacturing businesses.
Through the webshop portal, end-users can easily complete their transaction after selecting their equipment at affordable prices and enjoy free delivery across North America. Remove The Fume also offers a reseller program, available for companies seeking to sell equipment to vendors with associated our product line need for safety in the workplace to protect all employees on the shop floor.
Improving Working Conditions
Remove The Fume's goal is to improve the working conditions of welders and protect their health, which in turn improves the safety of all employees on the shop floor with fume extraction. Whether welding indoors or outdoors, users need weld fume extraction safety equipment to control their weld fume.
During the welding process, fine particulate dust is created which can ground on surfaces in the workshop. Remove The Fume's equipment also offers fine particulate dust collection. Units are available with disposable and self-cleaning filter units for easy disposal of unwanted airborne particles to ensure the safety of all employees on the shop floor.
Welders are commonly exposed to substances from the base metal, plating or filler that cause metal fume fever. Brazing and soldering can also cause metal poisoning due to exposure to lead, zinc, copper or cadmium. In extreme cases, cadmium (present in some older silver solder alloys) can cause loss of consciousness. Find portable, mobile, and stationary welding fume equipment with affordable pricing on www.removethefume.com.
Welding with Stainless Steel?
Remove The Fume recommends self-cleaning filter options be ordered with a high efficiency MERV 16 rated filter unit for use when welding with stainless steel. High efficiency filter units are designed to meet more stringent local air filtration quality standards suitable for welding with stainless steel.
How to Order
Free shipping is included on all purchases across North America and the web portal allows customers to input their shipping address at the time of purchase. Remove The Fume products come with a one-year warranty on limited parts. All filter cartridges are available to be ordered through customer support at info@removethefume.com.
Read about other Plymovent technology here.