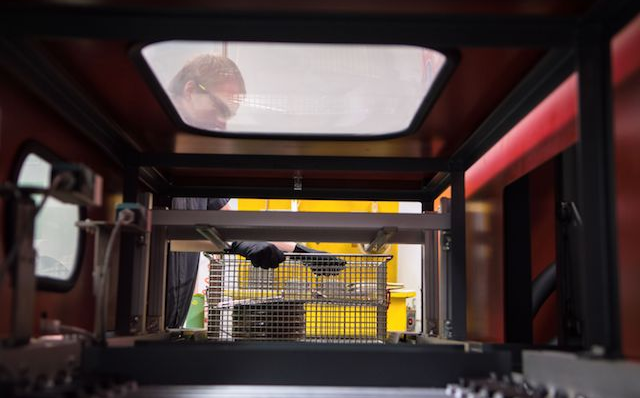 Efficiency, speed and quality are the three primary characteristics most OEMs look for in their suppliers. As a one-stop-shop for miniature precision parts with in-house design consulting, tooling, machining and finishing services, Podmore Manufacturing delivers on all three fronts.
Its range of capabilities allows Podmore Manufacturing to eliminate most of the markups normally added to each step of production. Customers that switch to Podmore Manufacturing immediately see the impact on their bottom line.
One such client in the industrial cutting industry previously used a supplier to purchase unfinished oversize wire raw material. For each order, the wire was straightened and cut into 12-foot long bars, then sent to another specialists to grind the wire down so it would fit the CNC bar machines. Wire that started out 0.78 inches in diameter would be trimmed down to 0.03 inches, a large cumulative waste of material. Further, because a different company completed each step there was a greater total cost for the wire.
Podmore Manufacturing streamlined the entire production. The company worked with the raw material supplier to secure better quality finished wire and then fed it into its CAM controlled Swiss screw machine – a one-step process that could be completed by a sole manufacturer. That single customer requires 10 million parts per year, so the reduced price of every component represents a significant cost difference. "I don't know what they were paying before but I imagine we're saving them a lot of money," President Kerry Podmore says.
Process improvements begin before Podmore Manufacturing even receives the material. The company provides input on its customers' component and tooling designs to improve efficiency. "We like to work with our customers' engineers and suggest changes that might improve the manufacturability of their part, whether it's the type of materials they use or features that make it difficult to manufacture," Podmore says.
Domestic Niche
Podmore Manufacturing produces a range of miniature precision components used by a variety of industries. Its products include consumables for industrial plasma and laser cutting systems, male and female electronic interconnectors for cell phones, pins for automobile ignition systems and spring-loaded test probes for circuitry. Customers are primarily located in the United States but Podmore Manufacturing also ships to OEMs in Singapore and India.
Although there is heavy competition overseas, Podmore Manufacturing fills a largely uncontested niche in the domestic market. "There's not a lot of U.S.-based manufacturers who work in the micro products we do," Podmore says.
The miniature precision parts industry is mainly centered in Europe and Asia, which gives Podmore Manufacturing an advantage with potential clients who are near-shoring or prefer to buy American as part of their sourcing strategy. One such potential customer is a medical device maker that currently manufacturers 100 percent in China. However, the company wants to diversify its production by opening a second manufacturing facility in the United States, Podmore says, creating an opportunity for Podmore Manufacturing to gain a client.
The logistics of near-shoring are not the only force at work. The rise of nationalistic sentiments and President Donald Trump's pledge to bring more manufacturing activity to the United States are further causing companies to evaluate their domestic plans in a way that could benefit Podmore Manufacturing.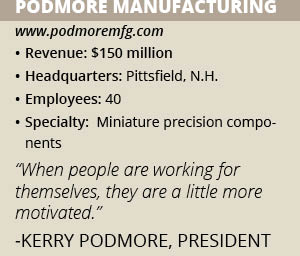 To accommodate the expected demand under the new political reality, the company is rethinking how it markets itself. "We haven't done much in the way of trade shows in our history – most of our work has been word of mouth – but we're trying to hit more trade shows to take advantage of that," Podmore says. "We grew this business literally for 33 years and didn't do any advertising. We couldn't keep up with the amount of work our current customers were pushing toward us and that's how we always grew."
Steady Growth
Podmore's father, Barry Podmore, emigrated from England to the United States in 1976 and founded his namesake company, Barry Podmore Inc., in Massachusetts in 1982. Kerry Podmore joined the company three years later. At the time, Barry Podmore Inc. was truly a family business, consisting only of Kerry Podmore, his parents, one other person and 12 CAM machines. The company moved a few times as it grew, reaching 10 employees and 33 production machines by the time it relocated to its current facility in Pittsfield, N.H.
The bursting of the dot-com bubble in 2000-2001 slowed down the electronics and telecommunications industry. To offset the decline in business from its traditional customers, Barry Podmore Inc. needed to expand its capabilities. The company invested in its first CNC machines and added the ability to complete screen printing jobs. The company has continued to invest in its equipment and its 40 employees now operate 96 CNC and CAM production machines in a 35,000-square-foot facility. In 2015, it was renamed Podmore Manufacturing.
Although the business still carries the Podmore name, the family no longer owns it. In 2009, Barry Podmore sold 100 percent of his shares to the company's employee stock ownership plan. The move didn't change the management of the company, but it gave workers a much larger stake in Podmore Manufacturing's success. "When people are working for themselves they are a little more motivated," Kerry Podmore says.
Podmore Manufacturing already had low turnover – some employees have been with the company longer than 25 years – but the company's employee ownership made it even more likely for people to see their jobs as careers, Podmore explains. That kind of institutional knowledge and experience lends itself to consistency in quality and long-term relationships with customers.
Maintaining Quality
Precision parts demand a high level of quality. It's common for Podmore Manufacturing's customers to require a tolerance of 0.0004 inches and in some cases, the company even delivers less than 0.0002 inches in variance. The company's state-of-the-art CNC and CAM machines are responsible for delivering that precision and consistency, but it's the quality assurance equipment that creates confidence for the customer.
In many cases, components are so small that variations cannot be seen by the human eye. To ensure tolerance levels are met, Podmore Manufacturing uses stereo microscopes and an electron scanning microscope to measure the variance and imperfections of each part. "It gives us the ability to see how the cutting tools are performing and if we need to make modifications on that," Podmore says.
Having found a formula that allows for steady growth and satisfies customers, Podmore Manufacturing plans to stick to what has worked in the past. "We're going to continue to do what we're doing for the last 30 years," Podmore says. "As customers have demand for parts we'll determine whether we can make them. And if we need to improve our capability we'll do that."