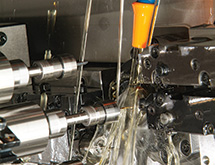 Although growing in size and reputation, Podmore Manufacturing, Pittsfield, N.H., is currently trying to scale down, in a manner of speaking.
"Customers are pushing us to make smaller and smaller parts," says Kerry Podmore, president. The company specializes in the production of miniature precision machined parts for a variety of industries, including computers, electronics, medical, aerospace and automotive.
Established in 1982 by Podmore's father, Barry, the company started off with three escomatic screw machines in a 1,200-square-foot space. "We currently have more than 94 machines in a 35,000-square-foot facility," Podmore says. "As the demand for smaller parts grows, we're investing in new equipment to meet these needs."
Specializing in the production of miniature precision machined parts, the company routinely delivers 0.0005 inch (.0125 mm) total tolerance on parts with a major diameter ranging from .0065 inch (.254 mm) to .500 inch (12.70 mm), Podmore notes. In addition to Swiss screw part machining, cleaning and finishing, the company offers design consulting and tooling services.
"Most of our work is in the electronic interconnect arena, such as battery connections, and male and female computer connections," Podmore says. He adds that although there are product lines the company has manufactured for 20 years, the company does not shy away from the challenge of creating new and improved parts.
"We have a range of computer numerically controlled (CNC) machines and CAM machines," Podmore notes. "Our precision Swiss multi-axis CNC lathes and escomatic coil-fed lathes can handle any material."
"We're currently working on a product that is the diameter of a human hair," he says. "It's a bit of a challenge because there are also small points that have to be cut into this particular design."
Manufacturing such small parts challenges a manufacturer's ability to maintain quality. Investments in high-tech inspection equipment such as laser scan micrometers, comparators, and optical and video measurement machines, as well as a range of microscopes, including a scanning electron microscope, ensures the precise tolerance and reliability of each product manufactured. "The company uses statistical process control and laser micrometer-measured accuracy to sixty millionths of an inch," Podmore adds.
"We want to ensure that our customers have zero-defect parts," Podmore says. "We achieve that by paying close attention to detail and having the right equipment to be able to accomplish that." He adds that magnifying the finished parts allows Podmore Manufacturing to ensure the part is defect free and the finishes are acceptable.
Material Masters
"Most of the time, our customers come to us with a specific design and we create a product based on their design," Podmore says. "However, we've had clients come to us with problems that we've been able to solve based on our extensive materials knowledge and our state-of-the-art machinery."
One client, a jewelry bead maker, had issues with a coating process in making its manufactured pearls. The process involves pushing glass beads onto a bed of clamping nails. Once pushed into position, the beads are coated. Unfortunately, the clamping nail design was failing, causing some beads to pull off the nail head or push down too far, resulting in poorly coated beads.
Realizing that there were more machinable materials available, Podmore Manufacturing engineers helped the client redesign the part. "Using a different material for the clamping nails, we were able to alter the design," Podmore recalls. "We added a knurl onto the body of the pin to create a press fit into the rail, eliminating the previously ineffective process of gluing them in. The clamping head was re-designed so the beads could be pushed into the precise position without pushing too far. Because the new material we used was more machinable, it facilitated increased production speeds." He adds that the new design saved the client both time and money.
"We find that there are certain suppliers that offer better quality, more machinable material," Podmore notes. "Although these materials may cost more initially, we can eliminate product failure issues when using a less expensive material."
Increasing Possibilities
Podmore notes that its growth has not only increased the company's size, it has also increased its potential for growth in the future. "We'd like to expand our capabilities to manufacture all tooling, such as complex form tools and drills, to bring more of those processes in house," according to Podmore. "The more we can control the production processes, the more we will be able to improve the quality of our parts."
The company asserts that these quality measures, along with sliding headstock machines equipped with automatic bar loaders, spare clients substantial costs. "These automatic bar changers allow us to run lights-out production," the company notes. "Podmore can also run bar stock from 0.040 inch [1.0 mm] to 0.625 inch [16 mm] to minimize material waste.
"Our wire machines give us the ability to provide true 24-hour production," Podmore Manufacturing says. "Production of 20,000 parts per day per machine is common for us – we're currently working on a project that will run at 40,000 parts per day."
A well-trained staff also helps propel the company's growth. "We have an in-house training program for our CAM machines," Podmore notes. "Not only are they trained in the proper use of the equipment, part of the training includes dismantling and rebuilding the machinery to understand how it operates."
Podmore adds that the combination of a well-trained staff, state-of-the-art equipment and a strong knowledge base has led to the company's success. "That's how we're able to produce quality parts for the right price," he says.