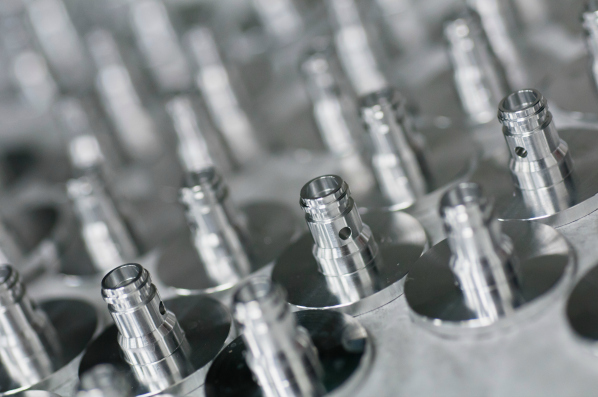 While it may not seem like much to the average person, a few fractions of a millimeter can make a huge difference to manufacturers in precision-oriented industries such as aerospace and medical devices. With lives often in the balance, these manufacturers need to know that the components going into their equipment have been crafted with extreme precision and attention to detail.
For more than 20 years, Wisconsin's Pointe Precision Inc. has applied a laser-like focus to its CNC machining services. CEO Joe Kinsella says the company's dedication to doing things right and with the most advanced technology available has enabled it to stand toe-to-toe with any other shop in the region, if not the country.
Kinsella founded Pointe Precision in 1995 after the closure of a large manufacturing facility in Stevens Point, Wis. Wanting to keep the experienced people from that facility from leaving the community, Kinsella established Pointe Precision to manufacture high-tolerance components for customers in the aerospace, industrial and commercial markets. The experience Pointe Precision started out with on its production floor gave the fledgling company a significant advantage from the beginning, and before long it expanded its services to the medical device and recreational sectors. By 2005, Pointe Precision was successful enough to build a brand-new 60,000-square-foot facility in Plover, Wis.
Today, Pointe Precision specializes in providing precision CNC machining solutions, with in-house capabilities including precision milling, drilling, grinding, heat treating and CMM inspection. Kinsella says the company's customer base is made up of manufacturers from a broad range of markets, including aerospace and surgical tools as well as power generation and firearms.
Advanced Technology
Pointe Precision's competition includes some of the most advanced, high-end CNC machine shops in the nation, which puts them in rare company. They have been able to compete on this exclusive stage thanks to the size and scope of its operations, according to Kinsella. "We are a little bit unique in that we're a fairly large shop," he says.
Since moving into its current facility in Plover, Pointe Precision has expanded to approximately 85,000 square feet, giving the company the capacity to keep as much of the production process in-house as possible. Kinsella says this is crucial for maintaining the high level of quality customers have come to expect from Pointe Precision and giving them peace of mind. "We have a variety of machines in-house that allows us to keep product within our four walls without having to source it out for various operations," he says.
That includes special process operations such as heat treating and electrical discharge machining, which aren't always found on the floor of a typical shop. Having these capabilities in-house makes it possible for Pointe Precision to keep products from leaving the facility to be handed over to outside shops. "When that has to happen, you lose your lead time and your focus on quality," Kinsella says.
Pointe Precision's state-of-the-art facility and the capacity it provides are major components of what has made the company successful, and so the company is continually looking for ways to keep its facility as up-to-date as possible. "When we look strategically at our shop, we are looking to stay as current as possible with technology," Kinsella says.
That means the company not only invests in new equipment with the latest technology available, but it also ensures that it always has redundant equipment on the floor. Kinsella says redundancies in equipment eliminate downtime caused by malfunctions and keep work flowing even in the event of equipment failure.
Building the Future
As important as the company's facilities and equipment are for its success, Kinsella says Pointe Precision's people are just as vital to maintain high levels of quality and strong relationships with customers. That's why the company has taken steps in recent years to counteract the dwindling number of qualified workers in the labor pool. "We are hiring people that have no experience. We're hiring based on aptitude and we've been doing all of our training in-house," Kinsella says.
In addition to beefing up its in-house training efforts, Pointe Precision also has strengthened its apprenticeship program, reaching out to high school students with an interest in manufacturing and helping them learn the skills they need to enter the industry. Kinsella says this, along with new automated technology to reduce the manpower needed on the floor, should provide the company with the strength it needs to continue on its path to success in the future. When the time comes for Kinsella to retire and turn the business over to his two sons, , he notes, "Pointe Precision has positioned itself to be a major force in CNC machining solutions for many years to come."