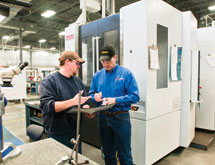 Although President and CEO Joe Kinsella ad­mits his machining facility in Plover, Wis., is far from a one-stop shop for aerospace components, the company continuously investigates opportunities to offer more services in-house as they make sense.
"When we send products out of our shop, it increases lead time," Kinsella says. "We tend to take more on as time goes because we continually find there are things that we typically send out that we could do in house with the right technology. This helps us reduce the risk of losing control of the product when it leaves the facility."
Kinsella had been working for a large manufacturing corporation in Stevens Point, Wis., before launching Pointe Precision in 1995. His employer decided to shut down its Stevens Point location and offered its 70 employees jobs three hours south of their hometown.
Kinsella, the general manager of the facility, offered an alternative: He developed a business plan that would keep Stevens Point residents working close to home while giving his previous employers consistency in its pro­cesses. After purchasing some of the equipment from the former company as well as earning a guarantee of three years' worth of work, Kinsella opened Pointe Precision with 95 employees from the Stevens Point plant and earned $7 million in sales during its first year.
Today, Pointe Precision employs 140 people and expects to make more than $13 million in sales in 2011. Pointe Pre­cision moved into its 60,000-square-foot facility six years ago. The company has expanded its market beyond the aerospace industry to expand further into the medical device segment.
"These are not new markets for us, but there are new customers within those markets because of some of the operations we offer and the capabilities we've expanded," says Scot Barton, vice president of sales and operations. "On the medical side, we've grown and received some new customers and are making a variety of products for them."
Pointe Precision manufactures complex parts that are "life-critical" for the aerospace industry. Its parts can be found in engine control systems, fuel injection systems, fuel control systems, servo valves, landing gear systems, and aircraft seating. In the medical device market, Pointe Precision parts are found in surgical instruments, pumps and hospital beds.
Core Competencies
Pointe Precision has expanded its capabilities to bring as many processes into its operations as possible. Barton says this strategy is in place to control quality as well as lead times.
"In the past when we needed to outsource capabilities that we did not have in house, we've found the quality that we required was never good enough from those outside sources," Barton says. "We investigated those areas and brought them in-house to control quality and lead time. Ultimately, we have total control of the parts we manufacture.
"In doing this, we don't have to worry about lead time extensions because parts aren't being shipped all over the country," Barton adds. "Our customers really put a value to that."
For processes Pointe Precision cannot bring in house, Kinsella says it makes sure its suppliers can turn around products in a timely manner. "We work with those suppliers and partner with them so we can buy time, so when we send to them, it gets turned and sent back as quickly as possible," he says. "We partner with suppliers to make the turnaround as short as possible."
Pointe Precision's shop houses a fleet of 17 machining centers, along with the addition of a new DMG/Mori Seiki EVO 60 five-axis machining center, as well as two- and four-axis lathes and multi-axis turning centers. It also has in-house high tolerance grinding, wire EDM, heat treating, deburring and non-destructive testing capabilities.
"The Mori Seiki NZ 2000 turning centers are much faster and the newest technology machines in the market today," Barton says. "With the NZs, it only takes a single operation to accomplish what previously would take multiple operations off of different machines."
With expanded services and room to grow, Pointe Precision expects to increase sales while the economy continues to improve. Barton attributes this to Kinsella's decision to invest in the company while the competition braced for a recession.
"Those machines have increased capabilities and capacity, and the products coming off those machines are very high quality," Barton adds. "Now that business is coming back strong, nobody has inventory and everybody wants parts tomorrow. We have the capabilities to get them to customers as quickly as possible, and we're very busy because of that."