A bespoke service
With a busy 2015 ahead of it, Polar Manufacturing has revamped its website and invested in new equipment to ensure ongoing success
Founded in 2011, Polar Manufacturing is the result of Mike Harris making the strategic decision to enter the market with a full consultancy, design and manufacture service for carbon fibre and composite products. A design engineer with nearly two decades of experience in composites, Mike was keen to ensure this turnkey service took place in-house as a one-stop-shop solution, as opposed to outsourcing. With this in mind, a purpose-built facility was established in Wymondham, Norfolk, where Mike developed a highly trained ensemble around him, which enabled the innovative firm to grow quickly.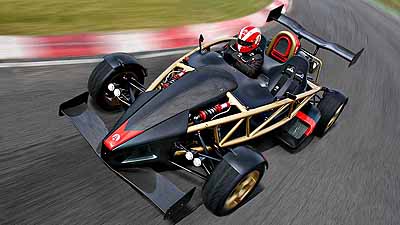 Since its inception Polar Manufacturing has accumulated an impressive customer base, including a number of blue chip companies such as Bentley, Lotus, McLaren and Ariel Motor Co. in both the UK and abroad. In line with this progression, the company has expanded its headquarters, with additional space being created and more staff being resourced to handle demand. To ensure quality, safety and efficiency levels, as well as the company's key philosophies of precision, hard work and integrity, are consistently maintained, all new employees are trained by existing senior staff members.
Able to bring its customers ideas to life, Polar Manufacturing designs and manufactures high quality carbon fibre and composite products from start to finish. Using its many years of experience within the automotive and defence sector, the company has expanded into the production of parts for a comprehensive range of products such as lightweight casings through bespoke designs to precision engineered luxury items.
In 2014 the company was contracted by London based Cinimod Studio to be the main developer of Emergence for Caviar House & Prunier, a stunning new lighting sculpture to be placed in Heathrow's new Terminal 2 International Departures lounge. With tooling design beginning in late January 2014, Polar Manufacturing worked to a tight schedule to ensure the project was completed in just 11 weeks. Parts of the sculpture were produced during February and March, with both companies working together for a further three weeks to erect the structure at Heathrow in time for Easter 2014.
Looking to capture the movement of a school of fish underwater, the two companies created visually striking light patterns through the use of ultra-modern interactive digital lighting. Originally meant to be comprised of a large amount of steel, the final result of Emergence was that of a sculpture comprised of 500 individual components of carbon fibre. In March 2015 Emergence was named Special Project of the Year at the 2015 Lighting Design Awards in London, with judges describing the sculpture as 'simply beautiful'.
As demand continues to increase for Polar Manufacturing's optimum quality services, the company has strengthened its marketability to potential new customers through a revamp of its website that gives viewers a clear and thorough insight into its skills and expertise in a visually pleasing manner. Each process undertaken at the company's facilities is described under its 'What We Do' section, while a 'Projects' link allows viewers to see its strong capabilities in delivering superior solutions to major customers. Another notable improvement on the company's website is the addition of a new video, which takes viewers behind the scenes at Polar Manufacturing's facility and shows the level of detail put into producing rear wings for the high performance British sports car, Ariel Atom.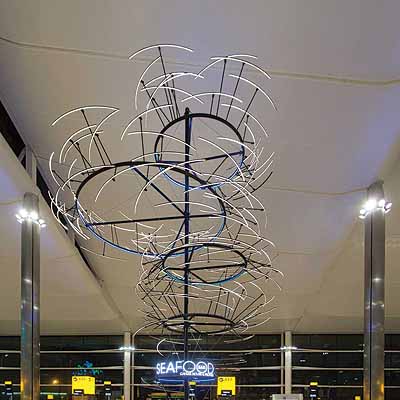 Alongside the revamp of its website, the company has also invested in a new 1.2 x 3.1 m long, 90 psi pressure autoclave at its manufacturing and production facilities. The pressurised heated chamber, or oven where the lamination is cured, is the second to be delivered at the facility and will allow extra capacity and meet ongoing demand in the laminating segment of the business.
Using the approved pre-preg kit, and with instruction from the lay-up manual, the fabric is placed into the mould before the layers are built up. Although core materials such as foam or Nomex are used to ensure a thicker laminate without sacrificing high strength and low weight benefits, a variety of materials are available for use to make up a part; options include carbon, glass or amarid fibres. Once all materials are placed in the mould, it is packaged in a vacuum bag for the curing process inside the autoclave. Each hand-crafted component made by Polar Manufacturing has a serial number attached at the lamination stage to ensure absolute traceability.
Recently, Polar Manufacturing expanded its capabilities in lamination when it was approached by Lotus Cars to aid in the manufacture of rear clam shells for the Lotus Exige. Acting quickly, Polar Manufacturing set up operations to build the glass reinforced plastic (GRP) components within two weeks and established its ability to manufacture two clam shells per day through the utilisation of a split shift from one mould tool. Now able to deliver the more cost-efficient wet-lay lamination process as well as the high-end pre-preg option, the company has further enhanced its capabilities to support its customers diverse requirements.
Ready and willing to take customers through the entire design and construction process, Polar Manufacturing is certain to flourish in composites sector as it continues to offer the best materials, a superior service and expertise under a high quality one-stop-shop solution.
Polar Manufacturing
Products: Leading designer and manufacturer of specialist carbon fibre and composite material
Sites: Norfolk, UK
Employees: 25