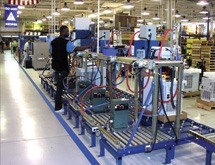 Polyscience, a division of Preston Industries Inc.
Everyone knows what a griddle does. But what if you poured the pancake batter on a griddle and the batter froze instead of frying? That would just be a normal day at Polyscience, where creative thinking made the Anti-Griddle possible, a griddle that freezes food instead of frying it.
Developed for enthusiasts of gastronomy – such as starry-guided Michelin chefs – the Anti-Griddle is used to prepare unique desserts, sauces, purees, crèmes and foams. It can freeze liquids poured on it solid or with liquid centers. Polyscience also sells The Smoking Gun, a smoker that looks like a hairdryer and can enhance many foods – such as butter, oysters, salads, cocktails or chocolate – with a smoky aroma and flavor that would be difficult if not impossible to produce any other way.
Another culinary specialty product, the thermal circulator, is being sold to consumers to prepare food such as steak to a precise temperature by putting it inside a vacuum-sealed plastic pouch immersed in warm water for up to 48 hours.
This type of innovation pervades the product development and manufacturing of Polyscience's approximately 300 products. "We produce precise temperature-control equipment," President Philip Preston explains. Founded in 1963, "Our roots are in the laboratory field. From there, we expanded to the industrial marketplace. About 13 years ago now, we really pioneered precise temperature cooking. It's a very unique approach to cooking."
The company's laboratory equipment can precisely control the temperature of liquids – such as paint, shampoo or barbecue sauce – when their viscosity is being determined accurately for quality control. The company's equipment also cools lasers, electron microscopes, computed and positron emission tomography scanners and plastic injection molding equipment. "You would be surprised how many places it touches your life," Preston insists.
Most of Polyscience's assembly, manufacturing and testing are done in its 75,000-square-foot plant at its headquarters in Niles, Ill. "We have some sheet metal fabrication, a powder paint line and we do a lot of tubing fabrication to support our refrigeration manufacturing," Preston says. Sheet metal fabrication includes the use of turret and punch presses, press brakes and welding.
Other processes – such as printed circuit board manufacturing, injection molding and assembly of motors and refrigeration compressors – are performed to Polyscience's specifications by outside manufacturers or bought off-the-shelf. Preston estimates nearly half of the company's products are distributed outside the United States and lists China as one of its biggest growth markets.
Redesign for Assembly
The opportunity to improve Polyscience's manufacturing processes came about in 2007 with the decision to utilize its nine-person in-house engineering department and outside engineering firms to redesign almost its entire product line. Although some companies might brag about the time required to assemble its products with a high degree of accuracy, Polyscience – as it does with the Anti-Griddle – does just the opposite.
"What we really focused on was designing the product for manufacturing and for serviceability," Preston recalls. "We're examining the production processes where critical alignment was necessary and the assemblers were taking a lot of care and effort to get parts in perfect alignment. We've really been working to engineer the necessity for that out of the system."
That required manufacturing some parts to higher accuracies so they would hold their tolerances better. In some cases, a machined part might be injection molded for great accuracy. In other cases, tight tolerances might be loosened and thereby engineered out of the product. These changes have resulted in improved yields. "It's always those tight tolerances in challenging jobs that will hurt you in both your internal and warranty yield," Preston notes.
Manufacturing of the new line started in late 2011, and Preston expects the redesign project to last for approximately three more years. "When you look at the timing of that, we were probably at the peak of our R&D spending at the peak of the market crash," Preston remembers. "Maybe that's counterintuitive, but my belief was that it was the perfect opportunity to push our product line forward while everyone else was going to hunker down. I never heard that term so much in my life as in 2009, and I think that we were maybe a little contrarian on that."
The company's efforts have been rewarded by the three bronze Inter­national Design Excellence Awards it has won from the Industrial Designers Society of America. "It was a lengthy process to make the changes," Preston concedes. "It also involved a lot of innovations, including two major patents."
Proprietary Testing System
Polyscience's manufacturing is not highly automated, Preston maintains. "It is still very much a hand assembly system," he emphasizes. "The areas where there's some very nice automation is in product verification and testing. All of the validation is done through a proprietary automated test system."
Not only are the test results tied to Polyscience's return goods system, but information on when the product was built, who built it, when it was tested and who tested it also is provided. Only when the unit passes all its tests are a serial number and carton labels printed and the enterprise resources planning system triggered.
Kanban cards are used to restock the manufacturing cells for products; no central stockrooms are used. The company has self-managed teams manufacturing products. "These self-managed teams are in charge of on-time delivery, product quality and inventory management, and they have the support of purchasing, engineering and quality assurance teams throughout to achieve these goals," Preston says.
The spirit of innovation also pervades Polyscience's employee management. All employees receive a performance review every November. "Everybody in the entire company has certain measurables that will directly impact their change in compensation and their bonus," according to Preston.
That connection – along with Polyscience's flat management structure – is helping the company continue on its steady path of double-digit growth, "There aren't many layers here at all, and I think that's very positive of the company," Preston stresses. "I think that accessibility to anybody in the business is key."