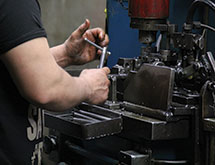 Founded in 1903 as The Adjustable Clamp Company by Adele Holman, Pony Tools has created a long tradition of manufacturing high-end products here in the United States. The founder's great-great grandson, Doug Holman, is now the current owner and chairman of a company that is known for its iconic Pony and Jorgensen brands in clamping and hand tools as well as its trademark orange color.
President and CEO Joe Krueger came onboard in 2012 to lead a new management team as part of Doug Holman's vision for charting the future growth of the company. Pony Tools has spent the last 18 months rebranding the company. Market research indicated that the Pony name had substantially greater consumer recognition than both the Adjustable Clamp and Jorgensen names. The company also believed it must do away with the limited "Clamp" nomenclature and adopt "Tools" to allow for greater product line distinctions and extensions. From there, Pony Tools was born.
"There was a real disjoint between how well our company name resonated in the marketplace from a brand perspective and how well the brand names did," Krueger says. "We also had this unique heritage and compelling story, but we simply weren't telling it."
Reaching the Market
Operating out of almost 100,000 square feet in Chicago, Pony Tools' manufacturing capabilities include a screw shop, press room for stamping parts, machining operations, automated assembly and hand assembly of various product families. Multiple international suppliers provide parts and components utilized in final assembly. Although a handful of complete products are imported, the majority of tools are assembled in the Chicago factory with globally and domestic sourced components.
Pony Tools serves retail distributors, retail store operators and end consumers. Retail and distribution customers expect Pony Tools to be the category leader and be on the forefront of innovation in new tools and merchandising programs that build excitement with the end users.
"The category we supply is relatively small in home improvement and hardware stores, and they rely on Pony Tools to manage the category," Vice President of Sales and Marketing Dave Madden says.
In its primary market of woodworking, Pony Tools provides products and support for the experienced and skilled woodworkers as well as young consumers just coming into woodworking. To reach this market, it maintains a presence in print and digital trade publications as well as participating in programs to support leading trade schools and high school industrial arts programs.
"This is a key target demographic for Pony Tools and we have developed a targeted strategy for reaching them through our new Pony Tools Institute website due to launch in early 2015," Madden says.
Also Influencing consumer purchasing decisions is a new marketing campaign that capitalizes on the company's heritage with distinct graphic imagery, heavy in-store merchandising, new print advertising campaigns and the company's sponsorship of "Rough Cut – Woodworking With Tommy Mac," produced by WGBH and shown on PBS in 96 markets with one million viewers per week.
"We have this unique story to tell of history and heritage," Krueger says. "Not just of our founders, but also the fact that multiple generations of employees worked for us, and we've served generations of consumers. Telling their story tells our company's story, and we are then able to reinforce what that heritage means through our actual brands."
Pony Tools also serves industrial distributors, a segment of the market separate from retail hardware and home improvement channels. The company uses its industrial distributor catalog and online web listing resources as touch points for the industrial end use customer.
Adding to Excellence
Among the key investments being made into the organization are major investments into the company's rebranding initiative with new imagery, logos, point-of-purchase materials and packaging design. The graphic imagery not only evokes the time-honored traditions of woodworking and the requisite mentoring that happens from generation to generation, but it aims to engage new audiences while capitalizing on its unique past, having been founded by a woman in a predominately male industry.
Additionally, the company just purchased its first two CNC Swiss Screw Machines and will install them in the first quarter of 2015. Additional machines will be purchased in the second half of 2015. The screw shop will be relocated in manufacturing with a new overhead handling system being installed to manage raw materials.
Pony Tools is also implementing a new ERP system and investing in new hires and adding talent to the organization. The ERP will go live in the second half of 2015. The improved data and information will allow the company to better manage inventories, rate vendor performance, drive more efficiencies and productivity in manufacturing and provide timely information on customer demands. Talent will be key to the company's growth and success, as organizational development and investment in people will drive performance.
Customer service, sales, supply chain and production teams are fully integrated and can provide real time information to customers on order fulfillment. Pony Tools has a virtual 99.9 percent on-time fulfillment performance. When the company completes ERP implementation, customers will be able to directly access information on order status as needed.
Beyond that, the company is implementing the Entrepreneurial Operating System (EOS) and executing the Traction methodology to help it stay on track with important objectives. As part of the EOS initiative, Pony Tools identified organic growth, product innovation, new market development and strategic acquisitions as major priorities for the coming year.
"We are focused on innovation and targeted new business development initiatives and will collaborate with retail and distribution partners to implement the right strategies," Krueger says "We will manage the dynamics of the digital world as we implement social media, website and merchandising programs. We will also work to better understand the changing demographics and needs of consumers through targeted market research."