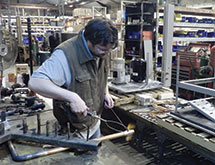 PoolPak International LLC
The dehumidification business can be a complex one, with the constant entry of new innovations and customers that need high levels of customization. But PoolPak International LLC copes with it all, President Robert Paley says.
"We're very good at doing that [because] we're flexible," he says. "We're able to satisfy what the market today is demanding with highly customizable equipment that is rich with features and energy efficient."
Based in York, Pa., PoolPak is a manufacturer of dehumidification systems that are primarily for indoor pool applications. The company was once a part of York International, until a group of its employees purchased it in 1986.
In 2002, Paley and a group of investors purchased the company and expanded PoolPak's reach. Under Paley's tenure, "We have put a large emphasis on international sales and penetrating international markets, in particular the Far East, Middle East and South America," he says.
Approximately 12 to 15 percent of PoolPak's sales are international. "We also are party to a joint venture in China that manufactures our units there for distribution to domestic Chinese markets," Paley adds. "Our future strategy would be to expand the manufacturing of units in China to penetrate other Far East markets."
Achieving Success
PoolPak's customer base consists of recreation and fitness centers, colleges and high schools. "We also have a very, very strong presence in the hotel hospitality markets, as well as residential sales for larger indoor residential pools," Paley says.
The company has achieved leadership in the U.S. market, he adds. "There are many people that say they're in the industry, but we only consider three main players that service the industry," he says. "We're No. 2 but closing in on No. 1."
He credits PoolPak's success to the quality of its dehumidifiers. "It's a very, feature-rich product," he says. "It has a great control routine in that machine performance is maximized while incurring the lowest possible cost to the owner." PoolPak also has a strong staff, which supports its operations. "On the sales side, our independent sales reps are the best in the business," he says. "A great product plus great sales representation accounts for our success in the marketplace."
Saving Energy
PoolPak's green focus can be seen throughout its products, including its refrigeration system, which has a heat pump cycle that adds heat back to the air and the pool water. "We don't waste any of that energy," Paley says.
The system also has a thermal coefficient of performance of up to five, allowing it to meet pool water set points and manage space humidity levels. The system also is effective throughout the year, significantly reducing the fuel usage for auxiliary heaters.
Another feature is PoolPak's Smart Economizer heating and dehumidification system, which uses outside air to heat and dehumidify over a range of outside air conditions. According to the company, it uses simultaneous operation of heat recovery and standard economizer modes, and adds 15 to 20 percent energy savings over dehumidifiers.
The Economizer also runs without compressors, which saves a "tremendous amount of energy," Paley says. "We also have other types of dehumidification equipment that operate without compressors."
Staying Ahead
Last year, PoolPak introduced its MPK Series, a new line of indoor pool dehumidifiers that features a modular design. Additionally, "We believe it to be state-of-the-art," Paley declares. "It encompasses all of the leading-edge technologies."
Available in sizes ranging from 30 to 90 tons, the MPK Series features include Smart Air Management for automatic airflow monitoring and control, advanced controls and system monitoring routines, and a Smart Pump Control for pool water heating. "We believe it puts us ahead of our competition in terms of features and value," he says.
PoolPak will promote the MPK Series at the 2015 AHR Expo this January in Chicago. "We'll have videos, interactive displays and people there to fully introduce and exhibit the product," Paley says.
Tracking Quality
Poolpak, as part of its formal quality program which is integral in its manufacturing, utilizes an incident tracking system, Paley says. "It clearly documents all incidents, whether internal or external to our operation," he says. "We then track the resolution of those incidents."
These resolutions can involve changes in design, manufacturing procedures or even a change in the vendor being used. So far, "It has shown a high level of success in terms of materially reducing our manufacturing defects," Paley says.
The company also has implemented lean manufacturing. "We had a very strong lean initiative here about 10 years ago and we've built on that," he says. "We certainly agree and practice lean in all major activities." Lean concepts can be seen throughout the company's ERP.
Going Big
Paley is proud of Poolpak and the company's growth. During his tenure, "We've grown sales over 100 percent," Paley continues. "We've opened up many new markets, we've become premier suppliers to some major fitness chains in the United States, and we have an extremely strong sales rep network that gets us in front of engineers all over the country."
Paley is excited for the company's future, particularly with the MPK line. "We feel that we offer the premier dehumidification solution for indoor pools with [this] line," he says. "We offer an extremely high value type of equipment, with relatively low maintenance required.
"It's a piece of equipment that's going to last for many, many years," he says, noting that the MPK has gained a lot of interest from customers. "We feel we're really going to hit a home run with it."
Poolpak also plans to expand its presence in China, where the company is the leader of its market. "We're building a factory over there that's going to be four times the size of the current facility," Paley continues. "They're going to do some big numbers over there."