Building up brands
An experienced provider of creative manufacturing and filling solutions for the Health and Beauty Industries, Poppypac offers its varied client base start-to-finish product development services, as well as a complete processing, labelling and packaging proposition
An experienced provider of manufacturing, filling, and packaging services to the health and beauty industries, Poppypac (the trading name of Independant Toiletries Ltd) specialises in the
production of cosmetics, toiletries, vitamins, minerals and supplements, and offers complete processing, labelling, and packaging solutions. The company's lithe structure enables it to navigate the marketplace deftly, providing its customers with the rare opportunity to manufacture a smaller quantity of a given product, so that brand owners can test its public appeal.
Independent Consultant, Peter Darke, has been involved with the company in various capacities for more than ten years, and he happily agrees to discuss its capabilities and the developments it has experienced in recent times. "Poppypac aims to help brand owners, whether seasoned or fledgling, to gain a foothold in their desired market by providing the facility for small and medium sized production runs for them in a cost-effective and risk-free manner. Their presence in both the personal care and the vitamins and minerals sectors, enables them to offer a wide range of 'wet filling' options together with a range of hard-shell capsules and tablet production facilities in-house. They find that the two sides of the business are interrelated and, therefore, they can serve customers who target both markets. There seems to be a growing crossover between the consumption of products for internal and external use, as consumers are looking for both types, and they are able to cater for their needs from Poppypac's facility in East Sussex."
Whilst not investing copious amounts of money, Poppypac has installed specific machines across its factory to address the needs of its customers. "They have been very flexible in their approach. Since they have grown in the last few years, they have added a tube-filling machine, enabling them to fill a wide range of tube sizes, as well as new counting machines for their capsules and tablet packing processes. Furthermore, they have recently invested in an additional capsule-filling machine, as well as a new Premier PT50 labeller and new batch coding machines. The latter enables Poppypac to provide a coloured code on dark coloured containers in addition to the standard black version. In addition to these facilities, the company can also offer a cello-wrapping function for those customers that require that particular product finish.
"In general, they can quickly establish varying production lines to suit assembly requirements by relocating key pieces of equipment, which is something that helps them to operate more efficiently," Peter analyses. "They are very good at understanding what needs to be done with every single product and because they are required to do short runs, the whole process can be done relatively quickly. They are also in the process of installing a new ERP system (Exact), which will support improved efficiencies and streamline many operational procedures."
As a small family business, Poppypac knows the importance of treating customers essentially as part of the family better than anybody else. In Peter's view, it is the company's personal service that has attracted clients to Poppypac time and again. "It is easy for customers to speak directly to the people who are involved in the day-to-day running of the business, with the entire team being very approachable. Building strong and long-lasting relationships is their top priority and they do their best to make clients feel special and welcome. Part of their philosophy is also to always try to go the extra mile. They respond quickly to enquiries, and they are also willing to recommend other solutions that might improve a product's performance."
Less than a month before our conversation with Peter took place, Poppypac was accredited with the ISO 9001:2015 certificate, and it is well on its way towards achieving ISO 14001:2015 status. In addition, work is also underway to formalise operational practices and procedures across the company to demonstrate ISO 22716 compliance and allow Poppypac to include GMP as part of its list of accreditations. For Peter, this, as well as the incorporation of the ERP system and the recent installation of a new Laboratory based software package (Creativity), is an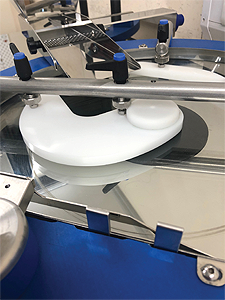 achievement that will strengthen customers' faith in the company's capabilities. "These credentials help customers to understand what the company can and can't do. Also, being members of the British Contract Manufacturing and Packers Association (BCMPA), has raised their profile, and with the substantial improvement in their capabilities in recent times this has translated into fresh success with several of their clients, which is a hugely positive thing."
The successful launch of new brands by the aforementioned clients has resulted in more business for Poppypac, and with enquiries from multiple sources coming in frequently – together with its own promotional activities – it has seen business grow by 20 per cent in the last four years. This is a pattern that Peter can see continuing for the next five years or so. "There are a number of factors at play of course, and much depends on their client base and product range, but I see no reason not to envision growth remaining at around 20 per cent in that time period," he states. "They have a number of forthcoming projects that they are excited about, and I believe that with the changes they are implementing they will make the business more operationally efficient, and more cost effective when it comes to their supply chain purchasing and customer offering."
Despite its obvious expansion, one thing remains true of Poppypac, as Peter goes on to conclude. "This is a family business that cares desperately about how it treats its clients and their success, and one that is passionate about getting things right first time wherever possible. In doing so, they are successfully building a solid clientele of brand owners that benefit massively from the ability to introduce, develop and grow product ranges in a cost-effective way, which is what Poppypac is all about!"
Poppypac
Products: Manufacturing, filling, and packaging services to the health and beauty industries
http://poppypac.co.uk
Units 3 & 4, Enviro 21 Park,
Queensway Avenue South,
St Leonards-on-Sea,
East Sussex TN38 9AG
General Enquiries: +44 (0)1424 851224
Email: info@poppypac.co.uk