Going global
By continually investing in R&D, Porvair Filtration Group has remained at the forefront of innovation and become renowned for delivering world-class products that solve complex filtration and separation challenges for its diverse customer base
A wholly owned subsidiary of Porvair PLC, Porvair Filtration Group is a specialist filtration and environmental technology group that is focused on the development, design and manufacture of filtration and separation solutions. With customers in industries such as aviation, chemical process, water treatment, energy and life sciences, Porvair Filtration Group is committed to developing new and better solutions in line with market trends and the changing needs of clients. As such, a significant portion of the workforce is dedicated to product and process development, which has in turn resulted in the development of a number of new bespoke products based on its established porous polymeric material, known as Vyon, as well as its sintered metal media, Sinterflo.
With between 20 per cent and 30 per cent of annual sales made with products that are less than three years old, the company has become known for its innovation. Several of these technological advances stem from the range of porous materials that are based on sintered polymers and metals for a range of biomedical, pharmaceutical and industrial applications. The R&D teams enhance Porvair Filtration Group's core knowledge of porous materials and develop new products that ensure the company is further able to address the more demanding expectations of these high value markets. The company's Segensworth division, meanwhile, is well-known in the aerospace and nuclear filtration markets, for which it supplies filters and filtration systems for extreme conditions when it comes to temperature, pressure and corrosion.
Discussing how the company has developed since it was previously featured in Manufacturing Today Europe magazine in July 2015 is Tom Liddell, Managing Director at Porvair Filtration Group: "We are quite a diverse business as you can gather, so characterising our progress by reference to any one market is not possible. In general terms, as a net exporter from the UK, the business has benefited from the weak pound in improving margins or competitiveness in overseas markets when trading in foreign currency. However, just touching on a few of our markets, the industrial/chemical process market has been generally good for us and has rumbled on along forecasted routes somewhere between five and ten per cent growth per annum. The continued slowdown in the oil sector, has hit our gasification business in particular although there are some signs of recovery. The aerospace market is another big driver for Porvair and that has continued to show strong growth, particularly with the introduction of the new products this year.
"For example, we have a particular strength in filtration for fuel tank inerting systems. This system is used for producing a blanket of nitrogen enriched air over the fuel tanks in order to prevent spark ignition. It's a safety-related device that has been installed in recent years on-board all civil aircraft and our products are critical in removing contaminants to protect the separation membranes. Porvair's latest products in this application incorporate ozone and VOC removal within our filters, which improves the lifetime of the system and reduces operating cost. The new technology is a significant development for us and has increased the amount of content that we are selling into this particular application."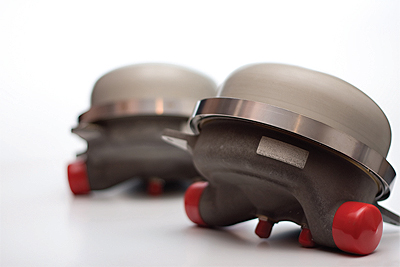 In June 2017, the company showcased its leading fuel tank inerting filter technology at the Paris Air Show, where it demonstrated the reasons why this key component has been integrated into the largest commercial passenger aircraft to ever be built in China. Indeed, Porvair Filtration Group is supplying a filter to the fuel tank inerting system (FTIS) that was produced by Parker Aerospace, which recently celebrated the first flight of the new COMAC C919 in Shanghai. The use of the filter in Parker's FTIS forms a significant part of China's biggest ever commercial passenger aircraft and is custom-designed to meet the exact specifications of the project to ensure standards for safety, reliability and maintainability are sustained or established.
In the same month, the company was honoured with the large business subcontractor award from Bechtel, the largest construction and civil engineering company in the US, for its outstanding contribution and commitment to the Bechtel team. The company was singled out for its work on developing a one-of-a-kind radial flow HEPA filter that is capable of meeting requirements of both ASME AG-1 code and the harsh conditions of the nuclear waste treatment plant at Hanford in Washington State.
Following these developments, the company was awarded major nuclear waste clean-up contracts across the US, where it is deploying advanced filtration technology across the affected sites to deal with high and low level contamination that was left over for the national defence plutonium and uranium production efforts during World War II and the Cold War era. This range of contracts is in line with the company's aims of growing a stronger footprint in the US, as Tom notes: "We are quite a small business (turnover approximately £50 million) so we are choosing to grow in the US via organic or inorganic investment in this region. We have acquired two businesses in the last four years and we have invested heavily in facilities and infrastructure to improve their capability. We have also recently relocated our US headquarters, which has delivered at least a two-fold increase in potential manufacturing capacity. Having spent over £5 million on facility upgrades over the last five years, we are now looking to consolidate our position and focus on delivering a return on these investments."
While the US remains a key strategic area to grow, Porvair Filtration Group will also seek to achieve gains from its recent joint venture in India and new business in China. To make these goals a reality, the company will not only focus on investment in sales channels and resources but also through product development and improved efficiency.
Porvair Filtration Group
Products: Manufacturer of world-class filtration systems