Award-winning growth
Porvair Filtration Group (PFG) is an international leader in the development and supply of high performance, innovative materials and solutions for applications in filtration and separation
As Tom Liddell, Managing Director explained, PFG is a wholly owned subsidiary of Porvair plc, and its main market sectors are aerospace, energy, life science and industrial process. He gave some more details about how the Group grew into its current market leading position: "The business began with the integration of a number of small acquisitions in the UK, whose histories go back over 30 years. We also expanded organically and as a company our growth has been achieved for the most part by gaining market share, as opposed to riding growth in our target markets.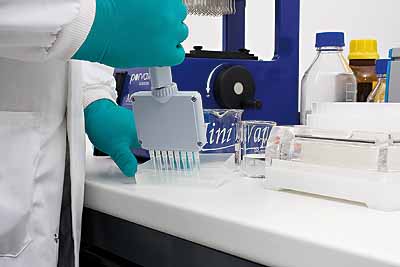 "Although we have grown organically in most of our segments, we did have particular increases in demand for our products in the US market, and we have made several strategic acquisitions in the States as part of a clear strategy to grow our footprint in this territory and invest in local manufacturing capacity to service the American market. Today the company manufactures products in three factories in the UK and two in the US, plus we have a variety of direct and indirect sales channels that allow us to penetrate our increasingly global markets.
"PFG see large potential for sustainable growth in the US market, building on successful demonstration of our technology in similar applications in the UK and Europe. Over the past three years, we have seen organic growth of at least 20 per cent per year. Whilst the business has invested heavily in increased capability in our US factories, the sales success has also increased demand for our products made in the UK.
"Furthermore, in addition to growth in the US, we have recently had significant successes in selling our products and technology to the energy sector in Asia. This has increased our cultural experience and built numerous valuable relationships in this geographic territory. In order to secure follow-on business and exploit new opportunities, it is clear that Porvair will need a greater presence in this region. Expanding into this territory alongside continuing to develop our business in the US and Europe will be a key part of our three to five year strategy."
It is apparent that PFG's approach has been very successful, as it has achieved 25 per cent growth year on year for the last three years – Tom agreed that by merging the skills of smaller businesses the Group has seen big benefits: "Each of our small acquisitions has bought new capabilities to the business that have gained further momentum when considered as part of a larger organisation. Our strategy has been consistent over the medium term and this helps all staff and the market understand our direction and where our strengths are."
He added: "Our aim is to recruit excellent people and invest in excellent technology, and I think this last point is illustrated by our recent success in selling filtration systems to the market for coal gasification in Asia. This is a challenging application where there are few competitors with comparable experience or technology. Our growth has been testament to a strategy to invest in technical products; those where the customer's perception of value is primarily about product performance, not product cost."
Tom continued with an illustration of this philosophy in action: "A good example is our investment into our porous plastic materials. By working closely with our customers, PFG have developed technology to allow active sorbent materials to be captured within the structure of our materials. This adds significant advantages to manufacturers of solid phase extraction devices in terms of the reliability of the results. In this market, such advantages far outweigh any considerations of material cost."
In order to be able to create groundbreaking products such as these, as well as others including liquid filters, scientific instruments, air gas vent filtration items and life science sample preparation kits, PFG has to operate from state-of-the-art facilities. Indeed the Group's global strategy is to focus each of its modern factories on a different sector of the market.
"This way, the needs of the particular market are represented in the capability and efficiency of the operation," explained Tom. "The Aerospace market, for example, has a very different set of demands (with associated costs) to the industrial process market. For a variety of reasons, achieving the perfect alignment of operational capability with market segmentation, whilst maintaining operating efficiency, is not always possible. However, it is a guiding principle for us."
PFG is also very keen to maintain optimum levels of production, and to this end, recently opened a new £3.5 million facility in the UK, which involved the relocation of a number of operations into one site. "The new factory in New Milton, Hampshire, has allowed us to consolidate all of our non-US industrial process business within one site," noted Tom. "This did not happen without significant disruption and cost, but it will improve our efficiency, by bringing operations closer together and improve our sales and customer service by gathering all industrial process customer needs under one roof. We are confident the business will emerge stronger, and with additional capacity for growth."
It is thanks to investments like these that PFG has experienced such admirable success, and this was recognised in April 2015, when the company was honoured with the Queens Award for Enterprise in International Trade. "Winning the Queen's award is a great privilege for the business and is a tribute to the hard work of our staff in the UK and US," Tom emphasised, before explaining why the company had won the Award: "We had seen an increase of 140 per cent in export sales from the Group's UK operations, and this mostly came from growth in two areas; coal gasification and sales to North America.
"Porvair has been successful in winning and delivering filtration equipment to a number of new gasification plants, including the largest in the world at Jamnagar, India, to be operated by Reliance Industries Limited. These plants are typically high temperature with highly corrosive process gas and high solids loading, such that the demands on the filtration equipment are exceptional. We anticipate further success in this market and will continue to manufacture the core technology in the UK, where our staff have gained significant experience over many years."
Nevertheless, this scale of development over a short period of time does raise challenges, and PFG is very aware that growth means rapid change, which has to be carefully managed: "This includes change to business structure, resourcing, capability, business processes and to culture," said Tom. "Increasing capacity and capability for sustainable demand, whilst managing delivery of exceptional projects is a key challenge for us at the moment. Central to that is managing the demands we put on our employees to ensure that our shared success does not become over-burdensome. Stretching ourselves too thinly could risk damage to our long-term, sustainable business. Managing our investment opportunities is also key for us. Exceptional projects are rewarding, but their benefit in the medium-term is based on sound investments that support our strategy. PFG is working hard to ensure that this period of growth leaves us stronger and with capacity to scale in the years to come."
It is clear that Tom and the team at PFG are in no way complacent following the company's award win, and with continued growth, increased market share and new product development all on the agenda going forward, the future looks bright for this ambitious firm. "2015 is a year for consolidation in PFG," concluded Tom. We have a strong order book and significant projects to deliver, as well as an upgrade of our facilities and integration of new business in America. The challenge will be to maintain control of these projects whilst building a firm platform for further growth in 2016."
Porvair Filtration Group
Products: Filtration and separation products, systems and materials
Sites: Five globally
Employees: 400