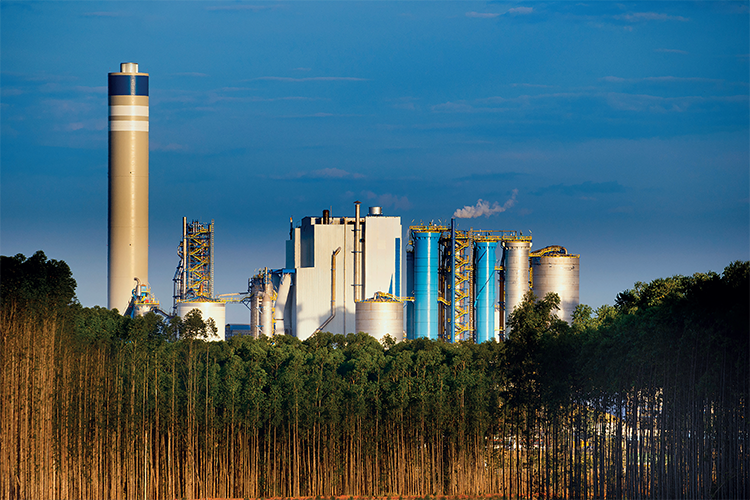 The relentless pursuit of efficiency is an everyday occurrence for a manufacturing business. In energy-intensive industries, cutting carbon often cuts costs, and leaner tends to be greener. But simply getting better is no longer good enough.
Climate change is an urgent challenge. As public concern increases, so too does government action, regulation, competition, and supply chain pressure to reduce emissions. Companies need to go beyond incremental improvements and find ways to reach Net Zero and beyond, so they can become genuinely climate positive.
However, there is still a significant gap between awareness of the issue and action being taken by manufacturers – which is largely down to cost, experience, and uncertainty on where to begin.
Accounting for climate impacts
Calculating greenhouse gas emissions is not a simple process. But the basic principle of Net Zero is that companies should do as much as possible to get towards zero, then find ways to compensate for the remainder through removing greenhouse gas emissions from the atmosphere. If they compensate over-and-above what they cause, they can then credibly claim to be a 'carbon negative' or 'climate positive' business.
This is more applicable for some companies than others. At Suzano we are already a climate positive company, thanks to our position as a large-scale pulp and paper producer with over 2.4 million hectares of eucalyptus plantation and native forest areas that capture carbon and remove it from the atmosphere. The sustainable management of this land more than offsets the impact of other elements of our operations and value chain.
This is not the case for every company, of course. Others will need to source high quality offsets from recognized carbon project developers. But the important thing is that manufacturers do everything they practically can to reduce emissions first, within areas of direct operational control, and influencing what happens upstream and downstream.
Investing in clean technologies
Beyond the basics of improving efficiency and cutting waste, there are various things which can be implemented on site to significantly reduce carbon emissions – not just for new projects, but also through retrofit.
Anything that displaces or replaces fossil fuel use has a positive impact. These include the sorts of initiatives that most businesses could implement, such as putting in LED lighting and variable speed drives to lower electricity consumption or installing rooftop solar power and purchasing EVs. But manufacturers can uncover more bespoke opportunities by understanding their processes and by-products.
For example, it is typical in pulp-making to use a by-product known as black liquor, that contains a significant proportion of the energy content of the wood that is processed. This is processed in a recovery boiler, to generate electricity and steam. And residual materials, such as tree bark and wastewater sludge, can be treated in a biomass power boiler.
But as technology advances, even greater benefits can be obtained. This is how Suzano will be able to achieve a carbon efficient manufacturing in our newest plant, currently under construction in the Brazilian state of Mato Grosso do Sul. Using adequate materials planning in a state-of-the-art gasification plant, it will be possible to generate on site the demand to run the lime kiln, instead of needing to use natural gas or other fossil fuels.
Location, location, location
To address transportation and logistics emissions, site location is an often-overlooked factor. Putting plants closer to the supply of raw materials, and ensuring easy access to ports and customers, can have a big impact.
Our new pulp mill is being designed as our largest and most efficient plant ever, producing 2.4 million metric tons of pulp a year. But significantly, by strategically locating this closer to surrounding eucalyptus plantations drops the average radius from forest to mill to 60 kilometers, compared to an average of 155 kilometers for other sites. And using more efficient inbound logistics methods to transport trees, such as tandem trucks, helps to cut impacts even further.
Outbound logistics of the finished product is equally important – particularly with many key customers collaborating to build supplier sustainability. With this in mind, our new plant will have private rail tracks and the mill will be connected to the state railroad, to allow products to be transported all the way to the port by train with far lower emissions than road freight.
Innovation across the board
Creating or retrofitting manufacturing sites to be more sustainable is crucial. However, it is just one part of the puzzle in solving climate issues. Thinking about the impact of the end product itself, regardless of how it is made, is just as important.
Organizations should think about material inputs, such as chemicals and required water use, through to packaging and the introduction of circularity into the design process. There is a huge amount of innovation, research and development currently happening across all sectors and this is already beginning to transform the industry for the better.
There is no doubt that carbon negative or Net Zero manufacturing are important goals to work towards. However, a company's approach to sustainability increasingly needs to be holistic and examine the full extent of its environmental and social impact across all aspects of a product's life cycle – not just its carbon emissions. Rather than a catch-all end goal, Net Zero in manufacturing is just the start – it is what comes after this milestone which will truly be the catalyst for a climate positive future.
Julio Cesar Natalense
Julio Cesar Natalense is Executive Manager for Carbon Initiatives at Suzano, the world's leading eucalyptus pulp and paper producer and one of Latin America's largest companies, listed in São Paulo and New York. Suzano is a global leader in developing sustainable and innovative products from renewable sources, supplying over two billion people worldwide in over 100 countries.
Operating on a continent and in a sector in the environmental spotlight, Suzano is now a global leader in utilising pioneering solutions to develop sustainable alternatives to plastics and combat climate change through its operations and financial structure. It is one of few companies globally (with operations in Latin America, Europe, China, and the US) to have achieved carbon negative status by 2020.
https://www.suzano.com.br/en/