Positran Manufacturing Inc
Positran Manufacturing Inc. (PMI) says clients benefit from working with it because of the flexibility, responsiveness and manufacturing experience it provides.
Add to that a skilled work force and a continuous improvement strategy, and the electronic contract manufacturer says it can exceed the ever changing demands of printed circuit board (PCB) assembly.
It had a chance to demonstrate these capabilities not long ago when a client was facing production problems. PMI had been building boards and cables for a New Jersey-based cus­tomer, but when the customer acquired a facility in Missouri, it moved all operations to the new location. The customer had some issues in the new space, however, so it turned to PMI for a solution.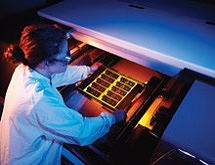 "This customer needed 20 different assemblies built, but they had turnaround and quality problems," Vice President of Sales Paul Ruzicka says. "We manufactured their product assemblies at our plant and completed the order in four weeks. We also reviewed their products for cost reduction purposes and ended up saving them 12 percent on numerous assemblies. To this day, we are manufacturing these products and more for this customer.
"All of this took place within three months, and it is a good example of our capabilities," he adds. "We can do small prototype runs through to the production of entire product lines. We take pride in everything we manufacture and fully buy in to our clients' needs. As a result, we're able to offer clients many suggestions on how to improve their operations and how they can save money."
Based in Norristown, Pa., PMI uses its 45,000 square feet of space to serve a wide range of clients; it has manufactured products for medical equipment, space shuttle launches and large concert venues, and has created GPS devices for U.S. soldiers in Iraq and produced fireworks controls for systems at Disney theme parks. The company specializes in PCB, cable and harness, electromechanical and box-build assembly, as well as functional and in-circuit testing. PMI also represents several domestic and overseas PCB manufacturers.
"We have manufacturing, assembly, warehousing and distribution capabilities," Ruzicka says. "We ship all over the world – to our customers and our customers' customers."
"Our capacity is extensive," adds Les Gambacorta, manager of operations. "We have more than 500 different customers and products go to the floor on a daily basis. We have between 50 and 100 jobs going at any given time. If customers need something done, we can do it."
A Cross-Trained Crew
PMI's continuous improvement ef­f­orts are focused throughout its operation and involve the entire work force. For example, PMI creates its own fixtures at its in-house machine shop, which facilitates quality and productivity. Man­agers review operational data daily to ensure timely remedies if problems arise, and post quality and test measurements weekly for employees' benefit.
"Our employees are fully engaged in our quality process," Gambacorta says. "We keep them informed of where our products are going, which gives them more pride in their work and helps them understand the importance of what we're doing."
Operations employees have IPC-A-610 certification from the Association of Connecting Electronics Industries, which shows they meet assembly standards. PMI provides training from outside sources, in-house factory training and certification, and cross-training on various functions.
"We have to cross-train because of all the different types of work we do," Gambacorta says. "It builds our employees' skill level but also ensures we can respond to customers' needs very quickly."
"Our employees' average tenure exceeds 10 years, and their expertise is a big part of our operation," Ruzicka adds. "Training is important – we want to make them better, which makes the company better."
Operational Evolutions
PMI has enhanced its operations in a number of ways recently. The company added an automatic optical inspection system to ensure parts are being manufactured to specific requirements. Additionally, an in-house X-ray system provides real-time data on process controls for ball grid arrays. "We used to outsource this function, but it's better that we have it in-house and can keep the quality under our own control on a real-time basis," Gambacorta says.
Much of its quality also is due to its suppliers, he notes. "We are lucky to be able to work with a lot of local companies who do product development," he says. "They provide better designs and better quality than what you'll find elsewhere." PMI also changes in response to the market. For example, it is facing long lead times for materials, Ruzicka says, which is slowing its turnaround. "It used to take four to six weeks to get orders to our customers, but now it can take about 20 weeks due to the material," he notes.
As a result, PMI is asking clients to place orders "far ahead of time," and is working with distributors to bond key components and store them at its site. Ruzicka says this is part of "taking a direct interest" in customers' products. The goal of meeting clients' needs also drives PMI's growth.
"We do prototype through full production – our products are fully built, tested, warehoused and shipped – and our capabilities grow with the needs of our customers," Ruzicka says. "Customers know our quality, and we grow through word-of-mouth promotion. We are always looking to have a bigger part of the market share, so this is invaluable to us."