The process of success
Internationally renowned for its approach to innovation and technical excellence, Powder Systems Ltd is at the cutting edge of process development in the pharmaceutical industry
Since it was first founded in 1989, Powder Systems Ltd (PSL) has grown to become one of the world's leading equipment suppliers into the pharmaceutical and chemical industries. Based on a constant drive for innovation and quality excellence, the award-winning manufacturer provides high-end technology with process development expertise to the pharmaceutical, biopharmaceutical, chemical and laboratory sectors. PSL has long been regarded as a pioneer for designing and engineering bespoke advanced filtration, drying and high containment powder handling solutions for a number of blue-chip clients and applications across the globe.
Today, with seven international offices strategically placed to best serve its clients, in addition to its headquarters in Liverpool, UK, PSL can boast an expanding portfolio in excess of 1200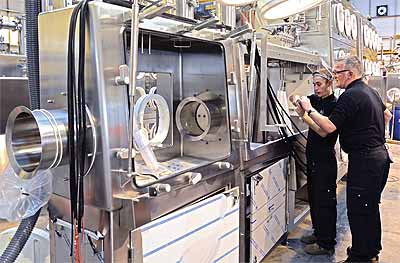 installations. "Our strength lies in the fact that we design and manufacture quality and innovative equipment that is based on a clear understanding of the customers' specific process requirements," begins MD, Amanda Pitcher. "Instead of just delivering products off the shelf, we talk to the customer, look at their floor space, their application and their working environment and use our knowledge and existing engineering concepts to create the best solution for them. We're certainly not at the lower end of the spectrum when it comes to cost, but it is in service, customer relationships and expertise where we excel."
Indeed, it is exactly this approach that has enabled PSL to establish a sure foothold in markets all around the world. Amanda notes that the pharmaceutical industry is unique in the way it moves and evolves with major acquisitions and relocations commonplace on the global stage. The company's ability to flex, follow and appeal to new and existing clients as this flows has been key to it now sitting on an average 95 per cent export level. "This ever changing environment of course causes challenges but it's ultimately positive for us, as many moves require customers to replace or upgrade equipment, and it takes us into new markets that we never had a route into before," she says.
"Having such high export levels does mean we have to deal with lots of different countries legislation, engineering standards, import rules, taxes and so on, but we've had nearly 30 years of doing it so we are very good at adapting and making sure we can overcome these hurdles to take advantage of new opportunities. We're also very good at building strong personal relationships, so as high level employees move to new countries or companies we are often able to generate new business accordingly."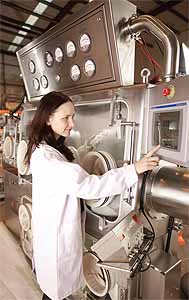 Further to robust relationships taking PSL around the world, its ability to innovate is also a major factor for its international success, with new products and developments catching the attention of new markets all the time. The most recent example of internationally acclaimed innovation in the pharmaceutical industry is the firm's filtration and drying solution for microsphere technology. "There is a lot of work going into a new drug delivery technique where microspheres can be injected into the bloodstream with a time release," Amanda explains. "These are being formulated for a whole range of conditions and we have been working for a number of years on developing a microsphere refiner to support its development and production. Over the last three to four years this has ramped up to a full product range and has involved a constant process of development and upgrading as we learn about new customers' requirements."
Supporting this ongoing development is an equally strong relationship between PSL and its supply chain. Amanda explains that whilst the company carries out all of the design, detailing and technical assembly, it relies heavily on outsourced expertise for fabrication. "It is important, therefore, that as we move forward we help our suppliers to move forward as well and inform them of the steps that we're taking in our new designs and so on," she says. "It's also key that we remain open to new suppliers who can bring innovative products and materials of their own that can help us to advance."
Such is the innovative and global success of PSL that in 2016 it was awarded two prestigious Queen's Awards for Enterprise in Innovation and International Trade. "To win one would have been wonderful, to win two was out of this world," comments Amanda. "The difference between the Queen's award and other UK awards that we have won is that it is internationally recognised and supports our high-end quality image around the world. The effect is internal as well, as our staff are very excited and proud to have achieved this together."
However, winning the accolades is only a small integral part of the foundation for PSL's future growth and success. Keen to expand its global presence and international expertise even further, the company is currently setting up a Center of Process Excellence (C.O.P.E.) in Pennsylvania, USA, to work on the front-end of process development in the pharmaceutical industry. Working closely with industry experts, C.O.P.E. has been set up as an independent entity, transforming PSL into a group, and creating a new stream of both profitability and reputation.
"On top of this expansion, we are also working on a number of new innovations and solutions behind the scenes, which we hope to launch over the coming months and years, creating more opportunities for growth and development," Amanda highlights on a closing note. "Ultimately, we want to ensure we can sustain the positive growth that we have seen over the last couple of years and to keep building on that – everything we are doing at the moment will help us achieve this."
Powder Systems Ltd
Products: Specialise in providing a full range of filtration, drying and high containment powder handling solutions