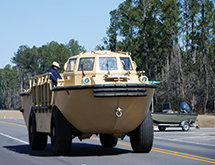 After three decades, Power Dynamics LLC stands as an equipment manufacturer whose talents are nearly unrivaled, Vice President of Operations Carl Liberty says. "There's very few companies out there that can actually manufacture what we produce," he declares.
Headquartered at the Stennis Space Center in Mississippi, Power Dynamics manufactures a wide range of equipment, including hydraulic power units, PLC control systems, hydraulic winches, hydraulic systems, custom hydraulic cylinders, pipe-handling equipment, pipeline tension machines, and horizontal directional drilling units and associated equipment. Owner Bob Hancock founded the company in 1984 as a hydraulics and pneumatics distributor. Over time, "We changed to manufacturing because our customers needed us to fill a void," Hancock recalls. "They wanted us to build the whole piece of equipment."
The company does not stop there. Power Dynamics also provides repair and maintenance services for its clients' equipment. "We're very diversified," he says, noting that its customer base also has changed over the years.
Power Dynamics originally focused on serving the offshore oil industry. But in the past five years, "We've dedicated [ourselves] more towards custom-manufactured, land-based construction equipment," Liberty says.
Today, Power Dynamics employs a staff of 56 and serves firms such as Helix, SKW (a joint venture between Skanska, Kiewit and Weeks Marine Inc.), Prysmian, Bisso Marine, Titan Salvage, WA Chester (a division of PEPCO), U.S. Army Corps of Engineers, U.S. Navy, CalDive and Chet Morrison Contractors. It expects sales of $15 million as it celebrates its 30th anniversary this year, Hancock says. "As far as businesses go, that's a pretty good accomplishment," he says.
One of the keys to Power Dynamics' success has been its diversity, Hancock says. "The offshore oil industry is up and down like a rollercoaster," he says.
But the land-based market looks strong, thanks to pipeline and fracking projects and the development of natural gas production. Additionally, "This country is going to see a lot of infrastructure work with bridges and tunnels," he says. "We think we can be a major player in these projects."
Ramping Up
Power Dynamics recently reorganized its manufacturing operations under Liberty's leadership. These initiatives included placing all of its job files and engineering drawings into a single searchable computer system, Hancock says.
This has made many of Power Dynamics' operations nearly paperless. "For the most part, we have got PC terminals around the plant," Liberty says. "As an example, if someone's in the fabrication shop and they want to pull up a drawing and review it, they have full access to job files and can possibly locate the information without stopping production or interrupting the engineering, purchasing or receiving departments to find an answer. This increases production considerably."
"We've never had [a system] before where everything flows to one job folder," Hancock says. "Carl has really brought us into the next stage where we could become a $25 to $30 million company."
Liberty's initiatives also included a 12-step manufacturing process that helps improve efficiency at every step, but is not based on lean manufacturing, Hancock says. While lean manufacturing focuses on manufacturing the same product over and over again, "We're building custom equipment," he says. "Every project is different."
"Our equipment is hand-built," Liberty adds. "There's no automated assembly lines or anything like that [here]. It's built by craftsmen with their hands who know what they're doing."
Up to Standard
With its location at the Stennis Space Center, Power Dynamics has to follow NASA's safety standards, which are stricter than OSHA's, Hancock says. "We like it," he says. "It's a great facility."
Power Dynamics constantly focuses on safety improvements to make sure it passes regular examinations, Hancock says. For instance, "NASA checks our eye wash locations every other week, and they check our fire extinguishers every month," he says.
"If we have a paint booth door open [during a check], they write us up," he says. "[But] it's been good for us. It's made us a better company."
Since the 2010 Gulf oil spill, Power Dynamics' oil clients have become more cautious, as well, Liberty adds. Often, if the company sends an associate to a site, they need to carry a card that tells all the safety training the person has had. "We have to meet all the offshore and inland construction requirements," he says.
Filling the Need
Power Dynamics wants to become a $20 million business, but that is largely dependent on the economy, Hancock admits. In addition to strong inland activity, its clients are taking on more work in the Gulf of Mexico.
The aging infrastructure of countries will continue to add to Power Dynamics' business, Liberty says. "The pipeline industry is saying, 'We need [to be not so complacent],'" he says. "Because of what happened with BP, people are now looking closer at pipelines and the equipment needed to build them.
"The success of Power Dynamics is based on its customers that continue to come back; its hardworking dedicated employees; and its network of vendors that assist us [to] fulfill the needs of our clients," he adds.