Precise Tool and Manufacturing Inc.
John S. Gizzi, president of Precise Tool and Manufacturing Inc., is no stranger to his industry. His father started Precise Tool and Manufacturing in 1974 and Gizzi, in his own words, "Grew up as a little kid running around the shop, learning all aspects of the business from an early age."
The company was started as a quick-turnaround small parts manufacturer, building specialized equipment for the automotive industry. Over the next few years the company grew and expanded, diversified its capabilities and earned its reputation by building special machinery and prototype equipment for industrial clients around Rochester, N.Y. It was during this time that Precise Tool's vision of the future led them to invest early to build up its CNC machine tool base to support the efforts of its design/build department.
Seeing the potential for further growth in CNC parts manufacturing, Precise Tool disbanded its design/build capabilities to focus on manufacturing, and moved to its current location with just 7,500 square feet of space at the time. Gizzi, however, has always believed in investing and adding more space and equipment to accommodate new business opportunities. "Since moving to this location we have added 14 additions to the facility," Gizzi notes.
Today, Precise Tool has more than 200,000 square feet of floor space with over 100 CNC machines, both large and small. The state-of-the-art facility allows Precise Tool to win bids from larger rivals but remain small enough to focus on the essential details of complex part manufacturing.
The most recent addition was five years ago, when the company added 40,000 square feet and installed four bays to house larger machines. This was part of an effort by Gizzi to expand the company's focus. "During the course of the 1990s and 2000s, we started to acquire machine tools that could handle significantly bigger and bigger parts as an area of core competency," Gizzi notes.
The shift in focus was driven by a growing demand, starting in the late 1990s, for large and oversized parts to serve the power-generation industry. Those parts were needed for large gas turbines. "That really set us apart from the competition," Gizzi recalls. "And really helped us form a niche." To manufacture such parts, Gizzi started to acquire large and extra-large horizontal mills and vertical lathes that could machine parts 18 feet in diameter.
Lessons Learned
Like anyone who runs a thriving business, Gizzi has learned the benefits of diversification. After 9/11, the company lost much business through corporate setbacks such as the Enron collapse. "We lost a lot of power generation work," Gizzi recalls. "We did have some machines that sat idle for a while."
Eventually, business started ramping up again, but Gizzi had decided by then to diversify Precise Tool's customer base. "Since then, we have served the mining industry as well as making parts for the aerospace and defense industries," he says. "We don't manufacture for the automotive or for airplanes due to liability."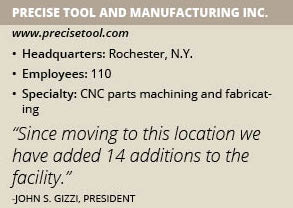 Precise Tool has long served the oil and gas, power generation, defense contracting and rail transportation sectors. "Our customer base is spread out among different industries," Gizzi notes. "Our geographic range is typically the mid-Atlantic west to Ohio and Pennsylvania, and down the coast through Florida but we have expanded with advanced logistics companies to serve a wider range of North America and in some cases even abroad."
A Stable Workforce
Even with a diverse customer base and modern facility with the latest equipment, Gizzi must deal with challenges common to the machining industry: Finding, training and keeping talent. To meet these challenges, Precise Tool has literally taken things into its own hands.
"With our local tech colleges, we were maybe only getting one person out of that recruiting process," Gizzi explains. "So in 2012, we started our own trade school." That school is Precise CNC Machining Institute (PCMI), and is located onsite at Precise Tool. Students spend half of their day in the classroom and half their day on the floor, focusing on the safe operation of lathes, mills, grinders and drill presses, with an emphasis on CNC machining.
The program consists of 600 hours of combined instruction and hands-on training in machine shop skills, preparing students for a life-long career in CNC machining. "We invested in all-new machinery to train students on," Gizzi notes. "And we hired our own instructor." 40 students have since graduated from PCMI and Precise Tool still employs the majority of them.
As far as retaining employees, Gizzi has a handle on that as well, using lessons he learned from his father. "One thing he always impressed upon me was to take care of employees like they are family," Gizzi says. "And that's how we treat anybody here, and we have had low turnover and long-term employees."
Keeping Up
Manufacturing technology has changed drastically in the last 10 years, particularly with the advent of 3-D printing. But Gizzi has taken the same approach to intelligently investing to prepare for the future as his father did a generation ago. His team has been very aggressively exploring the development of this technology and working with customers to develop roadmaps for when and where a move to 3-D will make sense for their applications. "Our customers appreciate that we can manufacture using either new additive, traditional subtractive or using hybrid methods," Gizzi notes. "It is our passion is to provide them with the best value solution necessary for their application."
Gizzi says that although Precise Tool's sweet spot "has always been in large parts – the ones that are a little too big [for other manufacturers], that others are incapable of handling, like lifting parts up to 60 Tons."  "We are actively moving towards a broader portfolio of offerings and services to be a full spectrum provider for our partners."
As that approach continues to serve Precise Tool well, Gizzi has even begun to plan for another expansion of 40,000 square feet. "We will need a lot of space for our next set of machines using the latest technologies required to keep us ahead of the competition," Gizzi explains. "It doesn't matter what our competition is doing, I'm here to take the business to the next level in the future."