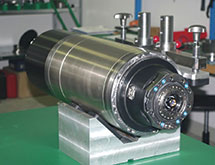 When it comes to machine tools, the importance of the spindle – the rotating axis used in drilling, cutting, milling, contouring, deburring and polishing – is difficult to overstate. A broken or inoperable spindle is a significant setback for its users, who lose productivity and income during downtime.
For more than 18 years, Precision Drive Systems (PDS) has helped its customers keep their machining operations running smoothly by repairing, selling and manufacturing spindles. "I'm most proud of the length of the relationships we have with our customers, many of whom we've worked with for our entire history," Vice President of Sales and Marketing Bob Jewell says. "Typically when someone calls us, it's not because everything is going great, but because their machine needs repair. I'm happy that we're able to do that for them and get them back up and running."
The international company, headquartered in Bessemer City, N.C. – located just outside of Charlotte, N.C. – provides repair and manufacturing services from both the North Carolina facility as well as a PDS facility near Hanover, Germany, which serves European customers. "One of the most unique qualities of our company is that we have the ability to repair all makes and models of machining spindles," Jewell says, noting that this includes spindles used to work on wood, plastic, composites, non-ferrous materials and metal.  "We repair or enhance spindles at a level better than most factory specifications and warranty them as new when they leave here."
Spindles repaired, sold or manufactured by PDS are used in a variety of markets including the marine, aerospace, energy, furniture, appliance and automotive sectors. The company provides repaired new or custom designed spindles to machine builders, robotic integrators, retrofitters and end-users. "The  products and applications requiring material removal that can be performed using our spindles are nearly endless," he adds.
In addition to their traditional spindle use on three- and five-axis CNC machines, spindles repaired, sold or manufactured by PDS are also commonly used as end-of-arm tooling on robotic manufacturing equipment.  This particular application of PDS's products will be emphasized by the company during its planned appearance at the Automate 2015 show in March in Chicago, where they will display their spindle product line. The company may also partner with the integrators who use its products on demonstrations at the Automate show, Jewell says.
Providing The 'Right Tool'
PDS can perform routine repairs such as bearing changes and balance to spindles within three to five business days. Although more complex repairs such as replacing electrical windings or reverse engineering major components can take longer, the company still typically provides its customers with a better turnaround than its competitors, Jewell notes.
The company's new spindle sales business includes offering a wide range of spindles designed and produced to its specifications either in house or by a number of partners worldwide. The company is also a longstanding authorized distributor and repair provider of products for Italian manufacturer Giordano Colombo, which they stock in their NC facility.
Every product that goes through PDS's facilities undergoes a number of stringent quality tests. The company maintains advanced equipment, clean rooms, and instrumentation within both of its facilities, where it tests spindles for vibration, run out levels and balance, among other functional checks. PDS's spindles range from 0.4 to 40 horsepower with speeds up to 60,000 RPM.
Product assembly is the main manufacturing operation in both of PDS's facilities. The company acquires many components from its many global partners and maintains a large inventory of finished components and spindles ready to ship to customers.
PDS has five main platforms of spindles, any of which can be tailored to customer requirements. PDS's ability to custom-manufacture spindles offers customers a number of advantages including increased productivity and overall product life.
"There are very few companies who can manufacture a complete high-speed machining spindle from conception," Jewell says. "One of our biggest advantages is the depth of our application engineering. If you come to PDS and tell us you need a spindle to machine a countertop, automotive component, or mold as examples, PDS will help identify exactly what spindle you should use and why, will help calculate the feeds and speeds as well as torque, RPM, spindle protections, tool holder type, bearing configuration and more to achieve the cycle time and spindle life you are looking for. Our depth of application engineering and spindle options ensures you will get the right spindle for the right job."