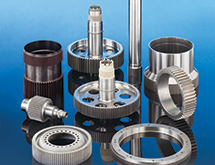 As a key supplier to many OEMs in the jet engine and aircraft industry, Precision Gear Inc. has put a lot of emphasis on customer satisfaction and continuous process improvement over the years. Founded in 1936, the company has produced gears since the 1960s.
Today, Precision Gear manufactures flight safety and critical products for aerospace, defense and commercial applications. It specializes in close tolerance, hardened and ground, shafts and assemblies. The company also provides overhaul and repair support to OEMs.
Precision Gear is ISO 9001 certified, AS9100 certified and NADCAP accredited. It produces free-wheel cams, shafts, helical gears, helicopter main rotor shafts and spur gears.
Precision Gear has long been on the upper end of the gear manufacturing niche within the aerospace industry. Ground gears are where the company is most competitive, and it excels after heat treatment. As gears get more and more complicated, it will continue to strive to serve OEMs at the highest level and meet all quality requirements.
"The defining strength of our company is our skilled dedicated workforce, as we have 27 different nations in our workforce," President Briggs Forelli says. "We have one facility with more than 100,000 square feet of manufacturing space and 148 people. We work for engine manufacturers, building parts for the engine, not the airframe."
The company strives to keep compliance and integrity at the core of everything it does. In addition, Precision Gear has a strong commitment to health, safety and the environment, including investing in solar panels on its facility.
Transition Time
Forelli says the aerospace business is going through a transition after a long period focused on defense aerospace. During the most recent cycle, Precision Gear's business was basically 65 percent defense and 35 percent commercial.
"Many manufacturers are in the process of coming out with new engine platforms all at the same time," Forelli says. "There is a big commercial buildup right now, and we are trying to get involved with some of those programs. In the next two years, we expect our business to become 65 percent commercial and 35 percent defense."
With that in mind, Precision Gear is focused on getting involved with new programs at the ground floor so it can be there to support its customers. It is in the process of investing roughly $5 million into equipment upgrades and building manufacturing cells for customers.
"We are moving some walls and reconfiguring our facility," Forelli says. "We'll be spending that $5 million over three years on various items, including gear grinding, lathes and inspection equipment."
Relationships Matter
In addition to investing in state-of-the-art machine tool technology, Precision Gear is putting a great deal of focus on customer relationships. Forelli says customers in Precision Gear's industry need to know that the company can provide consistency, reliability, quality and affordability. OEMs in the aerospace sector don't have the time to work with suppliers that can't keep up with changing product specifications and compliance issues.
"We have to make sure we have strong relationships with customers and keep up with their quality requirements," Forelli says. "They are moving away from suppliers that can't keep up with quality requirements. On-time delivery and staying approved through all audits are key for us. Price is also important, but poor quality product and not delivering on time is what will kill you."
To ensure future success, Precision Gear strives to work with strong partners and suppliers, such as Kapp Technologies. "We will get into gear box assembly and kitting if needed," Forelli says. "We're executing on many projects now, and we are looking out to 2015 and 2016. Everything depends on what the customer is looking for, new programs or existing programs, but we will be there for the engine manufacturers. We've been around a long time, and we want to be around for another 50 years."