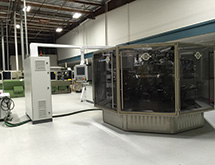 Precision Plastics Printing Co.
Extensive and complex business structures and layers of management are the norm for many manufacturers, particularly those owned by large corporations. Decisions involving new products, procuring new machines and other significant investments often go through extensive layers of approval at the local, national or even international level before funding is granted or a go-ahead is given.
This is not the case at Precision Plastics Printing Co. "I'm still involved in the manufacturing process," says Bob Bhagat, who owns the Anaheim, Calif.-based company with his two brothers. "We have the ability to make decisions and adapt to change very quickly here. If a customer comes up with a new idea, we are very eager to take it on and can say 'yes' right away."
Precision Plastics' lack of bureaucracy and the direct involvement of owners in its day-to-day operations have allowed it to regularly earmark funds for capital improvements such as its relocation to a new facility two years ago. The company also regularly replaces its equipment and invests in new technology. "We are always in a position to buy new equipment and keep up our technology by running the business in a lean manner," Bhagat says.
Founded in 1963 and purchased by the Bhagat brothers in 1991, Precision Plastics is a bottle manufacturing and decorating company. The company provides bottles of all shapes and sizes to customers in the personal care, pharmaceutical, nutritional product, household chemical, automotive and niche food markets. Its customers include Johnson & Johnson, for whom it is certified to manufacture products for all of the pharmaceutical and consumer product giant's divisions. Other customers include skin care product and shampoo manufacturer ColorProof, as well as manufacturers Dermalogica, Boehringer Ingelheim, Coty and PL Developments.
Production Capabilities
The company's recent equipment investments include a servo motor-powered bottle-printing machine manufactured by equipment provider Omso. The largely automated system is capable of handling any shape of bottle and can print graphics continuously on all sides of a bottle, including those that are square in shape, Bhagat says.
Future investments will likely include a Nissei ASB hybrid electric/hydraulic injection stretch blow-molding machine. The machine, which Bhagat estimates will be able to operate at 40 percent less energy cost than a conventional hydraulic machine, will be available next year.
The company operates 13 blow molding and injection molding machines that mold bottles from materials including polyethylene terephthalate, low-density polyethylene and polypropylene. Precision Plastics' manufacturing processes include:
> Injection stretch blow molding
> Spot and full wrap pressure-sensitive label application
Precision Plastics produces bottles ranging in size from  one to 32 ounces. Its available bottle styles include Boston round, bullet, classic oval, cylinder, oblong and pill bottle oval shapes.
All bottles are inspected for quality and consistency. "We don't take shortcuts on production," Bhagat says. "We use standard materials, and follow customers' and our own QA procedures. We maintain quality by doing things the proper way."
In addition to printing and labeling bottles of various shapes and sizes from its own stock, the company is also capable of creating new bottle types based on customer concepts. "Our capabilities include CAD/CAM design programs that create precise drawings of customer concepts," the company says. "To assist in the development of a project, we can have package models created that can be utilized in a variety of ways."
The company's in-house design and engineering services and value-added option allow it to offer turnkey solutions. "We offer the highest level of service and quality in the blow-molding industry," it adds.