Precision Roll Grinders continues to raise the bar by holding tolerances that remain unmatched by its competitors, helping its customers increase productivity and realize greater profits.
For nearly 50 years, Precision Roll Grinders has prided itself on being as close to perfect as possible. "We can hold tolerances no one else can on large, round cylindrical components because of our people, equipment and tools and processes," President and CEO Ed Gumina says. "We can grind anything large cylindrical – up to 120 tons, measuring up to 600 inches or longer, from two inches to 100 inches in diameter and hold 20 millionths of an inch in roundness, which is a tiny fraction of the width of a human hair."
The Allentown, Pa.-based company was founded in 1969. The company founders designed and developed its proprietary equipment, tooling and methods. Precision Roll Grinders can grind rolls made of steel, stainless steel, chilled cast iron, forged steel, granite, copper and brass, or ones that are chrome-plated, engraved or coated with carbide or ceramic, or covered with rubber, composite or polyurethane.
In addition to its headquarters in Allentown, the company has additional manufacturing plants in Carrollton, Ga.; Lewisport, Ky.; and Texarkana, Ark. Precision Roll Grinders serves customers that rely on faultless rotation, including manufacturers of pulp and paper, steel, non-woven textiles, plastics, aluminum, rubber, turbines and compressors, forest and food products, flooring and batteries. "We are really the only ones to hold a tolerance to manufacture batteries and optimize our customers' processes," Gumina notes.
Precision Roll Grinders says because of how tight it holds tolerances, its customers can run their machines faster than the designed cycle time. "At the end of the day, what it means is that they have improved throughput, quality and dramatically improved profits," Gumina says.
Experts in Precision
Precision Roll Grinders first inspects the product when it comes in before grinding. "When it comes in it has been ground by someone else and it's not round," Gumina says. "While our time to grind is longer than anyone else, from the time the roll hits the door and goes back out is faster than our competitors with an average time of 21 days because of our tooling, methods and people."
While other roll grinders may have similar equipment, Precision Roll Grinders has developed and designed proprietary tooling and procedures that allow them to maintain tolerances their competitors cannot match.
Because of this, Precision Roll Grinders has to train every new employee on its equipment because it has never been used anywhere else. New employees undergo a five-year training process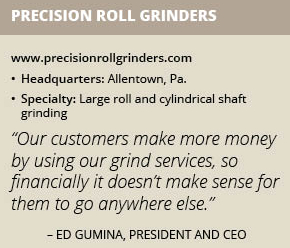 to learn how to use Precision Roll Grinders' grinders.
"Our No. 1 asset is our people," Gumina says. "Most of our shifts don't have supervisors because our people are so good at what they do they don't need supervision. We have an extremely flat organization. Our equipment and tools is our second biggest asset and the methods we use are our third biggest asset. All three allow us to do what we do."
Industry Leaders
Precision Roll Grinders continues to innovate when it comes to products and materials to stay ahead of the curve and "brag about holding 20 millionths of an inch in roundness," Gumina says. Because automation cannot hold the tolerances the company promises, its manufacturing process remains manual.
To ensure roll quality, Precision Roll Grinders has coordinate-measuring machines built into its grinding machines to measure the product before manufacturing starts, throughout the grinding process and when it is completed. "Everything is made to order and our processes are based on materials and geometry," Gumina says. "Every single order is unique and we have the records of everything we have done."
Precision Roll Grinders is one of two manufacturers that can do hot roll grinding up to 600 F. "We can hot roll grind in Allentown, but we do have the ability to 3-D map at all of our facilities and are the only ones who can do that," Gumina says. "We heat the product up to the operating temperature and bring it back down to ambient temperature to write a correlation. We perform simulations and all of our machines are linked together so they can read the correlations in Allentown."
In addition to its second to none manufacturing capabilities, Precision Roll Grinders rebuilds entire machines for its customers. "We change rolls out for our customers," Gumina adds. "Our service team goes out and puts the new rolls in and we can do that twice as fast as our competition and rebuild machines. We plug our machine in and release to production in about 30 minutes to minimize the interruption where it takes our competition upwards of two weeks."
Moving forward, Precision Roll Grinders' vision is to continue helping its customers make greater profits. "That's why our customers can justify our price," Gumina says. "We are more expensive because our people cost more and our tools and methods cost more."
What does that mean for the customer? Precision Roll Grinders' grinds pay for themselves in about two to eight weeks, Gumina says. "Our customers make more money by using our grind services, so financially it doesn't make sense for them to go anywhere else," he says. "As technology advances, they will continue to need tighter tolerances. The overall strategy of our company is to provide more value to our customers than any of our competition and we are very focused on documenting and demonstrating the improved results our customers see with us."