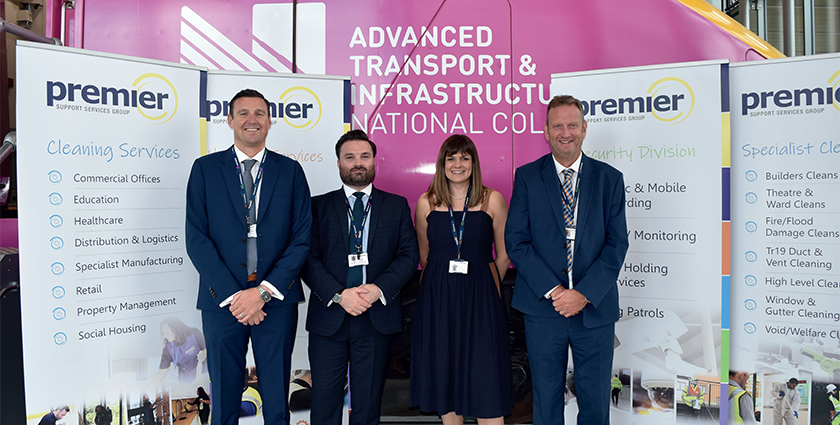 Premier Support Services Group
Putting people first
Premier's expert team has been providing property management solutions to businesses across the UK since 1989. Its dedicated team of specialists offer a diverse range of tailored services, which are available regardless of the type and size of their clients' organization.
Rather than turning to additional service providers, Premier has pushed boundaries to increase its catalogue in facilities management services, and now offers every necessary aspect for its customers' facility requirements.
This could range from professional cleaning and workplace sanitation, to security and soft landscaping.
Speaking with Tom Chatwin, the company's Group sales director, we learn about the values deeply embedded within the company, and how they have resulted in exemplary quality and leading facility management services. "We pride ourselves on delivering exceptional quality and total flexibility through our bespoke service package to suit the requirements of our customers," he begins.
In terms of the milestones that the business has undergone over the last few years, one in particular concerns a change in ownership, which happened in 2021. Tom highlights that, following the first buyout in 2016, the company was then taken over by four independent shareholders: Andrew Walker, the Managing Director, Martin Holt, the Group Finance Director, Danielle Parker, who serves as the National Operation's Director, as well as Tom himself. Together, their mission is to transform Premier into a world-class facilities service provider that platforms its people, sustainability, and exemplary service.
In the last 12 months, the quartet have worked hard to elevate Premier's name within the manufacturing industry. With specialist customers ranging from Doncasters Group Limited, EniProgetti, Hydro Extrusions UK, Aston Martin Cognizant Formula One Team, Wabtec Corporation and MOOG Aircraft Group, we ask Tom how Premier continues to establish a reputation synonymous with excellence and innovation.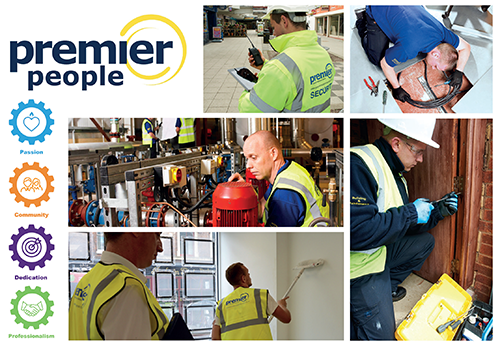 "A large part of that is owed to the fact that we are highly experienced in this field, and we train our people to carry that same level of expertise. Our sectors at the moment include areas like aircraft and Formula 1 teams, and there are some quirky environments within those rooms that customers depend on us to take care of whilst we're cleaning them," Tom says.
"Some of our strategic partnerships have also played a significant role in our success. We've just signed off a five-year deal with our machine manufacturing partner, and we now have access to some of the leading robotic cleaning machinery in the industry, which are completely autonomous. We have also invested into fantastic software that manages our internal operations and gives customers access to the management reporting suite. This means that we are able to give our clients transparent information and live data," he explains.
Furthermore, he shares that many businesses are changing their own approach to the importance of day-time janitors. Throughout Tom's time at Premier, he has witnessed a shift in society's views towards the importance of thorough cleaning practices, and it comes as no surprise that the pandemic served as a catalyst for this approach. "We've seen the re-birth of the daytime cleaning janitor, which was a profession on the brink of collapse prior to the Covid-19 outbreak, when costs out-weighed the luxury of an additional presence beyond scheduled cleaning.
"I think the world is now recognizing again that having a cleaner onsite creates a greater sense of security. This is why we choose to partner with our customers, so they can witness how we work and why we take on the practices that we do. This means that we achieve better results, better cleaning, and a higher level of safety," he shares.
As one of the largest independently-owned total facilities management companies in the UK, the company works meticulously to craft bespoke solutions for its customer's needs to ensure the job is done correctly and efficiently. "Every package that we put together is tailor-made because we understand the customer and their needs. We then curate a package that suits those requirements," Tom says, adding that Premier works both reactively in its response to customer demands, and also proactively in planning ahead and seeing what they may need in the future.
Addressing current and future needs is therefore covered by the company's extensive offering of soft service, from commercial cleaning, window cleaning and a variety of specialist cleaning services. "We also have our security division, which supports anything from front-of-house reception, concierge services and mobile patrols, to open and lock services, and waking watch fire services.
"Thirdly, our Building & Maintenance Division, includes planned maintenance, compliance works, reactive repairs, painting, contracting, and full consultative and building surveillance services. Then, there's our Subsidiary Services, where we offer a complete range of washroom services and janitorial supplies, and finally, we have our Landscaping Division, which consists of hard standing services, grass cutting, beds and borders, hedge maintenance, general landscaping and winter services," Tom highlights.
Although the diversification of the business gives one the impression Premier is a large enterprise, Tom explains that in relation to some of the major players in the market, the company is relatively small, which plays to its advantage. "We perfectly fit a niche for many of our customers. Clients receive a hands-on, personal service from us. With seven locations across the UK, we have managed to successfully install a local approach to our business. So, if you are a customer in Leeds, you'll work with people from Leeds who understand the recruitment market, the culture and the way things are done. We're very proud to provide a national service, delivered through local and genuine people," Tom shares.
Discussions of Premier's approach to its customers then steer the conversation towards the topic of its people, to which Andrew Walker, the Managing Director, shares his thoughts. Since the current board took over, Andrew explains that the board has implemented ways in which it can intertwine Premier's core values of passion, dedication, community and professionalism into its company culture, in order to encourage a greater sense of unity and employee welfare. "We've worked hard to enrich our culture dynamic. As a result, we have prioritized the overall wellbeing and development of our people. For example, we now have the Premier Academy, which is our in-house training suite. Here, all our training is done via interactive videos that are available in up to 14 languages. They allow us to equip everyone across the company with the necessary skills for them to complete projects to the best of their ability, which reassures our clients that we can give them consistency," says Andrew.
Danni Parker, National Operations Director, explains that to complement the training, the business has also introduced Premier People, which is designed to integrate the company's core values across the board. "It also ensures that our staff are well looked after. We have introduced Perkbox as a staff-reward scheme, which essentially includes rewards for our team such as a wellbeing centre, discount codes and freebies. Various other measures have been implemented to offer our Premier People a greater and more prosperous work-life balance, including additional holidays."
Each of the facets are implemented to make Premier an employer of choice, and the company is taking this one step further by incorporating greener, innovative strategies that both improve efficiency and effectiveness within its operation. A few of these, as Tom shares, include an investment in chemical-free cleaning products, as well as electric vehicles for its fleet. There have also been significant improvements in the running of its supply chain through network consolidation, which Tom believes have strengthened relationships and ensured partnership longevity.
We then turn the conversation towards the future. To buttress a few of Tom's key points, Martin Holt, the company's Financial Director, joins our discussion and iterates that the future of Premier is looking great. This is a result of the business's efforts to refine its practices, and ensure that the company remains a strong leader in the manufacturing industry. "Part of these opportunities have been made possible by the implementation of the autonomous machinery, which our staff utilize alongside their work to improve the service to our customers. Additionally, we have become hugely adaptive to the changes within our industry, and that has given us a unique edge. This means that in the future, there will be an increase in revenue from contract wins, and we are going to improve staff retention by looking at ways to further enhance the company culture through reward schemes, and dedication to each of our employees."
Tom echoes these sentiments by stating that Premier's ability to pivot to industry demands is a result of listening to its people and collating years of industry knowledge. However, the results have shown the leadership team that there is still more work to be done. "For Premier, the philosophy has always been to engage with employees and customers to make their work place the destination of choice. This is why we have to develop innovative ways to make each environment a space where teams feel safe and well looked after."
Martin emphasizes this by saying that the cleaning staff in any workplace are one of the most important factors in any building, and this is a fact that should never be forgotten. "If they're not being taken care of, then we are doing something seriously wrong."
Tom concludes the discussion by sharing that Premier's focus for the next five years will be to hone in on opportunities that make it a safe and comfortable business to partner with for both its staff and clients. "A vast amount of our innovation and technology has been driven by our passion to be better, and for our customers to have proof that their environment is safe and secure with us. If we continue to take full advantage of these avenues, our future is looking remarkably promising," Tom says.
Premier Support Services Group
www.premiersupportservices.co.uk
Services: Total Facilities Management Service