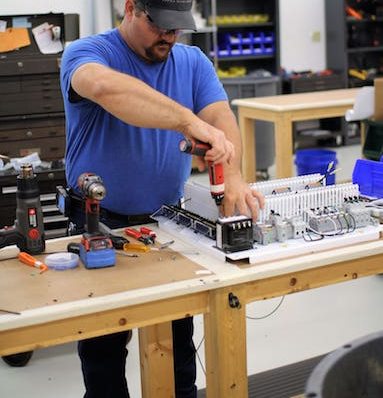 PREMIER System Integrators
In the world of manufacturing – especially a resurgent one within the United States – there is growing demand for companies that can implement both automation and information systems. Processes must be streamlined, production costs must be kept low and productivity has to be increased – all with as little downtime as possible.
PREMIER System Integrators was founded in 1981 so it could help manufacturers meet those demands. "We are a best-in-class system integration company," Vice President of Operations and Business Development Jess Freels says. "It doesn't matter if your company makes cars, chemicals, or cookies, we can implement a system that can enhance a company's manufacturing operations."
One of the keys to PREMIER's success is its flexibility in what it can offer to manufacturers. For example, if a food manufacturer needs to add a new flavor or ingredient to a product, PREMIER can build and implement a system that can seamlessly add the ingredient on the production floor.
Additionally, PREMIER can also integrate entire facilities from the floor up. This was the case recently when the company was selected for a $7 million project for a new processing plant in the Mid-South.
Expansive Growth
PREMIER is uniquely positioned to help manufacturers meet today's challenges. For instance, few manufacturers prefer to implement separate control and automation systems.
More often, manufacturers are opting to integrate everything into a cohesive system – scheduling, quality tracking and other forms of information must all be processed and integrated within the automation and control systems that operate today's factories. Because PREMIER can provide unique solutions that not only perform plant functions but also incorporate those into a plant-wide Manufacturing Executions System (MES), it has seen its revenue quadruple in the last 15 years.
With ever-expanding demand for PREMIER's services, it has also expanded geographically. Its headquarters and primary location are in Smyrna, Tenn., just outside Nashville. That location serves countless manufacturers throughout the mid-South.
But the company also operates strategic locations in Decatur, Ala., to serve manufacturers in the South, and in Cincinnati, serving companies throughout the Midwest and mid-Atlantic. Additionally, all of PREMIER's locations have been certified by the Control Systems Integrators Association (CSIA), ensuring its excellence in areas such as human resources, marketing, and financial management.
The Right People
Through all of its growth, the company has managed to keep its basic structure and culture intact. "One thing we have done well is manage slow and steady growth," Freels says. "We have always taken care to hire and retain the right people." And once they're hired, they do tend to stay for a long time. PREMIER has maintained a 90 plus percent retention rate for many years.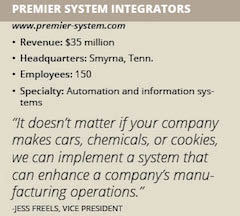 But attracting and retaining the right people can be a challenge. "The world of manufacturing is not as enticing to young engineers out of school compared to some other industries," Freels notes.
To meet that challenge, PREMIER has put in place several programs to retain quality workers. "We do know that maintaining a work/life balance can be challenging, [and] sometimes when plants shut down we do need people to work weekends or 70-hour work weeks," Freels says. "So we work to limit travel time to less than 30 percent of a work week, and try to keep that within reason. We also use flexible scheduling to allow our teams some down time after long weeks"
In November 2014, PREMIER gave its loyal workforce the highest level of recognition: ownership of the company. By becoming a 100 percent employee stock ownership plan (ESOP) company, PREMIER has given its employees the ability to share in the wealth of the company.
"We are in our third year of being an ESOP, and we're seeing more people take complete ownership of their work," Freels says. "We are a flat organization that empowers people." Since giving PREMIER's employees true ownership of their work and its rewards, Freels has seen a noticeable change in the culture. "We definitely have seen an increase in effort and tenacity with our employees," he reports.
Strong Prospects
As Premier begins its 27th year in business, Freels says its prospects for growth remain strong. "We are focused on growth in all areas of our business and in all regions," Freels says. And though the demand for PREMIER's services remains high, there are no immediate plans to open a fourth location.
Instead, PREMIER is interested in expanding and enhancing its product offerings, with a focus on the industrial networking and cyber security. "Right now, the focus is on how we can help customers protect their networks and assets," Freels says.
PREMIER recently won three key projects involving cyber and industrial security. "All of the projects required updating plant floor Ethernet networks, and we were able to protect [clients'] assets from being attacked," he notes.
PREMIER's expansion into cybersecurity is a natural fit with what it already does. That's because the strategic partners that have helped it implement automation systems, such as Rockwell and Cisco, also offer strong cybersecurity platforms. "Right now, there is a strong effort to go out and teach customers about cybersecurity and how we can help them," Freels notes.
As PREMIER continues to expand its offerings, it relies on a stable group of customers. According to Freels, more than 90 percent of PREMIER's business comes from repeat customers. Clearly, PREMIER knows how to satisfy its client base.
"When you take the latest technology and combine it with very strong design and programming principles, plus an ability to complete projects on time that deliver a quality product," Freels says, "you are going to be successful."