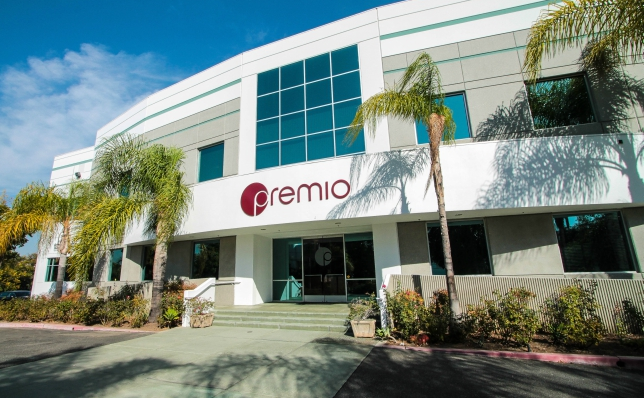 Premio designs and builds world-class computing technology solutions for businesses with highly specialized needs, including some of the world's top technology companies. In a market with fierce competition, the company differentiates itself by stepping into its customers' shoes and remaining flexible to meet any business need.
Tom and Crystal Taso founded the City of Industry, Calif.-based company in 1989 to design computers for the K-12 education segment. Kevin Wu was recruited in 1997 as executive vice president to help manage the challenge of operation complexity due to the significant sales growth. "However, when the PC became a commodity in the late '90s, it was believed Premio had to find a different way to sustain as a business," he remembers. "We had been in the business for 10 years. Our business infrastructure, resources, practices and partnerships with all major suppliers should make Premio a contract manufacturer. It would be an easy and simple role for Premio to step into."
After making that decision, Premio moved into an 80,000-square-foot warehouse, doubling its previous size, but learned quickly that it could not keep using manual assembly to be cost-effective. "We needed to have automated assembly systems to be cost-competitive and to accommodate the future growth, which meant more space," Wu explains. "Luckily, the land next to the factory we had just moved into was empty so we bought that land and grew to the 140,000-square-foot facility we are in today.
"It seemed we were ready to roll the ball, but another lesson was learned quickly," he continues. "We believed we had all we needed to become a competitive contract manufacturer, but we were wrong. The 'me-centered' business mindset and approach won't give us the chance to succeed. The nature of CM business demands to listen to what customers want and do things as customers prefer, which means flexibility, agility and accommodation. It's not a buy-and-sell model but a true and long-term partnership to be established and managed."
Changing from "me-centered" to "customer-focus" is a business revolution and transformation, Wu says. Premio spent two years to rebuild the business infrastructure, refine the process and continuously educate its employees before the first customer came on board in 2002.  Since then, the company has been continuously growing its sales.
"Premio has not lost one customer due to poor quality or service. Our first customer is still with us today, which shows how Premio puts in the effort to build long-term partnerships with our customers and to help them succeed," Wu says. "The value we will share with our customers, which becomes part of their core competency, really makes the partnership successful. If we don't show the value, our customers can go out and easily find another company to partner with."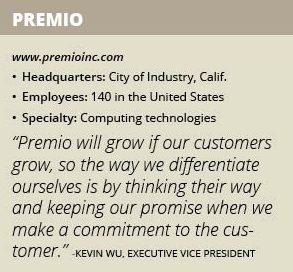 Facing the competition day by day, Wu says that, "A good-quality product at a competitive price can make Premio a good company, but the delivery of a variety of unparalleled services built on customer's success really makes Premio a great company. We differentiate ourselves by the company spirit and personality which are: customer-focus, can-do attitude, people before technology, easy business engagement and integrity."
Wu says to his team: "You will never say 'impossible' to customers. We are the part of their organization and the extension of their resources to do things to make them succeed."
Designing Solutions
Premio offers the solutions of service storage, embedded system and industrial display that can perfectly fit into the IoT architecture. "It might take a year or two, but it's going to be a cornerstone for us to move into the direction of an IoT solutions integrator," Wu says. "By having the hardware solutions, software integration capability and years of service experience, we can make Premio unique and competitive, and get us ready to go into the IoT world in the near future."
The company designs and manufactures its own standard products, but also offers a variety of levels of customization and complete product engineering services from concept to creation for customers to easily build their brand images on products and have products with the best performance to compete. "We know they want to customize and we have the flexibility to help them do so," Wu says. "Our flexibility can differentiate us from other players."
Premio's primary integration facility is located in southern California.   About seven years ago, the company decided it needed a global presence to support its customers' global sales and service, so Premio established a Malaysia-based and a Germany-based integration and service facilities. "By establishing the global footprint, Premio can fulfill and deliver customers' orders in 24 to 48 hours and the warranty service can be done in seven days," Wu says. "Our customers really like it."
Premio developed a web-based Virtual Factory Management system (VFMS) to ensure its customers have total access to monitor what the company is doing, Wu says. "We have customers everywhere. We want to provide a vehicle to let customers feel they can actually monitor and control what we do on their orders," he explains. "VFMS is the solution and it's a very effective communication tool for making both parties' operations efficient. That is why we offer VFMS for free even though we customize VFMS for each customer's based on its preference."
Moving forward, Premio has its sights set on becoming a fully integrated design, manufacturing and service company. The company plans to double its revenue to $100 million by 2020. "We are just starting to work towards those goals this year and with the progress we have made so far, I'm pretty satisfied and think we will accomplish our goal," Wu says. "I want Premio to be the best and the most recognized design, manufacturing and service solution provider in our industry and the first choice of businesses looking for a great computing technology solution to partner with."