Taking charge
Built on a history of engineering excellence and innovative products, Prestolite Electric is a global manufacturer and supplier of rotating electrics to the transportation, industrial and military industries
"We are a global company, manufacturing in locations around the world, with sites in the US, China, Mexico, Brazil, and the UK," says Steve Trulock, sales manager, speaking from the UK. The company was formed through the combination of a number of businesses whose manufacturing histories date back to the early 1900s, and operating with an international presence. Prestolite today provides customers with their application needs for products and service under the Prestolite Electric and Leece-Neville brand names. In the UK, Prestolite has been manufacturing since 1988 when Butec Electrics' Leyland site was purchased from British Leyland. Ten years later further expansion took place when the heavy-duty electrical division of Lucas (CAV) was acquired.
Specialising in the design, development, and production of alternators, starter motors and electrical systems Steve points out: "With over 40 original equipment customers in Europe alone we are original equipment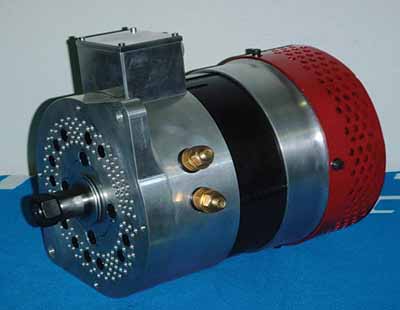 suppliers to the truck, bus and coach, construction, marine, refrigeration, rail, marine, military and engines and genset comindustries. In fact, we make and sell starters and alternators for almost everything except cars. In the aftermarket, our truck range of starters & alternators offers a coverage of up to 95 per cent of the European truck parc, all of these brand new units with none reconditioned and no old units to return. From a growing global footprint Prestolite products are found in almost every country of the world and through its wide global network of distributors, it facilitates product availability, service support and vehicle electrical education."
Prestolite is the leading manufacture of heavy duty starter motors and alternators in China. It holds its position as market leader with an 85 per cent market share for bus and coach alternators, and 60 per cent share of starter motors. For China-built trucks it enjoys a 38 per cent original equipment market share. In the USA, where its products are sold under the Leece-Neville brand, it has for many years been a dominant supplier to the truck and military markets, as well as heavy equipment, school bus, transit bus, off road equipment and power generation markets which use both diesel and gasoline engines.
Calling upon its 100 years' experience in the development and manufacture of alternators, Prestolite takes a lead in know-how that is extremely beneficial to vehicle manufacturers and end users alike. Its product offerings are excellent examples of the company's competence and innovative ability, used across varied applications from automotive through to heavy commercial truck and bus, off-road equipment and even battle tanks. "We have traditionally been a military manufacturer and our products have gone into military vehicles worldwide, including on the Challenger 2, the battle tank of the British Army, as well as other military equipment used by the Armed forces around the world today. We have recently launched a new 24 volt, 600 amp alternator, which stems from a new design, and although we have only been producing this for under two years we have seen good sales volumes and interest from around the world, including most of our existing military customers," announces Steve.
Supplying high quality alternators and starter motors to military set-ups, the business adheres strictly to tough military standards, insuring quality throughout. To remain at the forefront of all its markets, Prestolite continually strives for ways to leverage the knowledge into creating superior products for the commercial markets. Recognising the differences in requirements across its geographies, each division has its own R&D department, developing product lines relevant to their specific markets. "Vehicle manufacturers are looking for more and more powerful alternators and starters, but with the emphasis on weight reduction to save fuel the units need to be smaller. That is one of the main drives that is pushing our designs forward," says Steve. The company's position is testament to the quality of not only its products, but also the service it offers too, as he continues: "It is really important to maintain close relationships with customers, and continually provide good products that people want. These are two of the most important strengths of the business."
Not only do the company's alternators boast impressive power-outputs, but also furthermore, they are highly efficient, which means improved economy and lower emissions for the end users. These are results of technical innovations to families of alternators designed for modern applications. The combination of experience and superior technology produce starters capable of withstanding the toughest environmental conditions, which has translated into being the chosen OE manufacturer of starters for commercial and industrial equipment and vehicles.
As the business looks ahead, its focus is to consistently exceed the expectations of its customers, providing them with best in class technology solutions for their vehicles, and generating new business. Through continual communication with its client base, the company is able to learn from its customers, ultimately improving both its products and services, and by keeping on top of today's and tomorrow's technology, no matter how fast the industry moves, customers of Prestolite will always have the best products available to them.
Prestolite Electric
Products: Alternators, starters, electrical equipment
Sites: US, UK, China and South America
Employees: 120