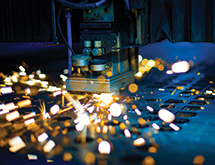 There's a concept in modern science called "Fine-Tuned Universe." The theory is that if any number of physical constants – the position of the sun, for example, or the earth's tilt – were even minutely different from what they are now, life as we know it would not exist. A different universe could be possible, but not this one. Without precision, some things just don't work. And it's not just true for the universe as a whole, but for many events that happen within it, especially when it comes to manufacturing.
"In the market sectors in which we specialize, there's a trend toward the need for greater precision and consistency from one part to the next," explains Terry VanderWert, president of Prima Power Laserdyne. "Whether it's in the mechanics of the system, control capability of the system or the laser source – the elements of the system are brought together in a way that gives more consistent laser processing. That is ultimately the great theme of precision."
And well it should be. Prima Power Laserdyne, a subsidiary of Italy-based Prima Industrie, designs and manufactures laser systems used for cutting, welding and drilling. The company has positioned itself as a leader in 3-D laser systems with a wide range of top-performance and highly efficient systems used around the globe. It serves major clients in the aerospace industry, which is its main customer base.
The aerospace industry is anticipating further growth as companies such as Boeing, Airbus, GE and Pratt and Whitney gear up for production of new aircraft and aircraft engine designs. It also, however, serves manufacturers in other fields, including medical device, precision mechanical components and electronics. Prima Power Laserdyne has invested in building its salesforce with experienced people who have the knowledge of manufacturing using laser processes to effectively assist customers and equip them with precision laser manufacturing technology.
"When you look at aircraft engines, for instance, production of those components is highly regulated in terms of requiring qualification of the process and consistent execution of those processes in order to ensure consistency of the product," VanderWert says. "As a frequent flyer, I appreciate that. You want to know that the equipment is safe. There are many similar industries, like the medical industry, that everyone can relate to. We want consistent quality of the product that is being used as an implant or surgical device or what have you."
Improving on Innovation
Prima Power Laserdyne has been providing its customers with precision-enabling technology for the past 33 years. VanderWert is one of the company's original founders and back then it was known as Laserdyne Corp. Its parent company, Prima Industrie, recognized the company's strength in 3-D laser processing and acquired Prima Power Laserdyne in 2001. VanderWert says Prima Power Laserdyne's core strengths in 3-D laser processing – including cutting, welding and drilling on 3-D surfaces – is its key market differentiator. It carries two product lines. The Laserdyne 430, available with three to six axes, is used for small to medium-sized 2-D and 3-D components. The Laserdyne 795 is ideal for medium to large components. The standard configuration of both lines includes the company's trademarked BeamDirector rotary contouring head.
"Within the first three years of this company, we developed the BeamDirector, which is a rotary and tilt axis head and is the part of the system that gives the machine its capability for 3-D laser processing," VanderWert says. "It's used on various models and has evolved over the years. Each next generation gets more precise and faster, which is the general trend for customers."
The Right Resources
Once it knows what the customer needs, Prima Power Laserdyne's job is to deliver, for which it relies on people, process and technology. The company is reorganizing its Minnesota facility to improve material flow, improve the organization of tools and create more efficient workflow.
The company has operated by the ISO 9001:2008 quality management system since 2009 and is constantly improving the effectiveness of the system to improve the quality and consistency of its products.
"We monitor the reliability of the product at various stages throughout the assembly process," VanderWert says. "When manufacturing of the system is complete, it's handed off to an application engineer who is a surrogate for the customer and the product goes through a series of checks. If they find any discrepancies, they go through the process and work with the assembly technicians to develop a corrective action for that particular issue to prevent it from happening again in the future."
VanderWert explains that these processes are possible only with the right people involved. "The people in the company, I often tell customers, I would put them against anyone in the world in the field of precision laser cutting, drilling and welding," he says. "We have a very talented group of technical people and if you look at the background of our employees, even some in our assembly department have engineering degrees and technical degrees. We have a very high technical competency in every level of the organization."