No matter how digital the world becomes, there will always be a place for printing services to create visual solutions that are more tangible than digital materials. At the same time, innovative visual solutions providers such as California-based Primary Color are leveraging their technological expertise to elevate the printing process and create marketing materials that create an impact no digital display can match.
Founded in 1984, Primary Color has become one of the leading providers of print media products and solutions for a wide variety of clients in the retail, entertainment, automotive, restaurant, events and exhibit segments. CEO Vincent Randazzo says the company's drive to be on the cutting-edge of technology and provide a complete solution for its customers' needs have been the catalysts for its prolonged success.
"Primary has positioned itself as an industry leader through its dedication to print innovation, quality and service," he says. "By focusing on technology, Primary analyzes traditional workflows, recommends improvements and develops and implements modern, systems-driven print solutions. Primary provides a turnkey service across all pre-media, print and web-based technologies to simplify marketing execution."
Whether the project calls for simple retail signage or transforming a hotel into a scene from the zombie apocalypse, Primary Color has proven itself to be a premier visual solutions provider. Randazzo says the company continues to aim to be the best in the business by focusing on living up to the lofty definition of success its clients have.
Delivering Quality
Primary Color's customer base includes some of the biggest retailers, restaurant chains, event exhibitors and advertising agencies. Although the marketing products they need may differ, Randazzo says they all expect the same level of service from Primary Color. "They expect shorter lead times, lower costs, higher quality and on-time deliveries," he says. "They define quality as the consistent and effective execution of their respective projects."
With practically no margin for error, Primary Color has to be able to deliver clients' projects within those exacting standards every time. Fortunately, Randazzo says, the company's in-house capabilities and technological edge allow it to deliver on its promises. "Primary creates cost- and time-saving benefits by manufacturing and hosting all critical products and services under one corporate roof, while providing color-managed outputs that ensure brand consistency for our clients across all print media materials," he says.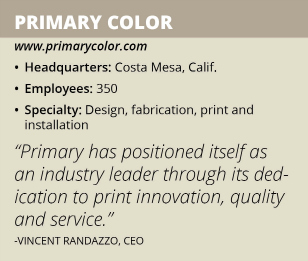 "Primary Color has positioned itself to provide flexible capacity – from one piece to 1 million pieces – and improved lead times to satisfy clients' speed to market requirements under one roof," Randazzo adds. "Providing this level of execution and at the same time guaranteeing color consistency across all printing devices, stocks and substrates is what we believe sets us apart."
"Primary Color provides scalable manufacturing solutions, including a manufacturing facility in China to service international demands," Randazzo continues.
Primary Projects
As befits a company of its expertise and capabilities, examples of Primary Color's work has been found at some of the biggest venues and events on the West Coast. For example, the company was tasked with creating a new identity for MillerCoors at Angel Stadium in Anaheim. Primary Color was given one month to design, fabricate and install the new environmental branding of the stadium's Coors Light Cold Zone, which included adhesive graphics, refinishing the elevator shaft, installing new awnings and installing a nine-screen video wall.
Working closely with subcontractors and in-house engineers, Primary Color's project managers stayed on-site for the month-long process, overseeing the build-out of a new party deck as well as installing new signage and lighting throughout the area. The company says the newly rebranded Coors Light Cold Zone has become "an absolute 'must-do' activity when visiting Angel Stadium."
Another example of the company's ability to transform spaces happened at San Diego Comic-Con last year, when Primary Color was hired to transform the Hilton Gaslamp Hotel into an interactive experience based on AMC's new "Fear the Walking Dead" series. Converting the exterior of the hotel into a scene of zombie mayhem included building a temporary replica of an abandoned church besieged by the living dead, as seen in the first episode of the series.
Careful not to drill any holes in the building's exterior, Primary Color's design and fabrication team created a saddle that would sit on the roof, holding an eight-foot cross and a banner that covered the hotel's signage. Building wraps also gave the hotel the appearance of a graffiti-covered abandoned building, and a fake freeway sign was installed with faux graffiti that read, "Fear Begins Here."
"Primary Color's attention to detail in design, fabrication and installation formed into a fascinating, encompassing experience, enjoyed by guests and passers-by and a constant subject of talk during Comic-Con," the company says.
With these and many other projects over the years, Primary Color has demonstrated its dedication to serving its clients' needs, and Randazzo says the company aims to continue improving. "We are committed to client relationships and continue to invest in people, technology and equipment that ensure and support clients' expectations for shorter lead times, lower costs, higher quality and on-time delivery solutions," he says.