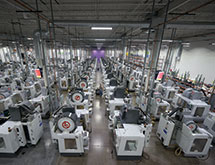 The time-saving benefits of advanced manufacturing technology are being applied by Proto Labs Inc. to the prototyping and production of parts. "Our mindset around manufacturing is different from a traditional manufacturer," President and CEO Victoria Holt emphasizes. "We are focused on prototypes and low-volume production. We've reinvented the manufacturing process to be more cost-effective and efficient with low volumes. Instead of eking out every millisecond of cycle time and running a 96-cavity tool and getting those parts out, we're really focused on having good, consistent changeover and to efficiently move hundreds of custom parts through our manufacturing process."
This is done by mating manufacturing with advanced, proprietary software. "We've really taken manufacturing and intersected it with information technology," Holt continues. "We're right at that forefront. It's a really exciting place to be, and we're a leader there. When you look at manufacturing over the next couple of decades, digital manufacturing is going to be very prevalent in how we continue to drive productivity using software."
Digital manufacturing employs three-dimensional software to create parts using both traditional production equipment, CNC machines and injection molding, and also additive manufacturing, often referred to as 3-D printing. "It is 3-D printing," Holt explains. "We call it additive manufacturing. We use those two words interchangeably. At Proto Labs, we focus on the 3-D printing technologies that are more relevant to the industrial engineer. We don't focus on the consumer. We offer stereolithography and selective laser sintering and direct metal laser sintering, which are more complex processes that are more relevant to the service bureau model and the industrial engineer."
The process starts with a 3-D computer-aided design file. "We translate that into instructions for our manufacturing process," Holt says. "We do injection molding, we do machining, as well as additive manufacturing or 3-D printing. Additive is only about 7 percent of our sales today. The majority of our digital manufacturing comes from injection molding and machining. That's really where we're most unique and the leaders in digital manufacturing in those spaces."
Secret Sauce
Software that Holt says the company has been developing for 16 years is its secret sauce. "We continue to refine it by adding more complex processes," she says. "We tear down a process and build it back up, asking ourselves whether something is really needed in order to make a quality part for a customer."
Another advantage of Proto Labs is its scale. "We have hundreds of machines that are there to drop in those orders when they come," Holt maintains. "We add additional machines in anticipation of our growth – which is about 25 percent per year – and we have no more than 80 percent capacity utilization, so we always can drop in quick turns for customers."
Customers being able to upload 3-D CAD part designs through the website adds to the speed with which quotes can be received. "We have really focused our software technology on the front end of that traditional manufacturing process and automated it," Holt says. "We take that 3-D CAD electronic file, upload it through our web-based ecommerce model, and our software immediately analyzes that part and virtually manufactures it. Then it shoots a quote back to the customer in a matter of minutes.
"Sometimes we have to touch the model because it's got some design for manufacturability concerns, in which case we turn a quote within four hours," she continues. "The average run is about two hours. Once you place your order, our software immediately shoots to our manufacturing process, and we turn around custom injection-molded or custom machined parts in as little as a day."
Many Machines
The company can produce from 20 up to 100,000 parts for its customers worldwide. "Our sweet spot is 10,000 parts or less," Holt says. Most of Proto Labs' molds are manufactured from aluminum, although steel molds also are used for certain parts.
New processes Proto Labs is offering are molding optical-grade liquid silicone rubber; metal injection molding of three new low-alloy steel materials; and turning parts on a lathe in first-cut machining. For the future, the company plans additional new processes and expanding its services geographically.
"In 2014, we had a 29 percent operating margin and we grew 28 percent," Holt reports. "We're in a very elite class, and it's enabled by technology, a unique business model and the value we deliver to our customers."