Fast and precise
Offering an extraordinary capacity for the production of prototypes and parts through various digital manufacturing technologies, Protolabs is striving to complement its service proposition, which will allow the company to meet its ambitious year-on-year growth objectives
As the 20th century was drawing to a close, one American entrepreneur and inventor by the name of Larry Lukis took upon himself the task to transform the traditional process of manufacturing injection-moulded prototype parts. Well ahead of his time, in 1999, Mr Lukis was finding it hard to get hold of quality parts produced in a speedy manner. This is why he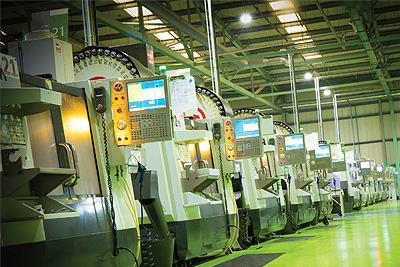 decided to develop complex software and automate the manufacturing process, in order to drastically reduce the time it took to make these parts. Thus, Protolabs was born and today, nearly 20 years on, the company is famous for being the world's fastest manufacturer of custom prototypes and on-demand production parts.
Over time, the business has developed capabilities that allow it to perform the entire production planning and sequencing not only for injection-moulded, but also for CNC and 3D-printed parts. "Our major USP is that we are fast," comments Vice President and Managing Director of Protolabs' European operations, Bjoern Klaas. "We have established automated and scalable processes placing strong emphasis on utilising advanced technologies to be able to take on more and more customers without running out of capacity. To give you a more lucid notion of our speed, we can produce a CNC part and injection-moulded parts in as fast as one day. In comparison, it would take you a couple of months, if you were to apply older and more conventional methods."
Bjoern also stresses the need for keeping an excess machine capacity across the company's manufacturing plants. "Because everything we produce is made-to-order and we have to handle incoming orders within a couple of days, it is vital to maintain high levels of flexibility with regards to our capacity. We are investing continually in all of our technologies, be it in machines or in training our employees to develop their skillset. The target for our UK facility in Telford is to grow by about 20 to 30 per cent yearly, while the highlight at the German plant is the ongoing investment we are placing in new 3D printing technologies. We have recently launched Multi Jet Fusion – an industrial 3D printing process that produces functional nylon prototypes and end-use production parts in just a day; as well as PolyJet and 3D-printed silicone. Moreover, we are releasing other unique technologies – for example, such that can deal with very fine parts in micro resolution, but that can still be printed and used despite being only a couple of millimetres in size," he discusses.
3D printing has certainly been universally accepted as the hot trend in manufacturing, but, although Bjoern asserts that this service has attracted more interest from Protolabs' clients in recent times, it has not necessarily resulted in more sales compared to CNC machining and injection moulding. "All of these types of services are growing at a double-digit pace, so it is hard to single out one that is performing better than the others. In fact, these processes do not compete with each other, but rather create a nice succession in which a prototype might first be 3D-printed or CNC-machined and then, if the client wants to go ahead with production of a larger scale, injection moulding comes into play.
"3D printing presents the industry with a lot of new opportunities to produce parts, which were once inconceivable. This is precisely what makes the process so attractive, but my opinion is that engineers have just realised the possibilities offered by 3D printing and it will take some time before it spreads across the entire industry," he analyses.
Its capabilities have enabled Protolabs to dip its toes into multiple industries. Time and again, the company has proven its proficiency in the automotive, E&E (electrical and electronic), industrial and commercial machinery, aerospace, and medical sectors, to name but a few. "In order to explain our working process better, we can take as an example the injection moulded parts we make for certain British car manufacturers for their sports cars," Bjoern proposes. "First, the customer uploads a CAD file for design for manufacturability (DFM) analysis by our automated software. It may also be evaluated by our designers who appraise whether the part is manufacturable. If it is not, we offer a design service to get it right, which not only makes the design feasible, but also aims to reduce cost wherever possible. With that, if the customer decides to go ahead with production, the aluminium or steel block is put into a CNC machine to
produce a mould tool, which is then taken to an injection moulding machine, which leads to the manufacturing of a larger quantity of parts. It is a fairly straightforward and automated process, and normally only one person is in charge of an array of machines, which adds to the efficiency and speed of our operation."
Since starting in the US in 1999, Protolabs has gone on to open its first manufacturing facility in Europe in 2006 – the aforementioned site in Telford. Two plants in Germany followed up and in 2008, the company extended its footprint to Asia, when it established a location in Japan. "We are now present in these locations we have deemed strategically important for the business," claims Bjoern. "This will allow us to concentrate on developing them by investing in their capabilities. We would like to see growth of at least 15 per cent year-on-year over the next five years and, for the time being, we are on track, thanks to this continual investment and the uncompromising delivery of our promises.
"Right now, we are in a sort of a transactional relationship with our customers, but we are eager to get closer to them and invest time and resources in strengthening our business partnerships. We plan on introducing new, more secondary services that will complement the main role we play in our clients' operations," he outlines. "Expanding our technical capacity is another 'must'. As it became clear, we are always open for the possibility of adding new technologies to enrich our portfolio. Having recognised the growth of ecommerce, in 2019, we will also focus on enhancing our online presence," Bjoern concludes, disclosing some of his ideas for the future development of Protolabs.
Protolabs
Services: Injection moulding, CNC machining, 3D printing, sheet metal processing