Accelerated excellence
The world's fastest digital manufacturing source for rapid prototypes and on-demand production parts, Protolabs enables its customers to accelerate speed to market and strategically manage demand volatility across an entire product life cycle
When successful entrepreneur Larry Lukis established Protolabs in 1999, he did so with the aim of radically reducing the time challenges associated with obtaining injection moulded plastic prototype parts. "Larry's solution, which has since become a world leading digital model, was to digitalize the traditional design and manufacturing process Klaasstarting with prototyping," explains Protolabs Vice President and Europe's Managing Director, Bjoern Klaas. "This involved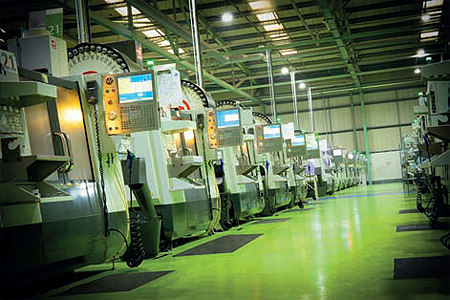 programming over a million lines of code and developing complex software so the front end of the manufacturing process could be streamlined. When he launched, what was then, the Protomold Company out of a garage in the small town of Long Lake, Minnesota, it resulted in plastic parts that could be produced in a fraction of the time it had ever taken before."
Since its inception, Protolabs has gone from strength-to-strength, becoming the world's fastest digital manufacturing source for custom prototypes and low-volume production parts. Priding itself on continual research and development, on serving its markets through further digitalizing of its manufacturing processes, Protolabsand on ensuring its vision is adopted across the board, the company – which has facilities across the world – works with literally thousands of customers across a range of sectors including automotive, aerospace, medical, electronics and heavy industry.
"We use advanced 3D printing, CNC machining and injection moulding technologies to produce parts within days," Bjoern continues "The result is an unprecedented speed-to-market value for product designers and engineers worldwide. As an e-commerce business, our simple-to-use automated quoting system receives 3D CAD uploads direct from the customer, before quickly reviewing and emailing an interactive quote with real time pricing and design analysis. Our proprietary software then translates the CAD models into instructions for our high-speed manufacturing equipment. The result is parts that are shipped in as little as one day.
"Our service is anchored by three flagship services: 3D printing (additive manufacturing), CNC machining and Injection Moulding. Additive manufacturing employs advanced 3D printing technologies that can create extremely accurate prototypes with complex geometries. Additive parts are built by stereolithography, selective laser sintering, Multi Jet Fusion, PolyJet and direct metal laser sintering processes, and in a range a plastics and metals. For CNC, we use 3-axis milling, 5-axis indexed milling, and turning to machine engineering-grade plastic and metal prototypes and functional end-use parts in quantities of less than 200. Our injection moulding is used for quick-turn prototyping, bridge tooling and low-volume production of up to 10,000+ parts. More than 100 thermoplastics, and thermoset polymers (including liquid silicone rubber) are offered."
In Europe, the company currently has manufacturing facilities in Telford, in the UK, and in Eschenlohe and Feldkirchen in Germany, as well as sales and customer support offices in France, Italy and Sweden. "In the UK, we are building a bespoke £5 million, 50,000 square foot extension to our Telford facility, due for completion in late 2020," Bjoern states. "It will house at least 50 additional CNC machines and a further 20 additional injection moulding presses. It will help us meet growing demand from clients for 'speed to market'. We are ideally set-up to meet this requirement, with a combination of our design and analysis team, bespoke production software and – once the expansion is complete – around 300 CNC milling, CNC turning and plastic injection moulding sampling and production machines at our disposal."
In Germany, the company has also begun work on a 15-million-euro investment that will increase its 3D printing capability by 50 per cent to meet the growing demand for this technology. The building will be a new 54,000square foot production facility in Putzbrunn, near Munich, that will give customers even greater access to Protolabs' automated manufacturing processes and quality systems. Construction of the new building began in May, with the initial shell scheduled to be completed by the end of December this year and the fit-out and machinery due to be installed in several stages starting in May 2021. Up to 25 further machines and state-of-the-art equipment will be added to the existing technology, whilst a CNC machining center – with a 5-axis milling machine – will be installed to support the finishing of 3D printed parts for high-end applications. Automated finishing, colouring and painting systems will also be part of the expansion, along with additional 3D printing technologies in the future.
"With this investment, we will be able to move all departments from the current building in Feldkirchen, near Munich, to Putzbrunn, and combine our 3DP metal and plastics business in one location," Bjoern adds. "Just as importantly, with a larger production area and 50 per cent more capacity, we'll be able to deliver even more projects in as little as one day. With optimized work processes and additional employees, the new location will support our activities across Europe, especially our ability to produce certified medical devices under ISO 13485."
In recent months, Protolabs has found itself heavily involved in the fight against Covid-19. "Our 3D Printing, CNC machining and Injection Moulding services are well-suited to the needs of the medical supply chain, and the novel coronavirus created an urgency around the supply of medical equipment needed in response to the pandemic," Bjoern explains. "We are known within the industry for our speed, so the medical supply chain has turned to us for support during this crisis. In fact, we were able to offer priority quick-turn, free-of-charge, in support of projects in the fight against the virus."
Examples of the company's efforts during the pandemic include the supply of 100 3D printed 'Dave' valves (which fit close to the oxygen supply) and 100 3D printed 'Charlotte' valves (a link-component that connects to a mask itself) for life-saving emergency ventilator masks to Italian engineers Isinnova. These valves effectively turn 'Easybreath' snorkeling equipment into ventilator masks for Covid-19 patients. Protolabs has also supported Michelin in the supply of 10,000 sterilizable and reusable face shields to two of France's largest university hospitals. The shields, made entirely of polycarbonate, were initially manufactured in just a day using the Multi Jet Fusion 3D printing process. Manufacturing was then switched as quickly as possible to injection moulding in order to produce 20,000 polycarbonate parts in just a few days. Thanks to the complementary nature of 3D printing and injection moulding, digital project monitoring tools and Protolabs' production capacity, all 20,000 parts required to assemble the visors were manufactured and shipped in 11 days.
Technological innovations
Another development saw the company create a dedicated 20-strong team to work with Mercedes-AMG High Performance Powertrains in the production of a CPAP (Continuous Positive Airway Pressure) system that delivers oxygen into the lungs of Covid-19 patients without the need for an invasive ventilator. Two parts this team developed are for the bracket that holds the device next to the bed, and a third part is for the production of a cap that prevents any air escaping from the machine. Initial sample parts, made in nylon 30 per cent glass fiber and Acetal co-polymer respectively, were sent out for inspection, followed by run rates of 1100 parts per day until 10,000 of each component were manufactured. The final devices and equipment were sent to hospitals across the UK to help frontline staff provide the best possible care for Covid-19 patients.
Outside of the remarkable above-mentioned efforts, new product launches and technological innovations have continued to be a by-product of Protolabs' activities, as Bjoern goes on to state. "Recent advances include material launches for 3D printing. These include True Silicone, a remarkable material made from 100 per cent pure silicone that is used for multiple applications in both industry and healthcare; Cobalt Chrome, a biocompatible superalloy that is known for its strength to weight ratio, hardness and smooth surface; TPU01, a highly processable thermoplastic polyurethane that further accelerates the already fast processing times of our MJF machines; and Polypropylene, one of the most versatile materials around, now available for additive manufacturing.
"With CNC machining, we recently launched our Big Block service, where we can mill from aluminum 6082 blocks of up to 559mm x 356mm x 95mm and still ship the parts in as little as one day. Meanwhile, with injection moulding, recent launches include: Family Tooling, where a family of parts – roughly the same size and made from the same material – can all be made from the same tool, and Supplied Inserts, which is a service that means customers do not have to commit their own resources to supply threaded brass inserts for each IM order because we stock them. We have also begun guaranteeing specific dimensional tolerances for each type of stocked plastic injection moulding resin – again, making life easier for our customers."
Despite what Bjoern describes as an overall consolidation of industrial production across the globe, he is positive that optimism is beginning to shine through as European economies open up at different paces and the wheels of productivity start to turn. "We are well positioned to support our customers as they innovate and reactivate their own markets," he proclaims. "We are also excited as we feel that the positives that we have experienced in recent years could potentially be eclipsed by those experienced in the years ahead.
"The rapid advancement of information technology has disrupted the business landscape, but we will see even more possibilities opening up. The three central themes of connectivity, intelligence and flexible automation will change the way all of us work and live. I'm confident of this prediction, because that change is already being seen.
"Here at Protolabs we have developed data-sharing processes and integrated additive and subtractive processes – traditionally at opposite ends of the manufacturing process – to transform the production model. Our use of advanced 3D printing, CNC machining and injection Moulding technologies to produce custom-designed parts and prototypes in days means we have been able to reduce costs and manufacturing lead times to levels which open up global markets to a huge range of new, pioneering innovators.
"Demand for this will only grow and, in the years to come, I can imagine a scenario where parts are made even faster than they are today, in materials we haven't even tested yet. The desire for more rapid product development, lighter parts and more complex designs will have stretched the imagination of even our most creative designers and engineers, and Protolabs will be right there at the forefront."
Protolabs
Products: Custom prototypes and on-demand production parts
www.protolabs.co.uk