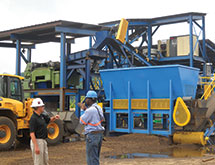 "We have materials that still go to the landfill," Vice President of Operations Services Denzil Boss says. "We now, in our industry, have the technology to recover more metals out of that stream. The equipment will upgrade the purity of these metals from what we are at today."
The 16-year-old scrap metal processing company has acquired smaller scrap metal businesses through the years and expanded its operation to 52 locations throughout the north, midwestern and southeastern United States. Today, the company considers itself a specialist in the shredding process. "With eight shredders across PSC, we feel we have a proper footprint where we do business," CEO Ron Kline says. "Where we can add additional value is with improving our downstream recovery systems."
Scrap metal is recovered from a variety of sources, including people cleaning out their garages on weekends, peddlers looking to trade metal for cash, other scrap metal dealers, factories and demolition projects. When an item such as a refrigerator, toaster or automobile has reached the end of its useful life, PSC Metals' shredders break the item into manageable pieces to be further processed and separated for its metallic value.
The company's eight shredders have scrap-shredding capabilities of more than 200,000 tons per month and can "chew up" a half-ton pickup truck in less than 30 seconds.
Once the shredding process is complete, a downstream separation machine extracts any metal from the waste material. "The downstream separation machinery is very sophisticated," Boss says. "It accomplishes separation through multiple means, including sensor sorting, which is an electronic process." The sensing equipment identifies metal based on chemistry and density. After the process is complete, PSC Metals sells the scrap metal to steel mills and foundries to be repurposed, Boss says.
Shredding Technology
PSC Metals' downstream shredding technology focuses on the removal of non-ferrous metal in shredded residue after the ferrous metal has been separated. The company's focus in 2014 is to build new facilities and update its existing ones to have the best available recovery capability for all of its flow, Boss explains.
The company's southern region recently commissioned a new facility in Chattanooga, Tenn., and is upgrading its Knoxville, Tenn., facility. The Knoxville upgrades are expected to be complete in fourth-quarter 2014.
In the company's northern region a new location is yet to be determined, but one is expected to open in the first quarter of 2015.
PSC Metals is evaluating its options for installing a new facility in the Midwest region.
The benefits of installing the latest downstream shredding technology include recovering more metal, having more products to sell into the market and avoiding landfill costs. "The equipment will upgrade the purity of these metals from what we are at today," Boss explains. "Instead of selling, for example, 30 percent metal and 70 percent waste, we will sell a much higher purity directly to the market."
Another benefit of the shredding technology is that it gives PSC Metals a competitive advantage, according to COO Tim Brose. "We need to stay on the cutting-edge or we will get left behind," he explains. "Our downstream improvements throughout all three regions will help us remain competitive and extract the additional nonferrous value out of our process."
PSC Metals is not the first scrap metal processor to acquire this technology, but the high price has deterred some in the industry. "Over time it becomes more economical," Kline says. The company partners with two different vendors to ensure honest pricing and payback on its investment.  "Many of us have seen with previous companies we worked with and other vendors that this technology is proven. We are looking at compelling financial returns," he adds.
Recycling More
"New downstream technology is extracting new sources of scrap metal not otherwise captured in traditional recycling streams," Kline says. "Industry leaders have already figured out how to extract more basic metals; the new challenge is to do that economically and to extract additional precious metals in the process. The biggest winner is our communities and the environment as we reduce our waste stream."
PSC Metals has regional networks buying scrap closest to the source, and shredding to make a finished product. Large portions of shredded metals were exported to predominantly Asia.
Asia's reduced appetite for shredder metals mixed with nonmetallic, combined with escalating global transportation and processing costs has created an opportunity for PSC Metals, says Mitch Damp, executive vice president of non-ferrous.
The downstream shredding technology will allow PSC Metals to continue its mission to be a good corporate citizen by looking out for the environment and environmental waste. "As good corporate citizens, we relish the opportunity to educate our community about the benefits of recycling utilizing cutting-edge technology," Kline says. "We don't want to be viewed as a 'junkyard,' but rather as a recycling innovator looking to benefit the communities we operate in."
Giving Back
PSC Metals provides much more in each of the communities it's located. The company strives to make a difference through charitable donations, sponsorships and volunteer work.  Some organizations the company has supported include American Cancer Society, Coats for Kids, Salvation Army and United Way.
The company also focuses on providing career advancement opportunities and growth within the company for each of its 900 employees, Kline says. "We want to be recognized as the employer of choice," he adds. "We believe that our success is because of talented and dedicated employees who share a common vision of growth and commitment to being the best they can be every day. We have very little turnover; most people who come to work for us stay with us."
Through Good Times and Bad
The scrap metal industry can thrive in almost any economy. In a poor economy, peddler trading flourishes because people are looking harder to find scrap metal for extra money. "When the economy gets tough, people work all that much harder to try and find things to sell for scrap," Executive Vice President of Commercial Andre Pujadas says. "Farmers will pull old vehicles from the back of their barnyards or buildings will get torn down to create revenue. Sometimes the scrap metal volumes get a boost from this sort of thing."
When the economy is good, people are spending money more freely and not hanging on to older items. For example, consumers trade their used cars for newer versions and those older vehicles find their way to the shredder more quickly. "When there is a good economy and people are buying new homes, cars and stereos, there is definitely a boom in our industry," Pujadas says.
"The demand for our finished product goes up greatly while disposing of older items."
The automotive and construction industry have not shown improvement yet this year, but Pujadas notes he has also not seen a decline in either industry. Meanwhile, the oil and gas industry is booming and creating the need for more steel and piping. "There is a cautious optimism out there," Pujadas says of the future.
To take advantage of possible growth in other industries, PSC Metals is focusing on becoming the premier company in scrap metal processing. Over the past year, the company has attracted new employees, who are eager to improve the scrap metal business by coming up with innovative ideas and ways to conquer the industry, Kline says. "In my shore tenure with PSC Metals, it is rewarding to see that our employees and communities' are excited about PSC's commitment to future growth," he adds.