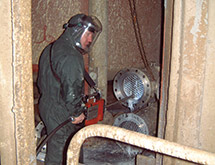 Hydroblasting is a highly effective way to clean industrial equipment, but it is an inherently high-risk activity as well. "A lot of bad things can happen," says Joe Davis, vice president of sales and marketing for PSC, a provider of specialty maintenance services to the energy infrastructure marketplace.
The use of high-pressure water cleaning systems at pressures up to 40,000 psi to clean oils, sludges, polymers and other contaminants from plant equipment has been an industry standard for more than 30 years, Davis says. Until recently, however, hydroblasting was primarily achieved through manual handling of lancing equipment, either stiff or flexible.
"The greatest risk comes from unexpected human contact with the high-velocity water stream coming from either the tip of the hydroblasting assembly or from a failure in the water supply system," Davis says. He notes that even contact with water pressure below 1,000 psi can result in life-threatening water cuts. Additionally, workers are exposed to water and vapors containing fouling products. Further complicating the risk, the likelihood of an accident increases as workers become fatigued or are exposed to extreme environmental conditions, Davis says.
Automation the Solution
The solution to these risks is automation, Davis says. Indeed, automation has been PSC's primary focus for the past five years, and the company continues to turn to hydroblasting equipment that does not require workers to handle hoses and tools. Instead, the new devices are controlled remotely, allowing users to work at safe distance from the force of the water. The new equipment features pneumatic or hydraulic controls and secure anti-withdrawal devices.
"Everything is joy stick-controlled," Davis says. "With automated equipment, the operator is moved well away from the line of fire. With the continued development of new technologies, nearly all manual approaches can be replaced with automated means, where the operator works from a safe distance. Safety is such a critical piece of what we do."
Despite the obvious safety features, plant owners sometimes greet automated hydroblasting equipment with skepticism, primarily because it can be more expensive than manual means, and the economic benefits are often unclear, Davis says. Although the cost of automated solutions is higher, customers ultimately save money because the automated tools are more efficient, he says.
"You can get the work done a lot quicker with this equipment," he says, adding that automated machinery can clean, for example, up to five heat exchanger tubes simultaneously. "You can justify automation not only for safety but for cost," he says.
More Than Safety
The benefits of automated cleaning solutions are not limited to safety. Rather, automation leads to more consistency in cleaning, reduced client down time, smaller crews and reduced total cost of ownership, Davis says.
But simply owning the sophisticated technology is not sufficient, Davis says. If a service provider does not have properly trained operators, who are extremely knowledgeable about both equipment operation and maintenance, the economic advantages to automation can be lost. Furthermore, there are a number of both real and perceived impediments to automation that must be overcome, including cultural, cost and the need for a highly trained workforce, he says.
"Our experience shows that a successful program must move beyond the gadgets and include a strong safety culture and loss-prevention system, a mechanical integrity program for equipment and an excellent training program on equipment and hazards, Davis says.
For the past three years, PSC's mechanical integrity program has accomplished a variety of safety measures. There include upgrading all high-pressure hose systems, color coding hoses and fittings to ensure workers' compliance requirements, testing and recertifying hoses on an annual basis.
Making the Right Choice
Choosing the right approach requires a company to have a thorough understanding of cleaning cost versus economic benefits and risk mitigation. "We expect you to work safely with whatever equipment you use, but we also expect the most economical solution," Davis says he commonly hears from his customers.
PSC's Fully Automated Site (FAST) program has been developed to evaluate each application with these factors in mind, Davis says.
PSC credits partnerships with its strategic suppliers, such as StoneAge and Peinemann, for much of its success. The suppliers, who are industry leaders, give PSC a much "broader field of view" and help the company innovate, Davis says. Partners also provide honest feedback that helps PSC grow, he says.
For example, PSC has invested heavily in StoneAge's "AutoBox" systems, which allow for automated pipe cleaning, known in the industry as line-moling. StoneAge has also developed an innovative line of nozzle tips, such as the "Banshee" line, which dramatically improve cleaning of heat exchanger tubes over traditional designs.  During a long partnership with Peinemann, PSC has made extensive investments in the company's 3 XLTC automated flex lancing systems.  These cutting-edge tools allow for automated, in-unit cleaning of heat exchanger and fin-fans where space has traditionally been a challenge.
PSC was founded in 1977 as a small regional industrial services company that specialized in process plant maintenance. Today, with more than 40 service locations throughout the United States and more than 2,400 employees, PSC is a national provider of specialty maintenance services to America's energy infrastructure. The company provides a variety of services, including environmental management, boat and barge cleaning, offshore and vessel cleaning, well and facilities abandonment, boiler outage services, pumping unit maintenance and vapor control.