Metal magicians
Now able to offer expertise in detail part design, prototype, tool build and high volume mass production, PTM Corporation has been producing metal stampings since 1972
Looking at PTM Corporation as it stands today, it is hard to envision its beginnings as a small shop in Mount Clemens, Michigan, and the singular efforts of its late founder Charles Russell. Now turning over $55m a year and employing around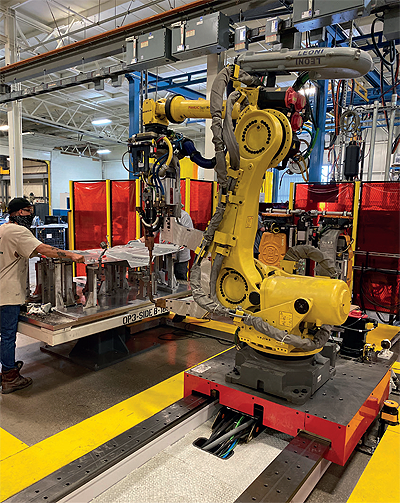 300 associates, Charles' daughters own the business, with Donna Kuhr taking the role of President and CEO. Under Donna's direction and with the team she has built, PTM continues to invest and expand, always with the overall aim to create magic with metal.
Donna credits her father's work ethic and philosophy of 'never saying no to a customer' as a cornerstone of PTM's success. "We have always concentrated on helping customers address their challenges, and as we continue to do this successfully over the years, it built our reputation and people learned to trust us. So, we became known as problem solvers for our customers, and that remains our philosophy today," she said.
PTM serves the big automotive original equipment manufacturers (OEMs) including General Motors, Ford Motor Company, Honda and Toyota, and many Tier 1 suppliers as well as newer entrants to the market such as Tesla and Rivian. PTM also provides tooling for aerospace, and works with the agricultural, construction, medical and military sectors, too. "The mobility market is changing very rapidly, which has been quite exciting to be a part of," added Donna. "It is a nice mixture, with no one customer covering more than 12 per cent of our business. Our Corporationcustomer diversification is another key ingredient for our success."
The products that PTM creates for this blue-chip customer list can be described in the simplest terms as 'metal stampings' and the group has literally produced billions of these over the years. From small clips and fasteners to car roofs and mower decks. PTM's products also include the most complex assemblies, and its services and facilities mean that it is able to design, prototype, build and then produce the parts in-house, providing a one-stop source for cost-saving solutions.
"Customers can come to us even when they are not sure exactly what they want, and we assist with product design for them – all with the mind-set of ultimately production. That outlook means that we are always thinking about production, repeatability and longevity, all of these aspects are very important to our clients – they know when they are working with PTM, they get repeatability and quality baked in!"
From speaking to Donna, it is very apparent that always being able to meet and surpass the expectations of its customers is of paramount importance to PTM and this requires a willingness to invest in new technology. The most recent example of this is a large investment of nearly $2m into the Group's Michigan manufacturing facility, which will enhance PTM's ability to manufacture at lower production volumes. Donna gave some more details about this new avenue of operation and the reasoning behind it: "A lot of automotive OEMs are teaming up with new electric or hybrid vehicle companies, who are creating new models that should hit the market in the next few years. The volumes they are making are not going to be high, as they are putting their toes in the water to test the market and see what consumers are going to buy. With around 15,000 – 40,000 vehicles a year, this isn't large scale production volume, so our prototype and production teams have been working together on cost models, particularly with one OEM, to find the sweet spot where it makes financial sense for us to do low volume vehicles. It means we can work on many types of vehicles, at lower volumes, still make a profit and still be competitive with customers and ultimately for consumers.
"As a result of our analysis we have invested in a flexible assembly cell that carries out various activities, including spot welding, hemming and adhesives. We have the capability to build multiple platforms simultaneously in our assembly cell and still be profitable, supply good quality and quickly change over from one product line to another." Further reinforcing the new direction towards low volume, PTM has also invested in five new presses, as well as new laser technology, which will assist the company in areas such as blanks and finished products.
Code of Honor
Furnished with the latest equipment, the manufacturing and production facilities at PTM are impressive, but even the most state-of-the-art technology needs an excellent team of staff behind it in order to achieve success, and people and culture are a topic close to Donna's heart. Certified by the WBENC Women's Business Enterprise National Council, PTM prides itself not just on the diversity of its workforce, but also the family atmosphere that it works hard to create and maintain. "I started in the business out of high school and I wanted to learn from everybody – I didn't care about race, religion or background – if you had something to do with metal manufacturing then I wanted to learn it!" said Donna.
"I continue with that same philosophy with our people, and several years ago we said it doesn't matter how large our organization gets, we want to have a culture that always feels like a family business – we don't want people to feel like a number. We set up a task force and over six months we created our 'Code of Honor' – a vision and a mission that we wanted to live by, not just a nicely framed bit of paper.
"Abiding by our Code of Honor helps to create our culture – and for example Code item number one is 'deliver exceptional performance and peace of mind to our customers'. That is why we come to work and so that must be number one and our team understands and lives by that principle. That has been our associate's principle in all we do, and all associates need to understand and live by that principle."
Furthermore, PTM's reputation for excellence extends to its status as an employer of choice, which is a benefit in a tough employment market. "So many times, in interviews, I have people say that 'it used to be a great company, but then it got sold out and it lost that special touch.' We don't want to lose that family feel and we need to be attractive to prospective employees as well."
Another essential part of this approach is having a diverse workforce, and Donna believes that having a wide range of great people on staff helps the company to learn and grow, all with one uniting factor: "We all love metal and we all love the challenge of solving customers' problems," she confirmed. "That is what makes it a great culture to work in as we all love what we do, and we are all very passionate when it comes to helping our customers and each other internally."
PTM was looking forward to the challenge of a record breaking 2020, and then the Covid-19 pandemic struck and the whole world was put into turmoil. "Our executive team, which comprises of my husband, our CFO and our Director of HR got together in March and discussed if we were going to need to shut down. April was a terrible month although we did make shipments and we were open on a limited basis, and what became our daily oxygen was checking if anyone had cancelled an order – and nobody did," noted Donna.
"Production did get pushed back, but nobody cancelled orders. Right now, production is about 70 per cent of where we were prior to Covid-19, and it has been ramping up ever since May and June. July was a great month and we will be back to our normal levels by the end of the third quarter."
Donna also highlighted that PTM had gained work through the pandemic, and she explained that this was due to the activities of the automotive industry in 2019. "For various reasons, a lot of prototypes were put on hold last year, so 2020 was supposed to be excellent for prototypes, advanced research and developing future vehicles. We thought that maybe those programs would be cancelled, but in fact we have won a lot more work, and with our prototypes we are on track to have a record breaking year – while we may not hit our original budget we are going to do very well."
One problem Donna is dealing with now are kinks in the supply chain and getting the supply base back up to speed. One way that PTM is addressing this challenge is through investment into a new E Coat painting line. "We want to own and manage the E Coat painting side, rather than being dependent on a supplier who can say yes, no or maybe!" said Donna. "Right now, in Detroit, E Coating is a commodity that is putting a strain on metal suppliers as there is so much demand for it and not enough supply. We definitely want to own and control that aspect of production."
In addition to the E Coat line, PTM is investing in more new equipment, updating and adding to its range of presses, as well as upgrading its business plan in order to optimize most areas of the business including engineering, estimating, sales, quality, and the HR side with training and development. "We want to make our company even stronger and we believe 2021, 2022 and 2023 could be record breaking years based upon the economics and our customers' needs for the next three years," Donna concluded.
PTM Corporation
Products: Metal stampings
www.ptmcorporation.com