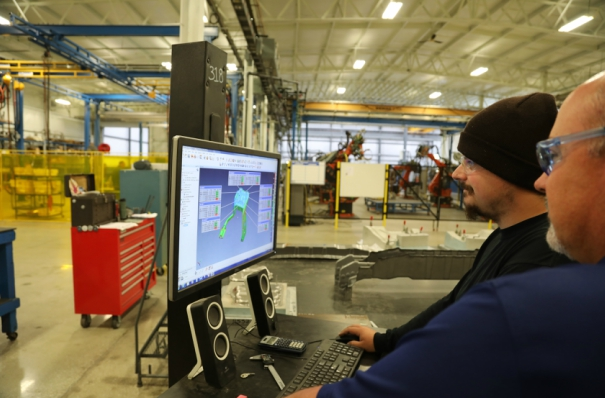 PTM Corporation is moving into new territories. A full-service metal stamping supplier, the company purchased a 1,000-ton press line that will nearly double its tonnage capabilities and allow it to expand its customer-base.
"We're ecstatic," says Donna Russell-Kuhr, president and CEO. "This puts us into another product offering category and we can pursue new customers."
The Fair Haven, Mich.-based company specializes in design assistance, prototyping, four slide and progressive die design/building and short/long-term production runs. It has expert engineers, state-of-the-art CAD systems and world-class tooling facilities.
The new press line is expected to be fully operational in December. Once installed, it will stand 32 feet above ground, with another 20 feet below ground.
"We're working with a few local companies right now that are designing the pit and underground scrap system for it," Russell-Kuhr says. "The bed size is 244 inches and large enough to accommodate bigger stampings. This is really exciting."
Specifically, it will be 244 inches wide by 95 inches deep. The largest footprint that PTM currently runs is 144 inches wide by 54 inches deep. The new press will almost double the tonnage and footprint for the company's production press line. PTM will continue to offer four-slides capabilities and value add assemblies – only larger and more complex.
"I know a lot of companies who have a 1,000-ton press but their bed sizes are traditionally smaller," Russell-Kuhr says. The new press is the same one that Ford Motor Company purchased for its new aluminum truck line, she adds.
Expansion and Growth
PTM has a 300,000-square-foot manufacturing facility in Fair Haven where more than 300 employees design, prototype and produce parts for industries that include automotive, appliance and lawn and garden. Some of its parts end up in prototype stovetops, washing machines and dryers. For the prototype automotive industry, PTM manufactures hoods, door assemblies, fenders and complex rail and structural assemblies. It also supplies doors and skins for NASCAR.
"But we are not just a metal stamping production supplier," Russell-Kuhr says. "We are a solutions provider to our customers." PTM quotes more than 1,000 jobs per year in production alone. For prototypes, it quotes nearly 2,000 projects per year, she says.
That's where PTM's product development division comes into play. "Our clients give us the parameters and design constraints and we will design the product for them," Russell-Kuhr says. "That's the difference between us and a company that only runs production. When we design it, we design it with production intent and prove out the problems in the development stages of the product's life cycle."
The company has experienced healthy growth over the past decade. "We've had positive growth every year since 2009 for both revenue and profits," she adds. "And 2018 is projected to be a good year."
Last year, PTM reported roughly $48 million in revenue. This year, it expects that to increase to about $52 million. To protect itself, PTM makes sure that not one of its customers makes up more than 20 percent of its business.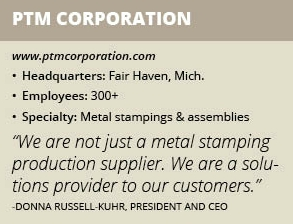 A part of the company's growth can also be attributed to mergers and acquisitions. "In the next two or three years I see us having a presence somewhere in the south, possibly Mexico, Tennessee or Texas," Russell-Kuhr says. "More than likely, we would buy a company that is already there and come in and grow it."
PTM attributes another part of its success to industry relationships, especially with suppliers. "Supplier relationships are critical to the success of any business," Russell-Kuhr says. She points out Romeo, Mich.-based Unlimited Quality Sorting & Assembly, Inc., owned by Kimberly Glowczynski.
"This company delivers critical support by providing secondary operations to PTM's production overflow," Russell-Kuhr adds. "This company has been a valuable part of the PTM Corporation supply chain. PTM believes in supplier diversity and is proud to support not only women-owned businesses but veteran-owned and minority-owned businesses."
The Next Generation
As the largest employer in Fair Haven, PTM believes in investing in its community and surrounding area in St. Clair County, Mich. Four years ago, the company launched its Tool & Die Journeyman apprenticeship program that is designed to develop skilled employees with experience in tool and die making.
"We are bringing up the next generation of manufacturers," Russell-Kuhr says. "These people may not get a college education, but they are getting a higher education through our in-house school. I am proud of our in-house school."
The Journeyman is a four-year program that requires 8,000 hours of on-the-job experience, ranging from blueprint reading and shop math to machining, die build, safety and quality. In addition, students must complete 2,000 hours of online education training and pass a test. This comes to about five online hours per week, paid for by PTM.
"During the apprenticeship, they are paid and receive gradual raises," Russell-Kuhr says. "After they graduate and go full-time, they can make $22 per hour. The great thing about our programs is there is zero debt for our associates in getting their education."
The company also reimburses students for tuition each year as they progress. The program was created through the joint efforts of Jim Boelstler and John Tucker. Boelstler is a tooling sales engineer at Modified Technologies (acquired by PTM) and Tucker is the director of human resources for PTM and Modified Technologies.
The program is open to high school graduates, PTM employees and interested parties outside the company. Before being accepted, the applicant must take a test that involves hypothetical scenarios and math and reasoning questions to determine whether the candidate is a good match for the job. That's followed by an extensive interview process.
The program developed out of a need for skilled labor in the manufacturing industry. "We are facing a lack of skilled labor," Russell-Kuhr says. "It's not just in my industry. We need plumbers, HVAC crews and builders. We need to bring people in and set a career path for them. So I think what we're doing is pretty exciting."
New Beginnings
PTM celebrated its 45th anniversary last year. Founded in 1972 by Charles "Charlie" T. Russell, who passed away in 2016, the company is still family-owned and operated. Russell handed over the reins to his four daughters – Russell-Kuhr, Bonita Russell-Hess, Gina Russell and Dannielle Russell. The daughters share ownership.
Charlie Russell grew up on a farm with seven siblings in Bentley, Miss., where they worked as farmers. At 20 years old, he left Mississippi and traveled to Chicago to pursue a career in the automotive industry. City life was an adjustment for him but he soon found a job as a tool-and-die maker.
In the mid-1960s, Charlie moved to Detroit and later established PTM. Today, PTM has more than 300 associates and 300,000 square feet of manufacturing space. PTM continues to operate with Charlie's vision in mind: to bring about new and exciting opportunities and innovations.
"I think another thing that sets us apart is our culture," Russell-Kuhr says. "We care for each other and help each other when the chips are down and we celebrate our wins. We're a family."
The company prides itself on its expertise and experience from detailed part design, prototypes and tool build to high-volume production. PTM ships more than 100 million metal stampings for its clients on an annual basis.