Stationery in vogue
Pukka Pads' passion and love for what it does has helped it become a leading player in the global stationery market
It was in 1999 that Chris Stott founded the Pukka Pads brand and in less than two decades it has grown to become the leading global manufacturer and supplier of high quality branded and own label paper pads and notebooks, filing and divider items, post and packaging, and art and activity products. "The Pukka brand has come to be renowned for its quality, and its ability to create innovative and stylish stationery products that our customers love, and this has helped to create a business that is able to play in a pool with some really big fish within the world's stationery industry," explains Managing Director Mike Davis.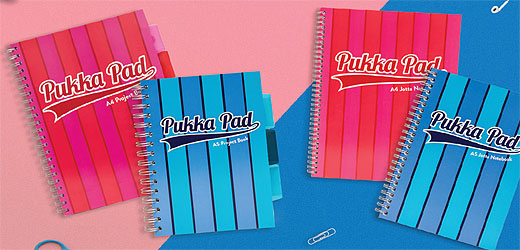 As the name would suggest, the brand is perhaps best known for its range of pads, with its classic Metallic Range, the first to be introduced by Chris nearly two decades ago, remaining its top selling collection. "The continued success of our more established ranges, I believe, highlights just how strong the Pukka brand and its products really are, and the level of trust we have earnt from customers," Mike continues. "Over the years, we have steadily diversified into other lines such as filing, envelopes and packaging, business forms and stationery, all while retaining fun, trendy images that we look to reinvent each year to keep things fresh."
The customers Mike speaks of reach out across several industry sectors, from major retailers including the likes of Tesco, Sainsbury's, WHSmith and Ryman, to independent stores, student unions and education providers, and into core B2B channels. As previously noted, however, this is also a global business supported by a warehouse in Germany, as well as a trading and sales office located in Hong Kong. The latter acts as a supply and sales route into a number of key markets in Asia as well as into Australia, New Zealand, Thailand and the Philippines. Going forward, Pukka also plans to develop a unique distributor model, Padswhere people can apply to become distributors in particular territories and choose the type of stock they feel will best serve that particular market.
"We are also now in the process of setting up operations within the United States," Mike goes on to tell us. "Recently, Pukka products were on display at a major exhibition there and the response was brilliant, so a great deal of focus will be dedicated in the coming months to getting us ready to trade there in 2019. While the sheer size of the market is exciting, we will ensure that our entrance into it is nice and controlled, introducing a core selection of products to begin with before then embarking on measured growth."
Turning back to Pukka's activities in the UK, it has spent a considerable amount of time, effort and investment over the last 18 months to further perfect the operations within its two production plants, in Poole and Yorkshire, with the second in particular benefitting from a major overhaul. "The filing operation had been moved from Liverpool to Bingley, and the transition was far from smooth! We spent a great deal of time last year working as a management team instilling best practices and procedures, leading to better engagement with all colleagues across the business. Within our facilities, we have the ability to mass produce three main product lines, box files, lever arch binders and ring binders," Mike says. "We have increased our output capability hugely within the last 12 months, and we are now embarking on a sustained period of growth with both our existing and new customers.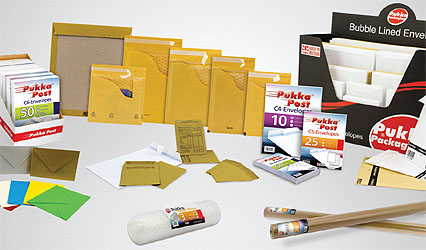 "We have spent the last year-and-a-half equipping the Yorkshire facility with key machinery and installing processes to boost efficiency and productivity. Ours is very much an industry driven by skilled operators, men and women who can identify things that machines cannot and can make small, but considerable differences when it comes to driving value, therefore we have also made sure that these people have the very best tools at their disposal and are aware of just how appreciated their talents are."
Previously, Mike spoke of how each year Pukka continues to create and produce stylish products ukwith an ever-changing range of cover designs, and in July 2018 it announced that this years would be dubbed Vision and Vogue. Sporting vivid blue and pink colour designs respectively, the new products will certainly stand out from the crowd! "The fantastic thing we have found with Vision and Vogue is that simply through our unveiling of the ranges through social media and web channels we have already secured sales of around £500,000 without the products even being put on physical display," Mike reveals. "This is yet another example of the incredible reputation Pukka has when it comes to the quality of its products and is truly a testament of the faith that our customers place in us."
While the launch of new pads keeps the near 20-year legacy of where the business came from going strong, it is also Pukka's embracing of technology and innovation that has led to deserved plaudits, not least of all in the form of a Boss Award, received in November 2017 in the category of 'Most Innovative New Product'. The product itself was its first 4D Interactive Colouring Book. By colouring in the pages and accessing a new free APP via a smart phone or device, children can bring the pages to life via Augmented Reality. "We see this product as being a great link between new technology and traditional colouring books," Mike adds. "It is about recognising the great things that technology can do, and its place in modern society, while also embracing the good old days of having pencils and paper in your hand."
Having brought the business to a very healthy place, Mike is determined that Pukka Pads continues to build upon the success of the brand. "Going forward, everything we do will be about ensuring that everyone who purchases a product with the Pukka name on it knows that what they are getting and what it stands for, and that is quality," he proudly concludes.
Pukka Pads
Products: Stationery manufacturer