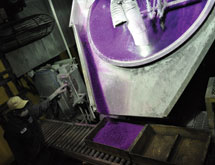 Purafil remains the global leader in the engineering and manufacture of gas-phase air filtration media, systems and air quality monitors thanks to its commitment to innovation. During the past four-plus decades, Purafil has been a pioneering force in the gas-phase air filtration industry and continues to develop groundbreaking clean air solutions for customers around the world.
"We are the leader in our industry and pride ourselves on achieving a high level of performance and providing our customers with a strong ROI," says President and CEO James Mash.
Forty-year-old Purafil is headquartered in Doraville, Ga. The company's headquarters is home to its corporate offices, laboratories, manufacturing warehouse and R&D facilities. Purafil is ISO 9001:2008 certified  and provides feedback internally through a strong combination of LEAN practices and a Balanced Scorecard metric. Purafil, previously owned by Kaydon (NYSE:KDN) is now owned by SKF Group, Sweden after a recent acquisition of all outstanding shares of Kaydon.  The new association with SKF makes possible even broader access to global markets and end users, allowing Purafil to facilitate the best support to customers, engineers and distributors around the world.
"We manufacture chemical media, instrumentation and equipment," Mash says. "The chemical products and instrumentation are manufactured in the USA, in Georgia and are shipped worldwide. With equipment, we manufacture globally from 10 different sites on four continents so we can be closer to customers and offer better shipping lead-times."
Purafil currently has roughly 70 in-house employees, maintains nearly 30,000 installations worldwide and is supported by approximately 200 representative firms throughout the United States and more than 80 countries.
"We historically export about 65 percent of our business as a result of our strong international presence," says Mash. "We go to market globally with exclusive representatives who do not sell competing products. With so much business sold and closed while we sleep, we have to make sure that our global reps can function independently and are technically competent to serve their local customers."
Standing Out
Purafil is known for its gas-phase air filtration systems, which eliminate corrosive, hazardous, odorous and toxic gases. Purafil's core competency is in manufacturing an array of patent-protected, dry-chemical air purification media. These serve as the core of each customized air filtration system, chemically transforming gases into harmless solids through chemisorption.
Purafil's capabilities are of use in many markets and applications, including commercial, industrial, water and wastewater, preservation, produce and floral, cleanrooms and specialized applications. The company's products and services are in use everywhere, from airports, hospitals, hotels, fertilizer plants and pulp and paper mills to pump stations, water treatment plants, museums, disk drive manufacturers and government operations.
In process industries, Purafil prevents corrosion of machinery and computer controls. In buildings, it removes odors and improves air quality. In museums, libraries and archives, it preserves art and historical documents. In cleanrooms, it increases yield and product reliability. In water and wastewater operations, it protects the environment. In postharvest shipping and storage, it extends the life of fresh flowers and produce.
"Our core business has historically been industrial, protecting places like oil refineries and pulp and paper plants," Mash says. "They are operated by very sensitive computer systems and their processes cause air quality issues that can corrode and damage operating systems. We protect sensitive electronics so the facility can stay up and operating."
Mash says the wastewater industry is another large market for Purafil. Wastewater plants not only need Purafil to help with odor control, but also to help protect their state-of-the-art operating systems from corrosion.
"We foresee future growth in the mission critical, electronics industry," Mash says. "Huge server farms are being developed and aggressive contaminants flow into the airstream of those buildings and damage the servers. In reality, practically every building housing a business has a server/control room requiring environmental protection. We also see opportunity in water and wastewater, commercial, preservation and power industries."
First in Class
Over the years, Purafil has set the standard for being first to market with various products and services. The company developed the first potassium permanganate air-cleaning media. It was first to engineer, manufacture and patent potassium- and sodium permanganate-impregnated media for oxidation of pollutants as well as first to engineer and manufacture a UL-classified, synthesized carbon media for neutralization of corrosive airborne pollutants.
Purafil was also the first to develop and patent OnGuard quartz crystal microbalance technology for continuous, real-time monitoring of air quality. It was first to develop the PuraFilter pleated filter with permanganate-impregnated media for retrofitting in commercial facilities. In addition, it was the first to develop J-Posi-Track technology for improving efficiency in gas-phase air filtration systems and first to develop MediaPIK software for selection of Purafil media type and quantity based on application requirements.
"We are known as living innovators and our customers look to us for new products and applications," Mash says. "Our customers also recognize the added value and services that we can bring to them."
Purafil's achievements have not gone unnoticed, as the company has earned many awards in the last decade. In the past few years alone, the company has earned U.S. Presidential "E" and "E Star" awards for excellence in exporting as well as the 2012 Frost & Sullivan Best Practices Award for global gas-phase air filtration, product line strategy.
"Being recognized for our applications and services helps us to market the Purafil brand and our products," Mash says.
Looking ahead, Mr. Mash notes real-time monitoring will become even more important for Purafil because it verifies the performance of its products and services. By providing instrumentation that allows for real-time monitoring and instant upload to a predetermined website, end users can verify their systems are working properly and ensuring the air quality remotely from anywhere in the world. Real-time monitoring and providing environmental services can also help Purafil generate new customer opportunities through a cooperative solutions based partnership with customers, resulting in site evaluation and customized clean air solutions.
New products and applications are also critical to Purafil's future market penetration. Providing best-in-class products and performance ensures the strength of the brand globally and allows the company to better serve customers when they come to Purafil with environmental issues that need to be solved. Purafil's website (www.purafil.com) provides easy opportunities to openly communicate with our customers, our global representatives and supports the worldwide Engineering community interested in Purafil products and services.
"We must stay on top of technology, communicate with customers and educate and train our global distribution and end-user base," states Mash. "Our focus is on new technology and products as we identify market directions for the long-term."