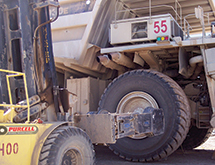 Purcell Tire & Rubber Co.
If something has wheels, the odds are that it needs tires. And, if something needs tires, the odds are that Purcell Tire & Rubber Co. has whatever it needs to keep those tires on the road. Vice President of Manufacturing Brian Hayes says one of the primary reasons the company has been successful for more than 75 years is that it has a nearly limitless scope of tire-related products and services. "We sell everything from a wheelbarrow tire all the way up to the largest mining tires," he says.
The company was founded in 1936 by Robert M. Purcell, who opened the first location in Washington, Mo. Fifteen years later, he opened the company's second location in Granite City, Ill., and the third location in DeSoto, Mo., followed in 1964. Today, Purcell Tire & Rubber Co. has more than 65 locations that stretch from Pennsylvania to Nevada, and it is the third-largest independent commercial tire dealership in North America.
According to Hayes, the success of Purcell Tire & Rubber Co. is rooted in the company's ability to balance its mom-and-pop internal culture with its large footprint in the tire industry. By being able to offer virtually everything for all customers' tire-related needs with a strong focus on customer service, Purcell Tire & Rubber Co. has the pieces in place to continue its long history of success in the industry.
Full Service
The first thing a customer might notice about Purcell Tire & Rubber Co. is the sheer depth and breadth of its products and services. Whether its customers are car or truck owners, commercial fleets or heavy construction and industrial contractors, the company has a complete suite of services aimed at making sure their vehicles have the tires they need and that they can rely on them.
For example, the company's tire and auto service centers carry a full range of car and truck tires from leading brands including Goodyear, Dunlop, Hankook and Michelin, but they also provide complete car care that goes beyond the tires. These services include oil and lube, brakes, diagnostics and transmission maintenance and repair. The company's commercial division not only supplies fleets with top-quality tires, but also all types of support and repair services for their vehicles through 20 locations spread across the Midwest and western United States.
Tire retreading is another major service that Purcell Tire & Rubber Co. offers for customers across multiple segments. The company has retreaded tires for commercial and off-highway vehicles for 50 years, and today the company is the largest provider of off-the-road tire retreading services in the United States. The company says retreading can save customers money on their tires and help preserve natural resources used in their manufacturing. "A tire casing, if taken care of, can be retreaded multiple times," the company says. "Retreading tires is the most effective way to reduce and reuse tires, the green option to dumping tires into a landfill. Each tire casing that is retreaded essentially becomes a new product, or a recycled product."
Helping customers improve their ecological footprint is something that fits well with the company's customer-centric culture. "Service is a huge part, we're very service-oriented in all aspects," Hayes says. "Our motto is, 'We're more than just tires.'"
That culture is made possible by the company's tight-knit, family atmosphere, which is rooted in Purcell Tire & Rubber Co.'s family connections. Hayes says many of the company's employees are long-tenured and turnover is low compared to the rest of the industry, giving it a lot of experience to help customers. "We're a mom-and-pop operation, but we have a national reach," Hayes says.
The Road Ahead
Hayes says the recession has been the biggest issue Purcell Tire & Rubber Co. and the rest of the industry have faced over the past several years. "Everybody is suffering through the stopped economy," he says.
Even though the recession has put the brakes on a lot of consumer spending, Hayes says Purcell Tire & Rubber Co. knows it has the products and services customers need no matter what the conditions. Even though the economy has slowed down a lot of things, he says, most people still need vehicles to get them where they need to go, and that means they will always need the kind of service the company provides.
"People are going to need tires regardless," he says. "We rely on our people and our product and our service to sell itself."
With that level of confidence in the company's service, it's no wonder that Hayes believes the near future holds a lot of growth for Purcell Tire & Rubber Co. The company is preparing to pass the torch to its new CEO following the upcoming retirement of Robert G. Purcell. Hayes says the company plans to grow aggressively over the next several years, putting it in even better position to serve customers now and into the future.