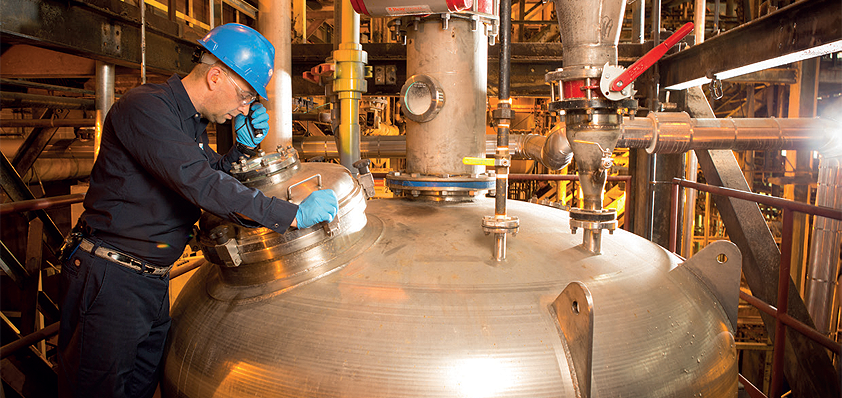 A solutions company
Describing itself as 'more than just a resins company' Purolite is always on hand to help its clients solve their most complex challenges
Located less than 20 miles from Philadelphia, King of Prussia (KOP) is an up and coming biopharma city in the United States that is experiencing rapid development. The focus on Life Sciences is attracting many of the biggest players. This is where Purolite moved its HQ in 2019 and is building its new Active Pharmaceutical Ingredient and Ion Exchange Chromatography manufacturing facility.
This family-owned and operated global business is the world leader in resin-based separation, purification and extraction technology, and alongside its KOP site, it has 40 sales offices in more than 30 countries, ISO 9001 certified manufacturing facilities in the USA, United Kingdom, China and Romania, and dedicated R&D centers in the USA, China, Romania, Russia and the UK. Purolite's ion exchange, adsorbent, chelation, chromatographic and catalysis resin technologies are used in some way in almost every industry. These include: Pharmaceutical, Biotech, Biopharmaceutical, Food & Beverage, Pulp & Paper, Nutraceuticals, Semiconductor Electronics, Potable & Ground Water, Mining & Metals, Finishing, Petrochemical & Refining, Medical Devices and Diagnostics, Industrial & Domestic Water treatment, Petrochemical and Chemical Processing, Oil & Gas and Fossil & Nuclear Power.
Looking back over the history of Purolite illustrates just how far this business has come. Brothers Steve and Don Brodie formulated the idea of Purolite Corporation in 1980 when Don – a chemist who has spent his career in the food and chemical industry – saw a need for more competition in the ion exchange resin and specialty polymer marketplace. The Brodies recognized an opportunity, devised a plan and Purolite was formed in 1981. The original logo was designed at Steve's kitchen table and the operations began in Don's basement, and from these humble origins, the company has undergone many evolutions and transformations – from hiring its first employee to taking care of today's 1100-plus.
As Steve Brodie, President, CEO & Founder, points out to readers of Manufacturing Today, since the beginning, Purolite has focused on solving problems and improving processes at the customers' location. "Our entire structure is built to provide innovative and sustainable solutions that optimize industrial processes and help our customers use less natural resources," he said. "Today we develop and manufacture very small beads, down to 15 microns, that are used in the most regulated industries in the world. We have developed the largest and most technically proficient sales team in our industry supported by five research and development (R&D) labs as well as nine applications labs. As our technical expertise has grown over the years, we have strategically concentrated on more complex and technically demanding specialty markets in healthcare and life sciences. The applications in these markets include reduction of pathogens in blood, enzyme immobilization, gene cell therapy and monoclonal antibody capture and purification. Now, 40 years after we began, we are reorganizing our resin technology products and solutions into two divisions: Core Technologies and Healthcare & Life Sciences."
Having revealed this exciting new development for the company, Steve gave some further details on each of these divisions. "Core Technologies is focused on providing sustainable solutions that enable an extensive range of industrial processes to run more efficiently," he said. "This division manufactures ion exchange, adsorbents, chelation, catalysis and chromatographic resins for municipal, industrial and domestic applications such as water softening and demineralization, sugar decolorization, hydrometallurgy, and potable and groundwater remediation.
"Rooted in producing active pharmaceutical ingredients (API's) and excipients for over 30 years, our Healthcare & Life Sciences division focuses on providing traditional ion exchange, as well as agarose based chromatographic products, used for purification, separation and extraction of biologic compounds," he continued. "Typical applications include purification of proteins, monoclonal antibodies, nutraceuticals, and peptides as well as purification of biofluids in medical devices. By accelerating the biological drug development processes and increasing the efficiency and purity of extracted compounds, our technology helps enhance lives."
Clearly these are exciting times for Purolite, and while many of its achievements are significant, Steve particularly highlighted its newest milestone – an investment into expanding its pharmaceutical and biopharmaceutical product manufacturing to the USA – as an area of real pride for the business. He explained what makes this stand out in particular. "We have been on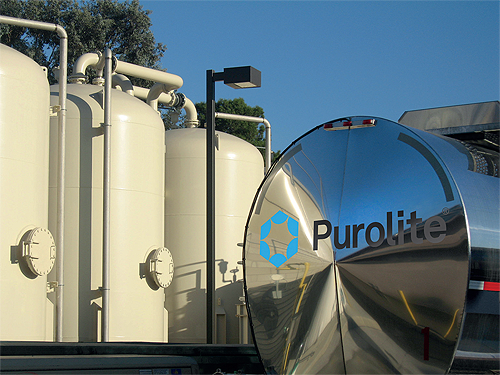 the frontlines to support the creation of therapeutics used to treat Covid-19, as well as new monoclonal antibodies to treat many diseases. This initiative and increased global demand confirmed that it was time to expand our manufacturing. The additional North American production will ensure global security of supply for our customers' future and our future," he said.
"Our new facility, which will open by the end of 2021, will produce active pharmaceutical ingredients (APIs) and agarose resins that adhere to the strictest global guidelines within many of the world's most regulated industries. This addition will make us the first company with agarose manufacturing on two continents," he added. "We are looking forward to this new expansion in the US; it will feature our proprietary jetting technology to capture and purify monoclonal antibodies (mAbs) sold Under the Praesto™ brand. The 74,850 sq ft facility will house a full laboratory, offices, and warehouse, and the new production facilities will be exact duplicates of our current facilities in Wales and Romania. This ensures that quality and consistency will be maintained regardless of where the products are produced.
"We are the only supplier in the world able have a continuous manufacturing process for producing agarose beads with a narrow, uniform particle size distribution for better results within our customer's applications," Steve continued.
With manufacturing processes that set it apart from the competition, Purolite also benefits from its position as the only company in the world to focus 100 per cent of its resources on resin technologies. "Being a privately held company with the largest technical team provides us with the ability to be agile and innovative in identifying and producing solutions to meet our customers' needs faster and better," noted Steve. "Our R&D, applications, and manufacturing teams all support the agile nature of our personality. We can customize a solution and develop new technology like no other competitor."
These competitive strengths will stand Purolite in good stead going forward, especially considering Steve's belief that the global resin technology market will continue to experience high demand in 2021. "We believe this is driven by increases from very specific markets within nutraceuticals, biopharmaceutical and pharmaceuticals. Like all manufacturers, we will continue to look for ways to improve our production processes to meet demand and focus on the areas that bring the most value to our customers," he divulged, before sharing some predictions for the future. "With a concentration on innovation and optimization within our Core Technologies and Healthcare & Life Sciences divisions, we believe Purolite will continue to grow tremendously over the next three to five years."
Having shared his vision for the future, Steven ended our conversation with some reflections on 2020, a year which changed the world forever, and will be remembered as one of the most challenging times that businesses have ever seen. "As a family business, we take pride in creating a positive culture for our customers and our employees. During 2020, we had to rethink how we were taking care of each other, as well as, how we were meeting the market needs as a critical service," he revealed.
"Like most businesses, we scrambled at the beginning of the pandemic to put the proper controls in place as recommended by the CDC. Fortunately, once in place, Purolite global manufacturing and operations were able to run at 100 per cent. The same controls were instituted at our office locations and although working remotely became a normal way of life, our offices never closed.
"As a business owner, I couldn't be prouder of our team. Together, they were innovative by creating personal ways to connect with our customers and support our partners throughout the chemical engineering community. Our production crew did not miss a step by continuously working to provide safe product deliveries to ensure that healthcare services, pharmaceutical companies and the food supply industry had what they needed to carry on. This dedication is the heart of Purolite."
Purolite
Services: A leading manufacturer of life science products, ion exchange, catalyst, adsorbent and specialty resins for water and non-water applications
www.purolite.com